Phillies' lack of focus holding them back
Back at the beginning of the year, it was hard not to consider the Philadelphia Phillies the best team in the National League. They are not that team now, and it was never clearer than while being swept in a four-game set at home by the Houston Astros, the latest loss a 5-1 loss Thursday afternoon at Citizens Bank Park. And the reason they aren't that elite team is obvious: While injuries have plagued them, it's their lack of focus that remains the biggest hurdle as the Phillies try to get back into the postseason and a third consecutive World Series.
[+] Enlarge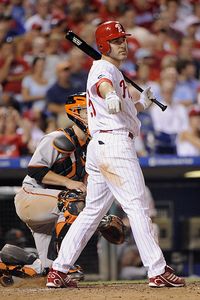 Howard Smith/US PresswireIf the Phillies want another piece of the postseason, they'll need production from the top of the order, and that includes Chase Utley.
When you have
Roy Halladay
in your rotation and you're getting swept by a 58-69 team, which is what the Astros are, it's probably not a good reflection of your team's mentality. This series against the Astros was a perfect example of Philadelphia's inability to seize the moment. The Atlanta Braves went out and got swept by the Colorado Rockies, and that included Wednesday's meltdown when Atlanta blew a nine-run lead. Instead of moving closer to the Braves, manager Charlie Manuel and his Phillies missed an opportunity and remain three back in the NL East. This is a disturbing trend for Philadelphia fans -- the Phillies are just 21-19 against clubs that are 10 games or more below .500. Simply put, they take those matchups for granted. They assume they're going to blow teams away and get players some extra at-bats in the process. Well, Houston, thank you for your wakeup call. When you think of a winning team, you think of a team that knows how to do all the little things well, and the Phillies just aren't one of these teams right now. With their big guns back in the lineup --
Jimmy Rollins
,
Chase Utley
and
Ryan Howard
have come back from the DL -- no one doubts that potential to dominate. But the Phillies aren't focusing at the plate or on the bases. When the game isn't going your way offensively, you have to focus even more on something like baserunning. It's OK to be aggressive running the bases, but getting thrown out because of mental errors is unacceptable -- and that's been happening lately. These guys are getting picked off because they're napping; they are way too comfortable out there.
It's not about shaking up the lineup at this point. It's about shaking themselves up. Ultimately, that needs to start with the two guys at the top of the order, Rollins and Utley. Rollins missed 54 games this season with a calf injury, but now is the time for him to play like the MVP he was in 2007. If he leads off and sets the right tone, and Utley can find his groove, the hits will start coming in bunches. After all, a couple of guys named Ryan Howard and
Raul Ibanez
are hitting behind them and dying to drive in runs. If the Phillies insist on playing to the level of their competition, then they should be just fine this weekend, since they play a first-place team in the San Diego Padres. But if they want to prove they have what it takes to be that team everyone was talking about at the beginning of the season, they can't afford to lose to teams they're just flat-out better than.
Eduardo Perez is an analyst for "Baseball Tonight."
Touch 'Em All

Who went deep? Keep track of all the home runs hit each day on "Baseball Tonight" and the Baseball Tonight Clubhouse page. For more, check out the Home Run Tracker page.
| NAME | HR | OPP | SITUATION | Pitcher |
| --- | --- | --- | --- | --- |
| Hanley Ramirez, FLA | 17 | NYM | Top 4: 1-0, 0 Outs. 1 on. | Niese |
| Albert Pujols, STL | 34 | WAS | Top 4: 0-1, 0 Outs. None on. | Zimmermann |
| Prince Fielder, MIL | 27 | LAD | Bot 4: 0-0, 1 Out. None on. | Monasterios |
| David Wright, NYM | 21 | FLA | Bot 1: 2-2, 2 Outs. 1 on. | Sanchez |
| Carlos Lee, HOU | 18 | PHI | Top 3: 3-2, 1 Out. None on. | Kendrick |
Friday's Best Matchups
Red Sox at Rays, 7:05 p.m. ET


A big weekend set for the Red Sox, who head into the series in third place in the AL East and 3½ back of the Rays. Jon Lester was lit up in his most recent start, giving up eight hits, nine runs, three walks and two homers in a two-inning outing. David Price beat Boston last month in his only appearance against the Red Sox this season.
---
Phillies at Padres, 10:05 p.m. ET


After being roughed up in his first start with the Phillies, Roy Oswalt is 3-0 over his past four starts. In two of his appearances, he tossed seven shutout innings. The Padres' Mat Latos hasn't given up more than two runs in an outing since June 4, a stretch of 12 starts.
---
Diamondbacks at Giants, 10:15 p.m. ET


Will Tim Lincecum calm the nerves of those worried about him with a good outing against Arizona? The back-to-back Cy Young winner has lost each of his past four starts and has an 8.38 ERA in August. The Diamondbacks' Barry Enright is 3-0 over his past seven starts.
The rest of Friday's schedule »
BASEBALL TONIGHT ON THE AIR
FRIDAY
10 p.m. ET on ESPN
Host: Steve Berthiaume
Analysts: Buster Olney, Doug Glanville, Eduardo Perez
12 a.m. ET on ESPN
Host: Steve Berthiaume
Analysts: Doug Glanville
WEB GEMS LEADERBOARD

This season, "Baseball Tonight" will be tracking Web Gems. Points will be calculated by awarding five points for the night's top defensive play, four points for second, three for third, two for fourth and one for fifth. Scoring will be based on fan voting of the previous night's gems (from the last "Baseball Tonight" each night).
THURSDAY'S BEST AND WORST
BEST
Ian Kennedy, RHP, Diamondbacks

Kennedy
Kennedy posted his first double-digit strikeout game of the season, striking out 12 in seven shutout, one-hit innings against the Padres. The Diamondbacks are now 5-1 in Kennedy's past six starts.
---
WORST
Cliff Lee, LHP, Rangers

Lee
There has been plenty of concern about Tim Lincecum in the wake of four consecutive losses. Will there be the same worry about Lee, who has lost three in a row and been hit hard in all of them? He lasted only 5 2/3 innings in a 6-4 loss against the Twins in the latest defeat, allowing seven hits and five runs. It marked his third consecutive start in which he's given up at least five runs.