Baseball simpler through a child's eyes

By Karl Ravech
ESPN
Archive
The Little League team from Washington needed only one more out, and its coach, Kai Nahaku, had a decision to make at the Little League World Series. Whom should he bring in to pitch? All the players on the mound said Robbie Wilson. The two outfielders standing beside Wilson in the outfield hid behind him and pointed at Wilson. Wilson stood there hiding his face behind his glove. Democracy won. The kids won. In came Robbie Wilson, running from center field with a big smile on his face. Of course, he got the ground-ball out to end the game and give Washington a win over Connecticut. But the out wasn't the fun part. Watching a bunch of kids and a coach make a decision, now that was the signature moment of the Little League World Series. It illustrated what separates the game the kids play and the game being played by adults who get paid to play. It was what makes the Little League World Series fun.
[+] Enlarge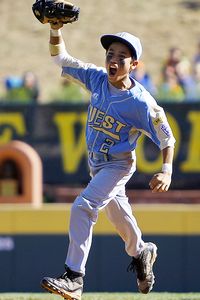 AP Photo/Matt SlocumLittle Leaguers show just how much fun baseball can be.
Seriously, imagine Tony La Russa or Bobby Cox or Ozzie Guillen walking out to the mound and calling in his entire infield and saying "All right boys, who should we bring to get the last out?" But that's what happens at the Little League World Series. What else do you learn when you look at baseball through the eyes of a bunch of 12-year-olds for a couple weeks, like I did? • Using replay isn't a complex issue. It's a simple one. These kids looked at me like I had three heads when we talked about replay and I asked about it being used in the majors. They couldn't understand. To them, it was simple -- "Don't you just want to get it right?" And that's true. It's not about showing what a bad call an ump made, it's about getting it right and about making life a little easier on umpires. Cameras give you four different angles; an umpire gets to see one. And sometimes from that one angle it's practically impossible to guarantee the right call was made. • They'd rather watch Little League baseball than Major League Baseball. To them, the Little League version is fun. It's hard for them to see major leaguers and see them having fun. The professionals look as though they're doing a job. And it wasn't just American kids saying this. It was kids from all over the world. No, don't get them wrong. Ask them if they want to play in the majors, it's pretty unanimous -- of course they do. They just aren't sure if the pros are having fun. When they were asked who their favorite players were, none of them said the stars. In basketball, you'd get a lot of kids saying LeBron or Kobe because they're the best players. With baseball, these kids picked players from their favorite teams. It was about the name on the front of the jersey, not the name on the back. • A kid's view of steroids is pretty simple -- "Why would you do that?" That's the beautiful part of seeing things that way; it's so easy. Steroids are cheating and kids wonder why somebody would cheat. They don't see Barry Bonds as the home run king. To them, it's Hank Aaron. Even better was that one kid kept calling them "asteroids" instead of steroids. How great is that? • Baseball at this stage is a lot about fathers and sons. A lot of the kids in this tournament were coached by their fathers, and even their grandfathers. Sure, they want to play in the majors, but the Little League World Series was a dream, the end of a dream, because now it's time to move on to other things. But this was a special time for them and their families. Baseball is about to enter crunch time, with wild-card races and division races and September call-ups and the sprint to the finish. But a little break, to watch the Little League World Series, to see the entire sport through a 12-year-old's eyes, really opens your own eyes.
Karl Ravech is a host for "Baseball Tonight."
Baseball Tonight Live
"Baseball Tonight" analysts, ESPN.com writers and SweetSpot Network bloggers chatted and gave their in-game opinions throughout the day's games -- all in Baseball Tonight Live.
Touch 'Em All

Who went deep? Keep track of all the home runs hit each day on "Baseball Tonight" and the Baseball Tonight Clubhouse page. For more, check out the Home Run Tracker page.
| NAME | HR | OPP | SITUATION | Pitcher |
| --- | --- | --- | --- | --- |
| Josh Hamilton, TEX | 31 | OAK | Bot 6: 2-2, 1 Out. None on. | Gonzalez |
| Brian McCann, ATL | 17 | FLA | Bot 9: 1-2, 2 Outs. None on. | Nunez |
| Hanley Ramirez, FLA | 18 | ATL | Top 1: 3-2, 0 Outs. 2 on. | Lowe |
| Carlos Gonzalez, COL | 28 | LAD | Bot 3: 0-1, 2 Outs. None on. | Lilly |
| Carlos Gonzalez, COL | 29 | LAD | Bot 4: 0-1, 2 Outs. 1 on. | Lilly |
BASEBALL TONIGHT ON THE AIR
MONDAY
10 p.m. ET on ESPN
Host: Karl Ravech
Analysts: John Kruk, Buster Olney, Bobby Valentine
12 a.m. ET on ESPN
Host: Karl Ravech
Analysts: Bobby Valentine
WEB GEMS LEADERBOARD

This season, "Baseball Tonight" will be tracking Web Gems. Points will be calculated by awarding five points for the night's top defensive play, four points for second, three for third, two for fourth and one for fifth. Scoring will be based on fan voting of the previous night's gems (from the last "Baseball Tonight" each night).
SUNDAY'S BEST AND WORST
BEST
Cole Hamels, LHP, Phillies

Hamels
The Phillies were swept at home by the Astros, but responded this weekend by sweeping the NL West-leading Padres in San Diego. Hamels finished the run by tossing eight shutout innings in Sunday's 5-0 win. He struck out six, did not issue a walk and scattered four hits for his first win in August.
---
WORST
Ted Lilly, LHP, Dodgers

Lilly
Lilly was going to lose sooner or later with the Dodgers. That happened Sunday. After winning each of his first five starts with Los Angeles, Lilly was rocked for nine hits, two homers and seven runs in only four innings in a 10-5 loss against the Rockies. Lilly had gone at least six innings and not given up more than three runs in any of his first five Dodgers starts.
MONDAY'S BEST MATCHUPS
Phillies at Dodgers, 10:10 p.m. ET


It seems Phillies ace Roy Halladay won't have to deal with Manny Ramirez, who a source said will be headed to the White Sox in a waiver deal Monday. Halladay had his six-game winning streak snapped in his most recent start despite allowing just three runs against the Astros.
---
Angels at Mariners, 10:10 p.m. ET


The Mariners haven't had much to play for over the season's final month or so, but Felix Hernandez remains in the thick of the AL Cy Young race. Though he stands only 10-10, Hernandez is first in the AL in innings (204 1/3), second in strikeouts (192), third in ERA (2.47), third in complete games (5) and fifth in WHIP (1.11). Plus, opponents are hitting only .225 against him.
---
Rockies at Giants, 10:15 p.m. ET


Do the Rockies have another late-season run in them? They stand third in the NL West, three behind the second-place Giants and eight back of the division-leading Padres. Jorge De La Rosa is having a good month, posting a 2-1 record with a 3.69 ERA so far in five starts.
The rest of Monday's schedule »