Brian Fuentes a bigger add than Manny Ramirez

By John Kruk
ESPN
Archive
With a little more than one month left in the regular season, the faces of the American League Central are undergoing makeovers for the stretch run.
Manny Ramirez
is set to make his debut with the White Sox on Tuesday, and the Twins added left-hander
Brian Fuentes
from the Angels this past Friday. The White Sox can score runs, but they haven't received much production out of their DH spot. And they aren't a big home run-hitting team, except for
Paul Konerko
and
Carlos Quentin
. As a proven slugger, Manny definitely will be an upgrade in the DH spot as long as he performs like the Manny of 2008, when he first joined the Dodgers, and not the Manny of this year.
[+] Enlarge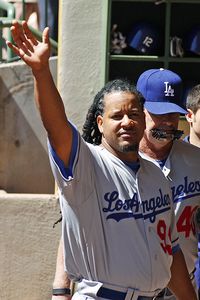 AP Photo/Jeffrey PhelpsManny Ramirez waved goodbye to the Dodgers. On Tuesday, he says hello to the White Sox.
Ramirez certainly will help the White Sox, but their more pressing need is relief pitching, especially with
J.J. Putz
and
Matt Thornton
going on the DL. If you can't get a pitcher at the waiver deadline, the next best thing to do is to get offense, and that's the direction they went by acquiring Ramirez. I think having Ramirez for 30 days is better than having Ramirez for a year and 30 days. For the first 30 days, he's going to be a good soldier. He's in a new environment, and it takes longer than 30 days to get comfortable. Ultimately, I don't think he has enough time to really irk his teammates, manager and front-office personnel. Everyone is worried about how Ozzie Guillen and Manny will mesh, but I think they will be fine. Over the years, Manny has been spoiled because he always has been such a talented player. Everyone seemed to be afraid to discipline him. Manny can single-handedly win games for you, and there aren't many guys who can do that. However, it's time the whole "Manny being Manny" thing comes to an end. No one has ever questioned his work ethic; it's just he makes dumb mistakes on the field and doesn't hustle all the time. He's been prone to take games off just because he didn't feel like playing, and it alienates his teammates. Guillen treats each player the same -- no matter how young or old. If you don't play well, he's going to tell you. Guillen is not going to ask Manny to play the field, but he will expect him to make four at-bats and run hard. If that's too much for him to do as a DH, maybe it's time for Ramirez to quit. Guillen is not the type of manager to put up with Manny's shenanigans, and he won't tolerate mistakes. Guillen's approach in Chicago is completely different than anywhere else Manny has played. The Twins, meanwhile, got the pitcher the White Sox probably could have used, especially after Bobby Jenks coughed up a three-run lead against the Indians on Monday night. Minnesota doesn't really know when
Justin Morneau
is coming back. Even though the Twins have a huge unknown on offense, they pursued a reliever in Fuentes. They already have
Matt Capps
,
Jon Rauch
and
Jesse Crain
. Not to mention they are going to get
Joe Nathan
back some time next year. If they keep all these guys together, you're looking at a strong bullpen for 2011. The reason Minnesota went with Fuentes is simple: When Fuentes lost his closer job to
Manny Corpas
in 2008 in Colorado, never once did you hear Fuentes complain. He was always ready to help the team. Now that he's in Minnesota, he is ready to do whatever is necessary to get to the World Series. He's the definition of what the Twins are all about. Ron Gardenhire isn't married to one closer, and the team will buy into that. The lack of egos in the clubhouse is the greatest thing about the Twins' organization. Examining both acquisitions, Minnesota got the better deal. I worry about an offensive player coming in during the last month of the season. A situational pitcher who can close games, like Fuentes, adds another dimension to help you win more games than one guy at the plate. If Manny gets hot, you can pitch around him. You can't pitch around Fuentes. It is a much easier task to take the game out of Manny's hands, but you can't take it from Fuentes. This situation could either go as great as you can imagine for the White Sox or become a nightmare.
John Kruk is an analyst for "Baseball Tonight."
Baseball Tonight Live
"Baseball Tonight" analysts, ESPN.com writers and SweetSpot Network bloggers chatted and gave their in-game opinions throughout the day's games -- all in Baseball Tonight Live.
Touch 'Em All

Who went deep? Keep track of all the home runs hit each day on "Baseball Tonight" and the Baseball Tonight Clubhouse page. For more, check out the Home Run Tracker page.
| NAME | HR | OPP | SITUATION | Pitcher |
| --- | --- | --- | --- | --- |
| Jason Heyward, ATL | 16 | NYM | Bot 2: 2-1, 2 Outs. 2 on. | Misch |
| Carlos Pena, TB | 26 | TOR | Bot 3: 1-2, 2 Outs. 2 on. | Cecil |
| Mark Teixeira, NYY | 29 | OAK | Bot 3: 2-0, 2 Outs. None on. | Cahill |
| Jay Bruce, CIN | 18 | MIL | Bot 1: 1-2, 0 Outs. None on. | Wolf |
| Aaron Hill, TOR | 20 | TB | Top 5: 3-1, 0 Outs. None on. | Davis |
BASEBALL TONIGHT ON THE AIR
TUESDAY
12 a.m. ET on ESPN
Host: Karl Ravech
Analysts: Tim Kurkjian, Aaron Boone
WEB GEMS LEADERBOARD

This season, "Baseball Tonight" will be tracking Web Gems. Points will be calculated by awarding five points for the night's top defensive play, four points for second, three for third, two for fourth and one for fifth. Scoring will be based on fan voting of the previous night's gems (from the last "Baseball Tonight" each night).
MONDAY'S BEST AND WORST
BEST
Hiroki Kuroda, RHP, Dodgers

Kuroda
Kuroda took a no-hitter to the eighth against the Phillies. He allowed only one hit, an eighth-inning single from Shane Victorino and outdueled Roy Halladay as the Dodgers picked up the win. Kuroda, who like many of the Dodgers pitchers had not gotten much run support, won his second consecutive start.
---
WORST
Paul Maholm, LHP, Pirates

Maholm
Pirates pitchers had a rough night -- a real rough night. The group of four that took the mound against the Cubs served up 14 runs and 18 hits. One of those hits was a homer, by Cubs pitcher Carlos Zambrano. The worst line? That belongs to Paul Maholm, who gave up nine hits and eight runs in 3 1/3 innings to drop to 0-4 in his past five starts.
TUESDAY'S BEST MATCHUPS
White Sox at Indians, 7:05 p.m. ET


Manny Ramirez is expected to make his debut with the White Sox. Since July 15, Ramirez has only 10 at-bats. Will he make a difference? The White Sox hope so. He has never faced Justin Masterson, who is scheduled to make the start for the Indians. The game begins a run of six games against old teams for Ramirez, who played for the Indians and Red Sox, whom the White Sox face this weekend at Fenway Park.
---
Brewers at Reds, 7:10 p.m. ET


Much of the attention will be on the arrival of Manny with the White Sox, but another significant addition is expected Tuesday. The Reds are set to call up hard-throwing lefty Aroldis Chapman before this game. According to various reports, Chapman hit 105 mph -- yes, 105 -- on the radar gun during a recent outing in the minors.
---
Royals at Rangers, 8:10 p.m. ET


Will Cliff Lee right himself? The lefty has lost each of his past three starts, giving up at least five runs in each. A given to go deep in games upon his arrival in Texas, Lee hasn't gone eight innings in any of his past four starts and did not last six innings in either of his past two.
The rest of Tuesday's schedule »