Also-rans ready to cause serious trouble

By Tim Kurkjian
ESPN
Archive
There is nothing better than being in a pennant race. For those teams that aren't in the chase, there is nothing better than ruining a team's stretch run. They are the spoilers, and they are everywhere.
[+] Enlarge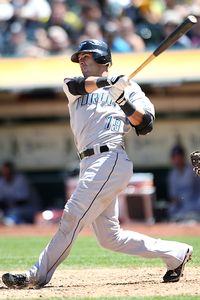 Michael Zagaris/Getty ImagesSure, just what a contender will want to see coming down the stretch -- Jose Bautista staring back at it.
In spring training, the Cubs thought they would make the playoffs in 2010. They will not, but they will have a lot to say about which teams do. The Cubs have six games left with the Cardinals, three with the Giants and four with the Padres. That's 13 games against teams fighting to make it to the postseason, but no games left against the Reds. Cincinnati's potential spoilers are the Astros and Brewers. They play them six times each. The Diamondbacks, like the Cubs, could impact two of the divisional races. They have four left with the Reds, six with the Rockies and three with the Giants. The Cubs and D-backs have been playing better lately under their interim managers, and they will be dangerous. The Dodgers aren't going to the playoffs, either, and they haven't been playing well lately. For the first time since 1984, manager Joe Torre has a team under .500 this late in a season. But they will have a say about what teams go to the playoffs. From Sept. 14 to 23, the Dodgers play, in order, three games against the Giants, Rockies and Padres, and later, three more against Colorado. In the National League East, the Nationals play the Phillies and Braves six times each. Remember, the Nationals won their final seven games last season. In the American League, the Blue Jays will be one of the best teams not going to the playoffs, but they could affect two divisional races. They have three games left with the Rays and Yankees, and finish the season with four games at Minnesota. The Indians play the Twins six more times and play their final three games in Chicago against the White Sox. The Angels are used to being in the playoffs, but they will have to be content with being spoilers this year. Their final 16 games are against the Rays (three), Rangers (three), White Sox (three), A's (three) and Rangers (four). The Rangers have seven left with the Angels and six against the Mariners. It soon will be time for noncontending teams to go home, and some of them can't wait. But before they go, it will be satisfying to take a few teams with them. That is one of the great beauties of baseball, the "on any given night" factor. This isn't basketball or football. A lousy team doesn't go into Chicago and beat Michael Jordan's Bulls the last week of the season, giving home-court advantage in the playoffs to some other team. In baseball, it is entirely possible a second-division team could mess up the plans of a first-place team. It is possible the Royals could win three out of four the final weekend at home against the Rays and mess everything up.
Tim Kurkjian is a senior writer for ESPN The Magazine and an analyst for "Baseball Tonight."
Baseball Tonight Live
"Baseball Tonight" analysts, ESPN.com writers and SweetSpot Network bloggers chatted and gave their in-game opinions throughout the day's games -- all in Baseball Tonight Live.
Touch 'Em All

Who went deep? Keep track of all the home runs hit each day on "Baseball Tonight" and the Baseball Tonight Clubhouse page. For more, check out the Home Run Tracker page.
| NAME | HR | OPP | SITUATION | Pitcher |
| --- | --- | --- | --- | --- |
| Nick Swisher, NYY | 26 | BAL | Bot 9: 2-0, 1 Out. 1 on. | Uehara |
| B.J. Upton, TB | 16 | BOS | Top 2: 0-2, 0 Outs. 2 on. | Wakefield |
| Ian Kinsler, TEX | 8 | TOR | Top 1: 3-1, 0 Outs. None on. | Rzepczynski |
| Wilson Ramos, WAS | 1 | NYM | Bot 5: 1-0, 2 Outs. 1 on. | Dickey |
| Omar Vizquel, CHW | 2 | DET | Top 4: 2-1, 1 Out. None on. | Bonderman |
BASEBALL TONIGHT ON THE AIR
THURSDAY
12 a.m. ET on ESPN2
Host: Steve Berthiaume
Analysts: Buster Olney, Aaron Boone
WEB GEMS LEADERBOARD

This season, "Baseball Tonight" will be tracking Web Gems. Points will be calculated by awarding five points for the night's top defensive play, four points for second, three for third, two for fourth and one for fifth. Scoring will be based on fan voting of the previous night's gems (from the last "Baseball Tonight" each night).
HUNT FOR OCTOBER
NATIONAL LEAGUE EAST
| Team | W-L | GB | POFF |
| --- | --- | --- | --- |
| Philadelphia | 81-60 | -- | 78.9 pct. |
| Atlanta | 80-60 | 0.5 | 86.2 pct. |
WEDNESDAY'S BEST AND WORST
BEST
Brett Myers, RHP, Astros

Myers
Think contenders wouldn't mind having Myers down the stretch? Many tried at the trade deadline, but the Astros held onto him. He tossed seven shutout innings, striking out eight while allowing three hits to lower his ERA to 2.91. Myers is 3-0 over his past four starts
---
WORST
Matt Garza, RHP, Rays

Garza
The Red Sox pounded Garza for nine hits, six runs and four homers over only 4 1/3 innings of work. It marked the second time in two months that Garza has served up four homers in a game. He gave up four against the Orioles in an 11-10 loss on July 20.
THURSDAY'S BEST MATCHUPS
Reds at Rockies, 3:10 p.m. ET


The Reds' Travis Wood pitched well in July when he faced the Rockies, going six innings while allowing three hits and a run. But he lost that start, 1-0 at home. The Rockies' Jason Hammel has won his past two starts while helping Colorado inch closer in the NL West.
---
Cardinals at Braves, 7:10 p.m. ET


Adam Wainwright has lost four consecutive starts, quickly going from 17-6 to 17-10. Opponents have hit him, but he's also gotten little help from his own lineup; the Cardinals have scored only eight runs in those four starts. Jair Jurrjens, on the other hand, has won his past four decisions.
---
Giants at Padres, 10:05 p.m. ET


A big weekend in the NL West, as the Giants try to draw ever closer to the fading Padres. San Francisco sends Matt Cain out for the opener of the series; he's been beaten twice by San Diego this season. The Padres give the ball to Jon Garland, who has a 2.68 ERA at home this season.
The rest of Thursday's schedule »