Postseason will offer barometer on Derek Jeter

By Karl Ravech
ESPN
Archive
The
Derek Jeter
dilemma? Is it a dilemma? The greatest shortstop ever to wear a Yankees uniform is floating like a log in an ocean, adrift without any part of his game grounded. If you are strictly a numbers person when it comes to evaluating a player's performance, then Jeter is sliding rapidly toward a retirement home off the coast of Italy as opposed to another four years living in a high-rise near the United Nations. There is a risk in making decisions solely on the numbers on the back of a baseball card, and Jeter is the flag-waving, card-carrying exception to the rule that says that once you reach 36 years of age and your numbers hit the skids like a car on a frozen patch of pavement, your career is over.
[+] Enlarge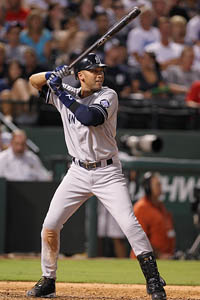 Matthew Emmons/US Presswire Ready to give up on Derek Jeter? Hold off until mid-October or so.
I hear people I respect say, "The Yankees have to re-sign Jeter" or "The Yankees should give Jeter whatever he wants." I'm sorry, I was under the impression the Yankees have been doing that for a long time. Since he arrived on the scene in 1996, Jeter has earned somewhere in the neighborhood of $200 million, and he has earned it, at least to the point that someone can earn that amount of money playing baseball. The Yankees are nothing if not business savvy. The organization pays a premium for players who help win games. The Yankees are marketed as effectively as any sports team in the world. The Yankees are, as an organization, more valuable with Jeter than they are without him. The Yankees know this, and so does Jeter. However, if Jeter said after this season, "I retire", the Yankees would still play in front of 3½ to 4 million fans at home next season. The Yankees know they are the most popular, and thus more valuable, when they win. Seemingly forever, Jeter has been an asset in that department; he's not now, but does that mean he won't be again? I don't think the Jell-O has been in the fridge long enough to make that decision. This is still a fluid situation, and given that the Yankees are going to the postseason again, let's wait to see how clutch Mr. Clutch can be. Jeter's a .313 lifetime postseason hitter. His slugging percentage, his on base-percentage and his OPS in the postseason are just as impressive. Give me a chilly night in late October with the Yankees batting in the eighth inning, trailing by a run with two men on, and I still want Jeter at the plate. The ultimate proving ground is the postseason, and before I am willing to judge Jeter, let me see him in that setting again.
Karl Ravech is a host for "Baseball Tonight."
Baseball Tonight Live
"Baseball Tonight" analysts, ESPN.com writers and SweetSpot Network bloggers chatted and gave their in-game opinions throughout the day's games -- all in Baseball Tonight Live.
Touch 'Em All

Who went deep? Keep track of all the home runs hit each day on "Baseball Tonight" and the Baseball Tonight Clubhouse page. For more, check out the Home Run Tracker page.
| NAME | HR | OPP | SITUATION | Pitcher |
| --- | --- | --- | --- | --- |
| Paul Konerko, CHW | 35 | KC | Bot 1: 0-1, 2 Outs. 1 on. | O'Sullivan |
| Paul Konerko, CHW | 36 | KC | Bot 3: 1-2, 1 Out. 1 on. | O'Sullivan |
| Mike Stanton, FLA | 20 | WAS | Top 3: 1-2, 1 Out. 1 on. | Zimmermann |
| Raul Ibanez, PHI | 14 | NYM | Top 7: 0-1, 0 Outs. None on. | Niese |
| Brandon Inge, DET | 11 | BAL | Bot 8: 3-1, 2 Outs. 1 on. | Simon |
Monday's Best Matchups
Yankees at Rays, 7:10 p.m. ET


An AL East showdown begins, with the Yankees trying to build on their slim half-game lead while the host Rays hope to take over the top spot. And the series opens with a marquee pitching matchup, with CC Sabathia (19-6, 3.14 ERA) against David Price (17-6, 2.87 ERA). Sabathia is 1-1 against the Rays this season; Price is 1-1 against the Yankees, but has given up 10 runs in 12 2/3 innings.
---
Phillies at Marlins, 7:10 p.m. ET


The Phillies' Joe Blanton hasn't lost since July 21, but that is mostly because he's been involved in a host of no-decisions. He is 3-0 in that stretch with six no-decisions. In those nine starts, though, the Phillies are 7-2.
---
Padres at Rockies, 8:40 p.m. ET


The Rockies are in the midst of their seemingly annual end-of-year push. Colorado has won 10 in a row and enters trailing San Diego by only 1½ games in the NL West. Jeff Francis tries to keep the roll going for the Rockies. He is coming off the disabled list and will make his first start since Aug. 11.
BASEBALL TONIGHT ON THE AIR
MONDAY
9:30 p.m. ET on ESPN2
Host: Karl Ravech
Analysts: John Kruk, Nomar Garciparra, Bobby Valentine, Tim Kurkjian
WEB GEMS LEADERBOARD

This season, "Baseball Tonight" will be tracking Web Gems. Points will be calculated by awarding five points for the night's top defensive play, four points for second, three for third, two for fourth and one for fifth. Scoring will be based on fan voting of the previous night's gems (from the last "Baseball Tonight" each night).
HUNT FOR OCTOBER
NATIONAL LEAGUE WEST
| Team | W-L | GB | POFF |
| --- | --- | --- | --- |
| San Diego | 80-62 | -- | 47.3 pct. |
| San Francisco | 81-63 | -- | 60.0 pct. |
| Colorado | 79-64 | 1.5 | 19.9 pct. |
SUNDAY'S BEST AND WORST
BEST
Roy Oswalt, RHP, Phillies

Oswalt
Tough to ignore Paul Konerko and his two homers in the White Sox's win against Kansas City, but Oswalt continues to roll. He tossed a complete-game shutout against the Mets, scattering four hits and a walk to go with six strikeouts. Oswalt is 6-0 in his past seven starts. In four of those outings, he didn't give up a run.
---
WORST
Philip Humber, RHP, Royals

Humber
Sean O'Sullivan wasn't good from the start against the White Sox, giving up five runs in three innings. The guy who followed him, Humber, was even worse. He gave up five hits and four runs in 2 1/3 innings and was saddled with the loss in the Royals' 12-6 defeat.