Rockies making magic out of thin air

By John Kruk
ESPN
Archive
Over the past four years, the Rockies have shown us what the Hunt for October is all about. Once the calendar turns to September, Colorado seems to turn up the heat and make an aggressive push for the playoffs. Before losing to the Padres on Monday night, they had rattled off 10 consecutive wins. How do the Rockies manage to do it? It's so difficult to explain how they are able to pull off such a run, because I've never been on a team or seen a team like this that plays average throughout the first half of the season and then suddenly flips the switch in September. I'm sure manager Jim Tracy would absolutely love for the Rockies to get off to a great start and play like this all year, but they just don't seem to be that type of team.
[+] Enlarge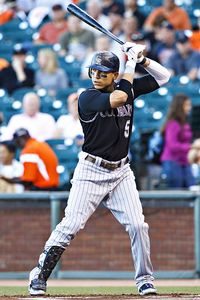 Jason O. Watson/US PresswireCarlos Gonzalez feels right at home at … well, home.
Could it be getting used to the altitude in Colorado? Does it take that long? We asked
Jason Giambi
about it on "Baseball Tonight" on Sunday after his pinch-hit, walk-off homer, and he swears it's his mustache. That's the conclusion he came up with. If you look at MVP hopeful
Carlos Gonzalez
's numbers at home (.385 AVG/.433 OBP/.773 SLG) they are so much better than on the road (.288/.310/.450). Does the ballpark have something to do with that? Absolutely. I remember going to Colorado to play and when you enter that altitude it is difficult and draining and it wears on you. My point is, perhaps the Rockies get used to the altitude in the first month of the season, and when other teams come up there in the first day or two it wipes them out. It's hard to breathe and catch your breath. It impacts your endurance, too. Gonzalez is a huge success, but
Troy Tulowitzki
has been fantastic, too. He hit .351 in August, and is hitting .354 so far in September. He hit a big three-run shot Monday to get the Rockies back in reach against the Padres in a game San Diego eventually won 6-4 to take a half-game lead over the Giants in the NL West and build a 2½ game cushion on Colorado. You can win with one guy hot, but when two guys are hot it certainly increases your chances. When you look at the Rockies' offense it has pretty much been Gonzalez and Tulowitzki doing the damage during this latest run. The bullpen has extended a helping hand lately, too. The top six guys out of the bullpen --
Jhoulys Chacin
,
Esmil Rogers
,
Rafael Betancourt
,
Franklin Morales
,
Huston Street
and
Matt Belisle
-- have given up only five earned runs in September. And on top of all this, the Padres gift-wrapped a 10-game losing streak of their own and presented it to the Rockies just as Colorado got hot. If the Padres would have won just five during that stretch, we probably wouldn't even be talking about Colorado. Give the Rockies credit, because they were handed a gift, but they have turned it into so much more. Keep in mind, though, that the Rockies are a very young team.
Dexter Fowler
,
Eric Young
, Gonzalez and Tulowitzki are young guys. That's what scares me about a team like this -- what happens if it goes on the road and starts losing? Would the players start doubting themselves? This is not a veteran team that can keep a level head whenever it loses a game -- some of these guys are still trying to figure out if they belong in the big leagues. Besides Gonzalez and Tulowitzki, no one in the Rockies' lineup has really solidified himself as an everyday major leaguer. How will Jim Tracy, Jason Giambi and
Todd Helton
hold this team together? That's the big question. The Rockies' true test lies in the final 16 games of the season, when 10 of those contests will be on the road. I'd love to provide some scientific reason for why the Rockies end up in this place every season, but I don't have one. To win 10 straight games this late in the season is amazing. How have they done it? I'm going to say it's the mustache and the altitude.
John Kruk is an analyst for "Baseball Tonight"
Touch 'Em All

Who went deep? Keep track of all the home runs hit each day on "Baseball Tonight" and the Baseball Tonight Clubhouse page. For more, check out the Home Run Tracker page.
| NAME | HR | OPP | SITUATION | Pitcher |
| --- | --- | --- | --- | --- |
| Joey Votto, CIN | 34 | ARI | Bot 3: 2-1, 1 Out. None on. | Enright |
| Corey Hart, MIL | 28 | HOU | Top 4: 1-1, 0 Outs. None on. | Myers |
| Chase Utley, PHI | 14 | FLA | Top 3: 2-0, 2 Outs. None on. | Miller |
| Jack Cust, OAK | 11 | KC | Top 6: 2-2, 1 Out. None on. | Bullington |
| Edwin Encarnacion, TOR | 14 | BAL | Top 6: 1-1, 0 Outs. None on. | VandenHurk |
Tuesday's Best Matchups
Yankees at Rays, 7:10 p.m. ET


It'll be nearly impossible to top the pitching duel from Monday, when CC Sabathia and David Price went toe-to-toe. But Ivan Nova and Matt Garza will try. In his limited time -- Nova's pitched only 24 2/3 innings in the majors this year -- he has struggled against left-handers, who are hitting .313 against him. Righties, meanwhile, are hitting only .240. Garza has faced the Yankees just once this season, and walked away with a no-decision on July 31.
---
Twins at White Sox, 8:10 p.m. ET


The Twins could put away the White Sox once and for all in this series … or the White Sox could scrape back into the AL Central race. Minnesota holds a six-game lead in the division. Francisco Liriano will try to make it seven. He's 2-0 against Chicago already this season; John Danks is 2-1 against Minnesota.
---
Dodgers at Giants, 10:15 p.m. ET


After a day off, the Giants resume their pursuit of the Padres in the NL West. Will this be the moment Barry Zito rises up and ends his slide? He is 0-8 in 12 starts since July 21, and he has lost each of the past six times he's gone to the mound. Clayton Kershaw's struggles don't look as bad in comparison, but the picture still isn't good -- he is 0-3 over his past four starts and 1-5 over his past eight.
The rest of Tuesday's schedule »
BASEBALL TONIGHT ON THE AIR
TUESDAY
10 p.m. ET on ESPN2
Host: Karl Ravech
Analysts: John Kruk, Bobby Valentine, Buster Olney
12 a.m. ET on ESPN
Host: Karl Ravech
Analysts: Bobby Valentine
WEB GEMS LEADERBOARD

This season, "Baseball Tonight" will be tracking Web Gems. Points will be calculated by awarding five points for the night's top defensive play, four points for second, three for third, two for fourth and one for fifth. Scoring will be based on fan voting of the previous night's gems (from the last "Baseball Tonight" each night).
HUNT FOR OCTOBER
NATIONAL LEAGUE WEST
| Team | W-L | GB | POFF |
| --- | --- | --- | --- |
| San Diego | 81-62 | -- | 46.4 pct. |
| San Francisco | 81-63 | 0.5 | 59.6 pct. |
| Colorado | 79-65 | 2.5 | 19.9 pct. |
MONDAY'S BEST AND WORST
BEST
Derek Lowe, RHP, Braves

Lowe
The Braves needed a big effort from Lowe, what with being locked in a neck-and-neck race in the NL East with the Phillies. All Lowe did was provide a career-high 12 strikeouts over eight shutout innings of a 4-0 win over the Nationals. Lowe didn't issue a walk in picking up his second consecutive win, which followed a streak in which he'd lost three consecutive decisions.
---
WORST
Andrew Miller, LHP, Marlins

Miller
It wasn't a real good night for Miller, who gave up nine hits, seven runs, three walks and three homers in five innings in the Marlins' 11-4 loss against the Phillies. It was the second straight time he was routed by the Phillies; five days earlier he was pounded for 11 hits and seven runs in four innings of a 10-6 loss.