Matt Stairs perfect complement for playoff push

By Buster Olney
ESPN
Archive
The losing lingered for the Padres, 10 straight losses, and as one of the few players on the roster with extensive experience in pennant races,
Matt Stairs
looked for opportunities to be positive, to convey positive thoughts. If a teammate had a nice round of batting practice, Stairs would say so. If the catcher called a good game or made a good throw, even in defeat, Stairs would note it. If a pitcher made a good pitch or a hitter took a good swing, Stairs would mention it.
[+] Enlarge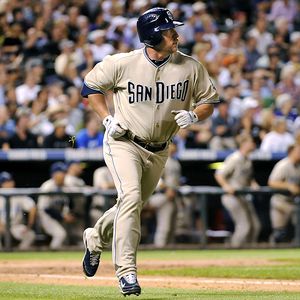 AP Photo/Jack DempseyMatt Stairs is doing whatever he can to get the Padres into the postseason.
"If a guy makes a good catch in batting practice," Stairs said Wednesday, a few hours before the Padres were outslugged by
Troy Tulowitzki
and the Rockies 9-6 in the series finale at Coors Field, "then you have fun with it. You try to find a way to be positive, to take something positive home and have a good feeling." Coaxed along by Stairs,
Jon Garland
,
Miguel Tejada
and others, the Padres found their way out of the morass of that losing streak and a tough weekend against San Francisco, and took the first two games of their series in Colorado, rebuilding a small advantage in a division that seems destined to go down to the final days. Stairs has helped San Diego at the plate, as well. He mashed a two-run pinch-hit homer in the eighth inning Tuesday night,
extending the the Padres' lead
at the time from 4-3 to 6-3 -- the 22nd pinch-hit home run in Stairs' career, the most in major league history. Unlike many pinch hitters, Stairs tries to stay in the dugout during games, and on those rare occasions when he does leave the dugout -- to watch videotape of an opposing pitcher, perhaps -- he'll do so when his team is in the field. There have been times when he'll go to a batting cage during a game, to loosen up and take some swings. But while Stairs will take four or five swings, other pinch hitters, like Stairs' former teammate
Greg Dobbs
, will take 40 or 50 swings in the cage. "It just depends on how my swing feels," Stairs said. He sometimes won't take a swing in the on-deck circle, either, believing that the adrenaline of the moment kicks in and will help him, as much as anything else, to generate a good swing. When Stairs steps into the batter's box, he is not shy about his strategy -- he will look to hit a home run, in most circumstances -- and then adjusts as he goes through an at-bat, as the count and the game situation dictate. Stairs, born 42 years ago in New Brunswick, Canada, is self-deprecating and laid back, and is not the sort of personality to get hung up on the retrieval of memorabilia, but by luck, some of his most recent pinch-hit homers have fallen into the hands of teammates, who have passed them on. He has used the same bat for the past four pinch-hit homers, but to this point, the Hall of Fame has not called to ask for the bat or any other memorabilia tied to his record. Which is fine by Stairs, he joked, because they know the mementos are headed for the Canadian Hall of Fame. Maybe Stairs will create some more memories, and memorabilia, as the Padres try to fight their way into October baseball.
Buster Olney is a senior writer for ESPN The Magazine and an analyst for "Baseball Tonight." Read his daily ESPN.com blog here.
Baseball Tonight Live
"Baseball Tonight" analysts, ESPN.com writers and SweetSpot Network bloggers chatted and gave their in-game opinions throughout the day's games -- all in Baseball Tonight Live.
Touch 'Em All

Who went deep? Keep track of all the home runs hit each day on "Baseball Tonight" and the Baseball Tonight Clubhouse page. For more, check out the Home Run Tracker page.
| NAME | HR | OPP | SITUATION | Pitcher |
| --- | --- | --- | --- | --- |
| Jose Bautista, TOR | 47 | BAL | Top 1: 0-1, 2 Outs. None on. | Bergesen |
| Troy Tulowitzki, COL | 22 | SD | Bot 3: 1-1, 1 Out. 2 on. | Richard |
| Troy Tulowitzki, COL | 23 | SD | Bot 4: 0-1, 0 Outs. 2 on. | Mujica |
| Adrian Gonzalez, SD | 28 | COL | Top 6: 1-2, 1 Out. None on. | De La Rosa |
| Adrian Gonzalez, SD | 29 | COL | Top 8: 0-0, 1 Out. 2 on. | Beimel |
Thursday's Best Matchups
Diamondbacks at Reds, 12:35 p.m. ET


Edinson Volquez didn't factor in the decision in his most recent outing, but that doesn't mean it wasn't a gem. Volquez, in his first start since being recalled from the minors, allowed one hit over seven shutout innings against the Pirates. He struck out 10 and handed out just one walk.
---
Padres at Cardinals, 8:10 p.m. ET


The Cardinals are pretty much finished, but they still can affect the National League West race. The Padres took two of three from Colorado before losing Wednesday's finale. San Diego's Tim Stauffer has been nearly untouchable on the road in 15 appearances, going 2-1 with an 0.64 ERA. Granted, only one of those outings came as a starter.
---
Dodgers at Giants, 10:15 p.m. ET


The Giants' Jonathan Sanchez has allowed one run over his past three starts, spanning 20 innings. The most interesting of those three outings came in his most recent one, against the the Padres. Sanchez allowed one hit over five shutout innings. He also struck out four. Here's the catch -- he walked seven in a no-decision. The Giants did win the game 1-0.
BASEBALL TONIGHT ON THE AIR
THURSDAY
12 a.m. ET on ESPN2
Host: Steve Berthiaume
Analysts: Buster Olney, John Kruk
WEB GEMS LEADERBOARD

This season, "Baseball Tonight" will be tracking Web Gems. Points will be calculated by awarding five points for the night's top defensive play, four points for second, three for third, two for fourth and one for fifth. Scoring will be based on fan voting of the previous night's gems (from the last "Baseball Tonight" each night).
HUNT FOR OCTOBER
NATIONAL LEAGUE WEST
| Team | W-L | GB | POFF |
| --- | --- | --- | --- |
| San Diego | 80-63 | -- | 64.6 pct. |
| San Francisco | 82-64 | 0.5 | 56.4 pct. |
| Colorado | 80-66 | 2.5 | 14.8 pct. |
WEDNESDAY'S BEST AND WORST
BEST
Troy Tulowitzki, SS, Rockies

Tulowitzki
Colorado was in danger of being swept, at home, by the Padres. Tulowitzki made sure that didn't happen, by countering San Diego's Adrian Gonzalez's two-homer day with a two-homer, seven-RBI day of his own in the Rockies' 9-6 win.
---
WORST
Matt Lindstrom, RHP, Astros

Lindstrom
Lindstrom didn't get an out. But he did get a loss. He gave up three hits and two runs as the Astros turned an eighth-inning lead into a 8-6 loss against the Brewers. Lindstrom hadn't allowed a run -- and had allowed only one hit -- over his previous seven appearances.