Phillies armed for this stretch run
The Philadelphia Phillies' lead has swelled to three games over the Atlanta Braves in the National League East, and worse for Atlanta is that Roy Oswalt has settled into Philadelphia and is bringing his A-game to the mound. He is coming off a complete-game shutout and, since losing his first start after his July 29 trade to Philly, he is 6-0 since getting out of Houston.
[+] Enlarge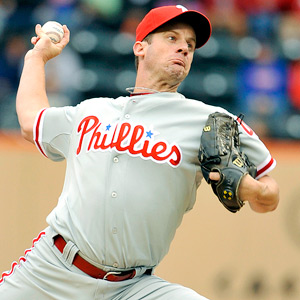 AP Photo/Kathy KmonicekRoy Oswalt is 6-0 over his past seven starts with the Phillies.
On Friday, Oswalt heads to the mound against the Nationals. He and the Phillies are a perfect match. With Philly, he doesn't have to worry about giving up a few runs and losing as he did with the Astros. Oswalt is able to attack the strike zone early in the count because he knows his offense is going to back him up and score runs. Manager Charlie Manuel made a good move by starting Oswalt on Friday instead of Saturday. This way, he can go on four days' rest in the series finale against the second-place Braves. Sure, the Phillies struggled a bit earlier in the year, but they've turned up the heat lately and have started pulling away in the NL East. The Phillies are three games up and the most feared team in the National League because of their offense. And now, the top three pitchers in the rotation -- Roy Halladay, Oswalt and Cole Hamels -- are rolling through opposing offenses. The Phillies are going to take care of business in the NL. All you need to do is look at that roster -- Halladay, Oswalt, Hamels, Ryan Howard, Chase Utley, Jimmy Rollins, Shane Victorino, Jayson Werth. If you want to know Philadelphia's recipe for success just look at its strong supporting cast. No, they didn't start well, but this team is certainly finishing well.
Eduardo Perez is an analyst for "Baseball Tonight".
Touch 'Em All

Who went deep? Keep track of all the home runs hit each day on "Baseball Tonight" and the Baseball Tonight Clubhouse page. For more, check out the Home Run Tracker page.
| NAME | HR | OPP | SITUATION | Pitcher |
| --- | --- | --- | --- | --- |
| Paul Konerko, CHW | 37 | MIN | Bot 3: 0-0, 2 Outs. None on. | Pavano |
| Hideki Matsui, LAA | 20 | CLE | Top 7: 0-2, 1 Out. None on. | Carmona |
| Mike Napoli, LAA | 25 | CLE | Top 7: 2-2, 2 Outs. None on. | Carmona |
| A.J. Pierzynski, CHW | 8 | MIN | Bot 6: 2-0, 0 Outs. None on. | Pavano |
| Delmon Young, MIN | 18 | CHW | Top 5: 0-0, 2 Outs. 1 on. | Buehrle |
Friday's Best Matchups
Nationals at Phillies, 7:05 p.m. ET


Since joining the Phillies, Roy Oswalt has lowered his ERA from 3.42 to 2.94. He is 6-0 over his past seven starts. He had won six games in 20 starts with Houston before being dealt to Philly. During his 6-0 run, four times he's not given up a run.
---
Padres at Cardinals, 8:15 p.m. ET


Mat Latos was hit hard in his most recent outing, giving up five runs in four innings for his first loss since Aug. 3. The Padres, after being handcuffed in the series opener, get a shot at Kyle Lohse, who hasn't gone more than 5⅓ innings since May 17.
---
Brewers at Giants, 10:15 p.m. ET


Madison Bumgarner lost a 1-0 game last time out, but the start was the latest in an impressive string. He has given up only one run over his past three outings, spanning 20⅓ innings. Randy Wolf pitched well against San Francisco earlier this year -- seven innings, one run -- but was saddled with the loss.
The rest of Friday's schedule »
BASEBALL TONIGHT ON THE AIR
FRIDAY
12 a.m. ET on ESPN2
Host: Steve Berthiaume
Analysts: Eduardo Perez, Tim Kurkjian
WEB GEMS LEADERBOARD

This season, "Baseball Tonight" will be tracking Web Gems. Points will be calculated by awarding five points for the night's top defensive play, four points for second, three for third, two for fourth and one for fifth. Scoring will be based on fan voting of the previous night's gems (from the last "Baseball Tonight" each night).
HUNT FOR OCTOBER
AMERICAN LEAGUE EAST
| Team | W-L | GB | POFF |
| --- | --- | --- | --- |
| Tampa Bay | 88-57 | -- | 99.6 pct. |
| NY Yankees | 88-58 | 0.5 | 97.3 pct. |
THURSDAY'S BEST AND WORST
BEST
Jonathan Sanchez, LHP, Giants

Sanchez
With the Padres losing, the Giants needed a win to move into first place. Sanchez took care of that. He struck out 12 over seven innings in an easy win over the Dodgers. He gave up one earned run. Over his past four starts, Sanchez has given up just two earned runs in 27 innings.
---
WORST
Alex Rios, CF, White Sox

Rios
The Twins pretty much put away the White Sox in the AL Central with a three-game sweep at U.S. Cellular Field. Rios wasn't much help. He went 1-for-13 in three games, including an 0-for-5 day in Thursday's finale.