David Price has grown from phenom to ace

By Tim Kurkjian
ESPN
Archive
You can count the reasons for the swift ascent of the Rays'
David Price
on one hand. He now can throw five pitches for strikes on any count, compared to the two pitches he threw for strikes when the Rays made him the No. 1 pick in the country out of Vanderbilt in 2007. Three years ago, Price threw a four-seam fastball and a slider, which was enough to handle hitters in college. It supposedly was a devastating slider, but the Rays still haven't seen that pitch, so they tinkered with his stuff. Pitching coach Jim Hickey, who "teaches the curveball as well as anyone in the game," as one scout said, has added a curveball to Price's repertoire. Last year, Price developed a changeup. Now he has a four-seam and two-seam fastball, a slider, a curveball and a changeup, which gives him so many more options.
[+] Enlarge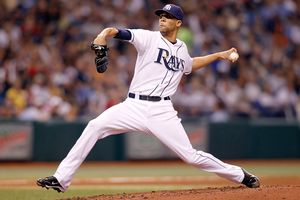 J. Meric/Getty ImagesDavid Price has improved since he broke onto the scene two years ago, and that's bad news for the rest of the AL.
With more weapons, Price, 25, has been dazzling this year, going 17-6 with a 2.76 ERA. On Thursday night, in the finale of a four-game series at Yankee Stadium, Price will oppose
CC Sabathia
in a matchup of two of the top left-handers in the game and two Cy Young candidates in the American League. If the Yankees and Rays make it through the division series, Sabathia-Price could be the matchup in Game 1 of the AL Championship Series. But even with the increased number of pitches Price can throw, he has been dominant mostly because of his overpowering fastball. In one start this season, he threw 113 pitches, 99 of which were fastballs. "When he can command it," one scout said, "the game is essentially over.'' Price also has great poise and composure, which he has always had, as we saw in his rookie season (2008). Price pitched only 14 innings in the major leagues at the end of that season but was crucial in helping the Rays get to the World Series. Pitching out of the bullpen, he was the winning pitcher in Game 2 of the ALCS against the Red Sox. Then, in Game 7, Price got the save, a 3-1 win that sent the Rays to their first pennant. Last season, Price started in the minor leagues ("That made him mad," one Ray said) because the Rays felt he needed to work on being more efficient; in 2008 in the minor leagues, he averaged almost 18 pitches per inning. But he was recalled before long and went 10-7 with a 4.42 ERA. This season, he has been terrific from the start. And he started the All-Star Game in Anaheim, the youngest pitcher to do so since
Roger Clemens
in 1988. "As good as he has been," Hickey said, "he has only scratched the surface on where he is going."
Tim Kurkjian is a senior writer for ESPN The Magazine and an analyst for "Baseball Tonight."
Touch 'Em All

Who went deep? Keep track of all the home runs hit each day on "Baseball Tonight" and the Baseball Tonight Clubhouse page. For more, check out the Home Run Tracker page.
| NAME | HR | OPP | SITUATION | Pitcher |
| --- | --- | --- | --- | --- |
| David Ortiz, BOS | 31 | BAL | Bot 4: 1-0, 1 Out. 2 on. | Millwood |
| Vernon Wells, TOR | 29 | SEA | Bot 4: 2-2, 0 Outs. None on. | Pauley |
| Corey Hart, MIL | 29 | CIN | Bot 3: 0-0, 0 Outs. 1 on. | Harang |
| Kosuke Fukudome, CHC | 13 | SF | Bot 3: 3-1, 0 Outs. None on. | Sanchez |
| Carlos Beltran, NYM | 5 | FLA | Top 4: 2-1, 0 Outs. None on. | Sanabia |
Thursday's Best Matchups
Rays at Yankees, 7 p.m. ET


Perhaps a game that will decide the AL Cy Young race? Perhaps a preview of Game 1 of the ALCS? Whatever it is, it should be interesting, with the Rays' David Price and the Yankees' CC Sabathia taking the mound. Price is 2-0 with a 1.55 ERA so far in September; Sabathia is 2-1 this month and 7-2 since the beginning of August.
---
Giants at Cubs, 7:05 p.m. ET


It's a good bet there will be a shutout in this one. The first two games of this series have been shutouts. Plus, the past three times Thursday's starter for the Giants, Madison Bumgarner, has taken the hill, it's been a shutout. The past two times, he's lost. The time before that, he was on the winning side.
---
Padres at Dodgers, 10:10 p.m. ET


The Padres' Mat Latos has been hit in his past two starts, giving up 16 hits and 13 runs in 5 2/3 innings. His most recent start, at St. Louis, lasted only 1 1/3 innings, a loss in which he gave up nine hits and eight runs. The Dodgers' Hiroki Kuroda has struggled against San Diego this year; he's 0-2 with a 6.30 ERA.
The rest of Thursday's schedule »
BASEBALL TONIGHT ON THE AIR
THURSDAY
10 p.m. ET on ESPN2
Host: Karl Ravech
Analysts: J.P. Ricciardi, Dave Winfield, Tim Kurkjian, Doug Glanville
12 a.m. ET on ESPN
Host: Steve Berthiaume
Analysts: Dave Winfield
WEB GEMS LEADERBOARD

This season, "Baseball Tonight" will be tracking Web Gems. Points will be calculated by awarding five points for the night's top defensive play, four points for second, three for third, two for fourth and one for fifth. Scoring will be based on fan voting of the previous night's gems (from the last "Baseball Tonight" each night).
HUNT FOR OCTOBER
NATIONAL LEAGUE WILD CARD
| Team | W-L | GB | POFF |
| --- | --- | --- | --- |
| Atlanta | 86-67 | -- | 75.6 pct. |
| San Francisco | 85-67 | 0.5 | 58.3 pct. |
| Colorado | 82-69 | 3.0 | 13.1 pct. |
WEDNESDAY'S BEST AND WORST
BEST
Jose Lopez, 3B, Mariners

Lopez
Lopez had three hits in the Mariners' 6-3 win over the Blue Jays. All of them were homers. Lopez hit a solo shot in the third and then belted another in the sixth. In the eighth, with Ichiro Suzuki aboard, he capped off his three-homer night with a two-run shot. Before Wednesday, Lopez had hit seven homers this season -- in 565 at-bats.
---
WORST
Johnny Cueto, RHP, Reds

Cueto
The Reds were down 11 runs against the Brewers … then the fifth inning started. Cueto got Cincinnati in trouble early, and it never got better in the blowout loss. Cueto gave up eight hits, eight runs and three walks in 1 1/3 innings before handing the game over to the bullpen to finish up.