Wins, not dollars, all that matter this time of year

By Karl Ravech
ESPN
Archive
One of the lines Gordon Gekko uses in the new movie "Wall Street: Money Never Sleeps" goes like this --"If there's one thing I learned in prison it's that money is not the prime commodity in our lives is, time is." How appropriate to baseball given the approaching deadline known as the end of the regular season. It's a time in the baseball season when money doesn't matter, but time does. The Yankees hear the same ticktock as the far-less expensive Rays and Padres and Reds.
[+] Enlarge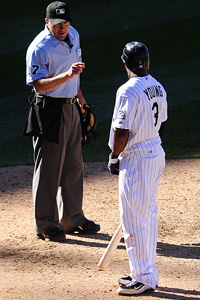 Byron Hetzler/US PresswireThe Rockies are chasing the Giants and Padres, but it was the Diamondbacks who inflicted the most damage up Colorado's playoffs hopes this month.
There are certain "go-to" predictors for baseball fans this time of the season. One of them is your own team's starting pitching -- how healthy is it? Is my offense clicking? Which guys have track records in September and October? Another go-to phrase for baseball fans is "strength of schedule." How often do you hear that "Such-and-such team is in good shape because they have no one on their schedule that is above .500 for the season." Good thought, though it hardly guarantees success. This season is just like any other season; teams that are out of contention are causing major league headaches for the teams that are in contention. Before this past weekend series with the Giants, the Rockies were swept by the Diamondbacks. The Rockies, the hottest team in the game, September's Santa Claus, were set to deliver another gift to Rockies fans when they ran into Arizona. Yep, the same Diamondbacks team that the Rockies just swept a week earlier scored 21 runs in three games against them and swept them right into the outbound lane of the playoffs. Conventional wisdom suggests the Rays are in better shape than the Yankees because the schedule maker has the Rays playing at home against Baltimore for three games, then ending the regular season on the road in Kansas City. Six games against opponents that are a combined 62 games under .500. But these are not your brother's Orioles anymore. Buck Showalter and his team have a winning record in September. There is also the argument that you would actually rather play a team that is invested in the game as well, somebody that will keep the intensity up, rather than go to a place like Kansas City where there is as much baseball life as there is in Montreal right now. The Yankees are 2-4 in Toronto this season, and they have three there before they go to Fenway to wrap up the regular season. The Red Sox could be 50 games under on their own and we all know how much that would mean, right? Absolutely nothing, because knowing they could ruin the Yankees' season, or at least mess with their chances at home-field advantage, would be enough to have Boston ready to go. So, which team would you think has a better chance of winning more of its final games, Tampa or New York? No team illustrates the unreliability of the upcoming schedule as a true measure of likely success better than the Cardinals. St. Louis was right in the middle of a real hot race with the Reds when it did this: went 2-4 against the Pirates, lost three of four to the Nationals, suffered three more defeats at the hands of the Houston Astros, then finally dropped two of three to the Brewers. Game over, good night. Money doesn't matter right now; neither does a team's record. Gordon Gekko appreciates riding the hot horse as much as anyone. Time is blind.
Karl Ravech is a host for "Baseball Tonight."
Baseball Tonight Live
"Baseball Tonight" analysts, ESPN.com writers and SweetSpot Network bloggers chatted and gave their in-game opinions throughout the day's games -- all in Baseball Tonight Live.
Touch 'Em All

Who went deep? Keep track of all the home runs hit each day on "Baseball Tonight" and the Baseball Tonight Clubhouse page. For more, check out the Home Run Tracker page.
| NAME | HR | OPP | SITUATION | Pitcher |
| --- | --- | --- | --- | --- |
| Albert Pujols, STL | 42 | CHC | Top 1: 1-0, 0 Outs. 2 on. | Samardzija |
| Ryan Braun, PHI | 24 | FLA | Bot 1: 0-0, 1 Out. 1 on. | Mendez |
| Miguel Cabrera, DET | 38 | MIN | Bot 7: 1-1, 2 Outs. 1 on. | Duensing |
| Ryan Braun, MIL | 25 | FLA | Bot 3: 0-2, 0 Outs. 1 on. | Mendez |
| Josh Wilson, SEA | 2 | TB | Top 6: 0-0, 2 Outs. 2 on. | Shields |
BASEBALL TONIGHT ON THE AIR
MONDAY
10 p.m. ET on ESPN2
Host: Karl Ravech
Analysts: John Kruk, Nomar Garciaparra, Buster Olney, Bobby Valentine
12 a.m. ET on ESPN
Host: Karl Ravech
Analysts: John Kruk
WEB GEMS LEADERBOARD

This season, "Baseball Tonight" will be tracking Web Gems. Points will be calculated by awarding five points for the night's top defensive play, four points for second, three for third, two for fourth and one for fifth. Scoring will be based on fan voting of the previous night's gems (from the last "Baseball Tonight" each night).
HUNT FOR OCTOBER
NATIONAL LEAGUE WEST
| Team | W-L | GB | POFF |
| --- | --- | --- | --- |
| San Francisco | 88-68 | -- | 83.0 pct. |
| San Diego | 87-68 | 0.5 | 57.0 pct. |
| Colorado | 83-72 | 4.5 | 0.3 pct. |
SUNDAY'S BEST AND WORST
BEST
Matt Cain, RHP, Giants

Cain
Cain took a no-hitter into the eighth in a big game against the Rockies. He didn't finish off the no-hitter, but did toss a complete game in a 4-2 win that pushed the Giants back ahead of the Padres in the NL West and further hurt Colorado's chances of getting one of the remaining postseason berths. Cain is now 4-0 since Aug. 18.
---
WORST
Clayton Richard, LHP, Padres

Richard
The Padres needed a win to hold on to first place. Instead, they got drilled 12-2 by the Reds. Richard started the trouble, giving up five hits, six runs and four walks over five innings before the Padres' bullpen made it worse. Richard is 1-4 over his past six starts.
MONDAY'S BEST MATCHUPS
Marlins at Braves, 7:10 p.m. ET


The Braves rest a half-game back in the NL wild-card race. They've limped home, losing five of their past six. It will be Tommy Hanson's task to get Atlanta a much-needed win. Hanson tossed six shutout innings in his most recent start, a no-decision in a game the Braves eventually lost 1-0 to the Phillies. He hasn't gotten much help since the All-Star break; Hanson is carrying a 2.77 ERA in the second half but a 2-6 record.
---
Dodgers at Rockies, 8:40 p.m. ET


The Rockies' postseason hopes have slimmed thanks to six losses in seven games. They trail by 4½ games in the NL West standings and sit four back in the wild-card race. But Colorado sends its ace out to the mound Monday, when Ubaldo Jimenez again goes searching for win No. 20. He was hit hard by the Diamondbacks -- five hits, five runs, four walks in four innings -- in an 8-4 loss his last time out.
---
Cubs at Padres, 10:05 p.m. ET


The Padres were hammered by the Reds on Sunday. They now face the Cubs and Carlos Zambrano, who is 6-0 over his past eight starts. He didn't get a win the last time he headed to the hill, despite allowing only three hits over six shutout innings. Granted, he was a little wild against the Giants in the Cubs' 1-0 loss; he walked six in six innings.
The rest of Monday's schedule »