Waiting game important for playoff-bound team
For 26 straight weeks, coaches, managers and GMs work toward clinching a playoff spot. So what happens when that goal is achieved a week or so in advance? Organizations must focus on a little R and R: rest and rotations. Celebrating a league championship is all well and good, but teams that have clinched need to take advantage of tweaking their lineups and giving key players some time off before the playoffs start.
[+] Enlarge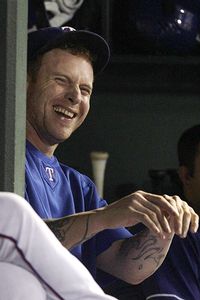 AP Photo/LM OteroThis is an important week for Josh Hamilton and the Rangers.
Start with the Phillies, who threw
Roy Halladay
out there Monday night to lock up their fourth consecutive National League East title. As it stands now, Halladay,
Cole Hamels
and
Roy Oswalt
are scheduled to pitch this weekend against the Braves. Manager Charlie Manuel, GM Ruben Amaro Jr. and pitching coach Rich Dubee will sit down and work out a way to best serve their elite pitching staff, but don't expect any of those three to start in the five remaining games. The Phillies have the luxury of lining up their ace (Halladay) to throw in Game 1 of the NL Division Series on Oct. 6. Of course they are going to capitalize on that. The same thing goes for Tampa Bay with
David Price
and the Yankees with
CC Sabathia
. The challenge is finding the right balance between getting rest and staying fresh. Knowing Halladay, he's not going to want to shut it down and wait for the postseason to start. So what you do is have him throw his bullpen session Wednesday, Thursday and Saturday but encourage him to take off Friday. Relief pitchers are different monsters. If you give some of these workhorses two or three days off and pitch your September call-ups, it's going to feel like a restful vacation. Tampa Bay's
Randy Choate
has appeared in 82 games this season, and
Matt Guerrier
has been called on 72 times by the Twins. You can bet Texas' duo of Darrens (Oliver and O'Day) are benefitting from the Rangers' early clinch. To guys with more than 60 games under their belts, a short break before the playoffs translates into a huge shot of adrenaline. There's also a lot of maneuvering in resting position players who are a little banged up from the wear and tear of the season. Since Tampa Bay clinched a playoff spot with its win Tuesday -- the division remains up for grabs -- I would continue to give
Evan Longoria
the rest he needs but be sure to have him grab a few at-bats here and there. The Yankees should do the same thing with
Derek Jeter
,
Robinson Cano
and
Alex Rodriguez
, while remembering to stagger days off to stay fair to the fan base. These teams won't play nine guys who just got called up. If you go to the ballpark and you're seeing
Brett Gardner
,
Nick Swisher
,
Mark Teixeira
, Jeter and
Jorge Posada
, but they're resting Cano and Rodriguez, that's five pretty good players for a fan to watch. The club has a responsibility to the fans, but it has a bigger responsibility to keep the players healthy so they ultimately can do what the fans want them to do -- win a World Series with the best on the field. The Rangers are in a more unique situation with
Josh Hamilton
because he's been out of the lineup for a while with fractured ribs. If I'm a part of the Texas organization, I'm going to want Hamilton to face some major league pitching before the playoffs start, even if that means using him in a DH role. He can shag fly balls in live batting practice and maybe get a few innings of work in the field, but the Rangers definitely need to use the rest of their games to test his postseason readiness. While clubs like the Phillies, Twins, Rangers and Reds (teams that have locked up division titles) plus the Yankees and Rays (who clinched at least wild-card berths) are strategizing for next week, the Giants, Braves and Padres are fighting to stay alive. It's all hands on deck to finish the season, and that means guys like Atlanta's
Tim Hudson
and
Derek Lowe
will be asked to start on short rest. (Hudson went on short rest Tuesday night and pitched well, getting the no-decision in a game in which the Braves got a much-needed 3-2 win against the Marlins). The physical benefits of clinching are obvious, but it's important to remember that there's also mental anguish for teams continuing to compete in high-pressure games. Teams that have already clinched might still have a few kinks to work out and a few chess moves to think about, but they've earned themselves a huge advantage heading into the postseason.
J.P. Ricciardi is the former manager of the Toronto Blue Jays and an analyst for "Baseball Tonight."
Touch 'Em All

Who went deep? Keep track of all the home runs hit each day on "Baseball Tonight" and the Baseball Tonight Clubhouse page. For more, check out the Home Run Tracker page.
| NAME | HR | OPP | SITUATION | Pitcher |
| --- | --- | --- | --- | --- |
| David Wright, NYM | 27 | MIL | Bot 6: 1-1, 2 Outs. 1 on. | Wolf |
| Carlos Pena, TB | 28 | BAL | Bot 4: 2-1, 0 Outs. None on. | Bergesen |
| Raul Ibanez, PHI | 16 | WAS | Top 4: 2-2, 0 Outs. None on. | Marquis |
| J.D. Drew, BOS | 21 | CHW | Top 3: 2-2, 1 Out. None on. | Jackson |
| Corey Hart, MIL | 31 | NYM | Top 6: 0-0, 0 Outs. None on. | Pelfrey |
Wednesday's Best Matchups
Marlins at Braves, 4:35 p.m. ET, ESPN


The Braves got a strong effort from Tim Hudson on short rest Tuesday -- he didn't pick up the win, but he did pitch six solid innings in a game Atlanta won 3-2. Now it's Derek Lowe's turn to keep the Braves in front in the NL wild card. Lowe also is coming back on three days' rest. He's won his past four starts, striking out 20 against two walks during the run.
---
Cubs at Padres, 10:05 p.m. ET


Chris Young has pitched well since returning from the disabled list, allowing two runs in two appearances. The Padres, still locked in a tight race with the Giants in the NL West and the Giants and Braves for the wild card, need another strong outing. They also need to figure out Cubs starter Randy Wells, who has won his past two starts, allowing only one run over 15 2/3 innings.
---
Diamondbacks at Giants, 10:15 p.m. ET, ESPN


The Giants, knowing the possibility of a one-game playoff to get into the postseason looms, altered their pitching rotation, moving Tim Lincecum up a day so he could pitch Wednesday and come back again if a 163rd game is required. Lincecum is 4-1 in September with a 2.08 ERA. The game he lost he gave up only two runs in a 2-1 defeat; he also pitched only five innings against the Brewers that day because manager Bruce Bochy went to a pinch hitter early in the game.
The rest of Wednesday's schedule »
BASEBALL TONIGHT ON THE AIR
WEDNESDAY
8:30 p.m. ET on ESPN
Host: Karl Ravech
Analysts: Bobby Valentine, J.P. Ricciardi, John Kruk
10 p.m. ET on ESPN2
Host: Karl Ravech
Analysts: Bobby Valentine, J.P. Ricciardi, John Kruk
WEB GEMS LEADERBOARD

This season, "Baseball Tonight" will be tracking Web Gems. Points will be calculated by awarding five points for the night's top defensive play, four points for second, three for third, two for fourth and one for fifth. Scoring will be based on fan voting of the previous night's gems (from the last "Baseball Tonight" each night).
HUNT FOR OCTOBER
NATIONAL LEAGUE WEST
| Team | W-L | GB | POFF |
| --- | --- | --- | --- |
| San Francisco | 88-68 | -- | 80.9 pct. |
| San Diego | 87-70 | 1.5 | 33.5 pct. |
TUESDAY'S BEST AND WORST
BEST
Jay Bruce, RF, Reds

Bruce
Bruce won't forget his ninth-inning homer against the Astros anytime soon. It didn't just give the Reds a 3-2 walk-off win, but it clinched the NL Central title for Cincinnati. It was the 22nd time the Reds won a game in their final at-bat, but this one might be the most memorable.
---
WORST
Nick Blackburn, RHP, Twins

Blackburn
Not exactly how Blackburn would like to be pitching heading into the postseason. He gave up eight hits and eight runs over 4 1/3 innings. He also walked up a pair and served up two homers as the Twins lost their fifth consecutive game.