So much to love and hate this year in baseball
Today is Monday, Oct. 4. It's a love/hate day. You love the fact that what promises to be a thrilling MLB postseason is about to begin. You hate the fact that baseball, the best sport there is, is nearing its end. With that theme in mind; here are some things that I loved/hated about the 2010 regular season. It was a shame
Ubaldo Jimenez
didn't win 20 games. It's also somewhat amazing. Jimenez was drawing comparisons to Bob Gibson on July 8, when he beat the Cardinals 4-2 for his 15th win of the season. He was 15-1 with a 2.20 ERA and had thrown a no-hitter. Then remarkably, despite allowing more than four earned runs only twice in his last 15 starts, Jimenez lost seven of his final 11 decisions. On Saturday at St. Louis, Jimenez went for win No. 20 and allowed only three singles in eight innings pitched while striking out 10. The Rockies lost 1-0 in 11 innings. Jimenez managed to set Rockies single-season records by winning 19 games and posting 214 strikeouts. But when Jimenez had 15 wins on July 8, no one thought he'd win only four more games all season.
[+] Enlarge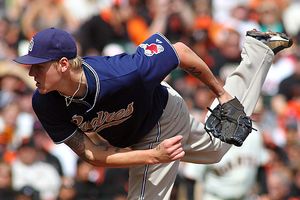 Cary Edmondson/US PresswireThe Padres were not shy about running rookie Mat Latos to the mound. They did it again Sunday, raising his innings count over 180.
I love the year
Paul Konerko
had. He won't win AL MVP, but he should be in the discussion. In fact, Konerko is too often overlooked when listing baseball's best power hitters, but this season "Paulie" (insert Hawk Harrelson voice there) produced at a level commensurate with the five-year, $60 million contract he got following his consecutive 40-homer seasons in 2004 and 2005. Well, that contract is up now. He hit well over .300, drove in well over 100 runs and has been given deserved notice for
Alex Rios
' resurgent season after hitting behind Rios in the White Sox's lineup. Konerko turns 35 in March. He and
A.J. Pierzynski
are both free agents. The White Sox already have about $80 million committed to 12 players for next season, so it's a good bet one of them, if not both Konerko and Pierzynski, might not be back in Chicago next season. They are, however, the guys that make that White Sox lineup dangerous. Take away their production and their grit and offensively the White Sox become the Royals. Speaking of the Royals, I hate that they continue to stink. It's bad for their superb fan base -- and it's bad for baseball. They're the Buffalo Bills of baseball. I'm tired of lousy Royals teams. Don't give me the "small-market" argument because the Royals began this season with a $75 million payroll, which was larger than the Rays, Rangers and Padres. Management has invested in the ballpark and turned it into an attraction for fans all over the Midwest. It's time to give those fans better players. Here's the oddest part of the solution: Trade the two best players on the team right now,
Zack Greinke
and
Joakim Soria
. Baseball scouts and personnel evaluators all consider the Royals' system to be "loaded" with breakthrough talent. The prospects, however, are a few years away. Greinke has already barked about not wanting to keep waiting for that talent to graduate to the big league level, so why not supplement the supply and create a land rush of offers for two of the best pitchers in baseball? Greinke is owed $13.5 million for each of the next two seasons. Soria's contract is very affordable; an argument for keeping him, yes, but perhaps it's something that also increases his trade value or expands his trade market: $4 million for 2011, with club options between $6 million and $8.75 million from 2012 through 2014. You're not winning now anyway, so let's go all-in on the youth movement, market it that way and legitimately contend in 2013 in Kansas City. I love how the Blue Jays put together a life-after-
Roy Halladay
rotation. Taking pieces from injury lists, drafts and trades, Toronto collected a solid group to take into next season.
Shaun Marcum
came back with his new elbow and won 13 games, while striking out 165 with a 3.64 ERA.
Ricky Romero
continued to develop into one of baseball's best pitchers with a ridiculous circle changeup that helped him win 14 games and pitch 210 innings.
Brandon Morrow
was a struggling, and then failed, closer in Seattle. But with Toronto, he has become a rotation building block who throws as hard as any starter in baseball. Morrow is still just 26, and on Aug. 8, came just one out short of a no-hitter against the Rays while striking out 17.
Brett Cecil
led the Jays with 15 wins, and adding youngster
Kyle Drabek
to the rotation for a full season in 2011 gives Toronto a promising group. I hate the way the Padres had to keep throwing
Mat Latos
out there this year. You can't blame Bud Black. Latos was San Diego's ace in a season that went down to the final day, when once again it was Latos who had to pitch, cranking his innings total for the season past 180 innings. Yikes. Latos is only 22 years old; he turns 23 in December. Last season, he threw 123 innings: 72 1/3 in the minors and 50 2/3 with San Diego. Young pitchers ideally increase their innings totals by no more than 30 innings per season but Latos has upped his innings by twice that. The cautionary tale is
Cole Hamels
. As a 24-year-old in 2008, Hamels threw 227.1 innings as part of the Phillies' regular-season run toward the playoffs, then tacked on another 27 innings in the postseason. As a result, Hamels, who had thrown 183 1/3 innings in 2007, upped that total by a whopping 71 in 2008. Hamels then struggled to a 10-11 mark in 2009, while his ERA, which had never been higher than 3.39 for a season, finished at 4.32. The Padres have ridden Mat Latos in 2010 because they've had to, no questions, no arguments. We can only hope for the best for Latos in 2011. While we're on the subject of young pitchers, it's impossible not to love what's happening in Baltimore. Let's start with
Brian Matusz
, who'll turn 24 in February. During one stretch from May through July, Matusz won only once in 18 starts. On Saturday, in his final start of the season, Matusz struck out a career-high nine and beat the Tigers to win his sixth straight decision. Matusz made 32 starts as a rookie, threw 175 2/3 innings and has shown himself to be the bulldog lefty that will lead a highly promising and very young Orioles rotation. Behind Matusz next year will be
Brad Bergesen
,
Jake Arrieta
and
Chris Tillman
, who will all be 25 or younger. Watch for lefty Zach Britton (if you're in a fantasy keeper league, DO draft Britton). He turns 23 in December and could complete the Birds' fab five rotation next season when you'll see a team that's as rich in young starting pitching as any in baseball. Oh, and that Showalter guy worked out pretty well too, didn't he? I liked what the Pirates did this season. I know that sounds odd, and certainly nothing was reflected in the standings. But Pittsburgh took some steps forward in 2010. The group of
Pedro Alvarez
,
Jose Tabata
and
Neil Walker
is a promising trio and the three best rookies that no one talked about this season. Yes, it's hard to feel overly optimistic about a franchise which had a 2010 opening day payroll under $35 million, or less than half of the Royals and Reds. The Pirates, however, were reportedly $120 million in debt in 2009. Hopefully much of the money that's been going to pay off the banks can now be invested in player development. I hated what happened to the Brewers' season. They will likely make an overdue managerial change and face tough decisions regarding
Prince Fielder
this winter. But I loved that they found a solid closer with a Rollie Fingers mustache this season in
John Axford
, who was born on April Fool's Day and has strikeout numbers as good as nearly any closer in the game. Hopefully sometime soon the Brewers' marketing folks will also realize that the Harvey's Wallbangers logo and uniform look IS who they are, and they'll go back to that look full-time, because it rocks. It looks great on my Don Money and Charlie Moore bobbleheads. I love Nationals Park, it's quite underrated I think, but I question what we saw from some of the Nationals' position prospects.
Justin Maxwell
turns 27 in November but at some point potential has to actually become concrete results.
Ian Desmond
just turned 25 and could be an offensive force at the shortstop position. Defensively, however, Desmond continues to boot far too many balls and will finish a season of more than 500 at-bats with more errors than walks. However, I'll point out that Hall of Famer Robin Yount committed a total of 94 errors in his first three full seasons as the Brewers' young shortstop. I love the way fans in Colorado got behind another September run, one led by guys nicknamed CarGo and Tulo. I didn't like the way Rays fans argued that long lines for free tickets were evidence of an active and supportive fan base after filling Tropicana Field to its 36,973 capacity only five times all season. I loved MLB public relations' note this week, quoting Nielsen data that showed how many teams were seeing huge local TV ratings increases: Reds up 92 percent; Rays up 74 percent; Rangers and Twins both up 42 percent; Padres up 40 percent; Braves up 31 percent; Rockies and Giants up 25 percent. I'm really looking forward to the postseason, but I know that soon I'll be out in the driveway with the snowblower, counting the days until spring training. Then comes April, when it will be time to revisit our favorite food stand outside Fenway Park, the Sausage King, where they make the best steak tips you'll ever have at a ballgame. Follow me on Twitter. I'm
@SBerthiaumeESPN
. Tweeting about all things baseball with our entire staff here on "Baseball Tonight".
Steve Berthiaume is a host for "Baseball Tonight."
Touch 'Em All

Who went deep? Keep track of all the home runs hit each day on "Baseball Tonight" and the Baseball Tonight Clubhouse page. For more, check out the Home Run Tracker page.
| NAME | HR | OPP | SITUATION | Pitcher |
| --- | --- | --- | --- | --- |
| Dan Uggla, FLA | 33 | PIT | Bot 1: 3-0, 2 Outs. 1 on. | Burres |
| Jay Bruce, CIN | 25 | MIL | Bot 4: 2-1, 1 Out. None on. | Wolf |
| Jayson Werth, PHI | 27 | ATL | Top 7: 1-2, 1 Out. 1 on. | Hudson |
| Matt Kemp, LAD | 28 | ARI | Bot 1: 1-0, 2 Outs. 1 on. | Lopez |
| Adam Lind, TOR | 23 | MIN | Top 7: 1-0, 2 Outs. None on. | Blackburn |
BASEBALL TONIGHT ON THE AIR
MONDAY
10 p.m. ET on ESPN2
Host: Karl Ravech
Analysts: John Kruk, Nomar Garciaparra, Bobby Valentine
12 a.m. ET on ESPN2
Host: Karl Ravech
Analysts: John Kruk, Nomar Garciaparra, Bobby Valentine
WEB GEMS LEADERBOARD

This season, "Baseball Tonight" will be tracking Web Gems. Points will be calculated by awarding five points for the night's top defensive play, four points for second, three for third, two for fourth and one for fifth. Scoring will be based on fan voting of the previous night's gems (from the last "Baseball Tonight" each night).
THURSDAY'S BEST AND WORST
BEST
Jonathan Sanchez, LHP, Giants

Sanchez
The Giants needed a win to help avoid NL playoff chaos, and they got it. A Giants loss would have set off a three-team tiebreaker on Monday and Tuesday to determine the final two playoff spots, but Sanchez and five relievers shut out the Padres for a 3-0 win that sealed the NL West for the Giants on the final day of the season.
---
WORST
Dustin Moseley, RHP, Yankees

Moseley
The Yankees couldn't close with a win, and instead their loss gave the Rays the AL East title. Moseley got New York in trouble from the outset, giving up two runs in the first inning by serving up a two-run shot to J.D. Drew.