Rob Carr/Getty Images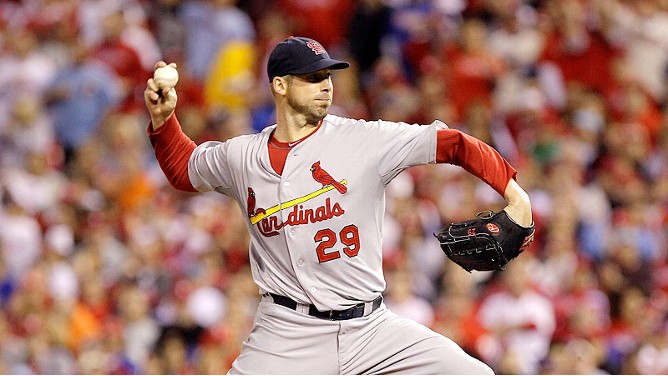 Card Carrier
With his complete-game shutout of the Phillies, Chris Carpenter won a classic pitchers' duel to take the Cardinals to the NLCS. Jayson Stark »
StL - Phi
SERIES DETAILS
CARDINALS WIN OVER PHILLIES, 3-2
SWEETSPOT BLOG NETWORK

Fungoes
A fan blog devoted to the St. Louis Cardinals

REGULAR SEASON SERIES
Cardinals won 6-3
| | | |
| --- | --- | --- |
| May 16, 2011 | Phillies 1, Cardinals 3 | Recap |
| May 17, 2011 | Phillies 1, Cardinals 2 | Recap |
| Jun 21, 2011 | Phillies 10, Cardinals 2 | Recap |
| Jun 22, 2011 | Phillies 4, Cardinals 0 | Recap |
| Jun 23, 2011 | Phillies 2, Cardinals 12 | Recap |
| Sep 16, 2011 | Cardinals 4, Phillies 2 | Recap |
| Sep 17, 2011 | Cardinals 2, Phillies 9 | Recap |
| Sep 18, 2011 | Cardinals 5, Phillies 0 | Recap |
| Sep 19, 2011 | Cardinals 4, Phillies 3 | Recap |
POSTSEASON HISTORY

Championships: 2
Last title: 2008
Last season:
Lost in the League Championship Series to the San Francisco Giants
Cardinals St. Louis Cardinals
Tweet your new food idea with #CardsFoodie & we may add it to our 2017 menu! Submit by March 3 #FanFoodChallenge… https://t.co/ch4OqAo4Ul
about an hour ago

Phillies Phillies
A balanced offensive attack lead to 10 runs and a win this afternoon against the Blue Jays: https://t.co/7hKNPiAi2A https://t.co/7f8ZSBy568
about 3 hours ago

Cardinals St. Louis Cardinals
.@EJFryer's 2017 Spring Training debut went quite well: 2-2, 2 RBI, 2 R. #STLCards https://t.co/LTiRfcdrn4
about 3 hours ago

philliesnation Phillies Nation
Commentary: The Phillies' future is extremely bright https://t.co/6HzcQRVpjY
about 4 hours ago

Cardinals St. Louis Cardinals
RECAP: @Yadimolina04 drives in two as the #STLCards grab their first win of the 2017 Spring Training.… https://t.co/Bq4ZpjXKPr
about 4 hours ago

Phillies Phillies
That's what they call 'turning on one.' https://t.co/0mSPAFDFRt
about 4 hours ago

jaysonst Jayson Stark
Spring box score line du jour: Pirates phenom Tyler Glasnow vs Bal - 2 IP 1 H 6 K. It went: K, K, K, K, K, 1B, K vs Orioles' "A" lineup. Wow
about 5 hours ago

Cardinals St. Louis Cardinals
RECAP: @Yadimolina04 drives in two as the #STLCards grab first win of the 2017 Spring Training.… https://t.co/UZaei5dtPk
about 5 hours ago

Phillies Phillies
All done in Dunedin. https://t.co/lfh7gWNAHj
about 6 hours ago

Cardinals St. Louis Cardinals
We will see you 2x tomorrow for a split squad day.Split Squad Team 1: vs. Washington 12:05 pmSplit Squad Team 2:… https://t.co/Y8xHxZYUfQ
about 6 hours ago

Cardinals St. Louis Cardinals
For the first time in 2017 #THATSAWINNER!!! 👏👏👏 https://t.co/cyifjBYMcu
about 6 hours ago

Cardinals St. Louis Cardinals
.@_coreybaker with a scoreless effort in the 8th. Headed to the ⬇️8th: #STLCards 7, #Marlins 4.
about 6 hours ago

Phillies Phillies
.@dylancozens putting those long legs to good use this afternoon. 🏃💨 #YoCoz https://t.co/0qYtEGmxw8
about 6 hours ago

Phillies Phillies
The kids came to play today! We've got a 10-3 lead at the 7th inning stretch. https://t.co/QmZL2ojOpQ https://t.co/YHRLhtAyup
about 7 hours ago

Cardinals St. Louis Cardinals
.@_coreybaker shuts down the Marlins in the 7th. It's ⏰to stretch! #STLCards 7, #Marlins 4.
about 7 hours ago

Cardinals St. Louis Cardinals
The #STLCards pick up another run on the infield hit by Wilfredo Tovar with the bases loaded. We now lead 7-4 in the 6th.
about 7 hours ago

Cardinals St. Louis Cardinals
.@MunditoSosa brings home a run! The #STLCards lead is now 6-4 in the 6th. https://t.co/fd7tEQczg5
about 7 hours ago

Cardinals St. Louis Cardinals
.@_coreybaker gets a double play to end the Marlins threat in the 6th. 👍The #STLCards continue to lead 5-4.
about 7 hours ago

Phillies Phillies
Stay hot, @brockstassi28! 🔥His RBI double has us up 5-3 as we enter the 6th inning. https://t.co/KfDrpg5S72
about 7 hours ago

Cardinals St. Louis Cardinals
The Marlins push across four runs in the 5th. The #STLCards lead is 5-4 as we come to bat.
about 7 hours ago
SPORTSNATION
With a winner-take-all Game 5, the Cardinals and the Phillies have an equal shot at reaching the NLCS. But which team has the upper hand?
Vote and be heard!



Listen to all games on ESPNRadio.com
ACCUSCORE PROJECTIONS
AccuScore has powered more than 10,000 simulations for every MLB game for ESPN.com, each simulated one play at a time and minimum of 10,000 times. View all projections.
FEATURED COMMENT
"

the squirrel is undefeated, he beat the Cards last night and the Philies tonight.

" -- crestonguy
SWING OF BEAUTY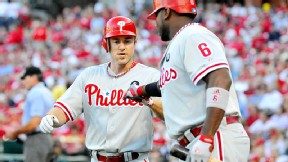 Why is Chase Utley a great hitter? Check out a detailed breakdown of his swing. Photos »
EXPERT PICKS
Bowden

In 5

Karabell

In 3

Caple

In 4

Bryant

In 4

Crasnick

In 4

Schoenfield

In 4

Stark

In 5

Kahrl

In 4