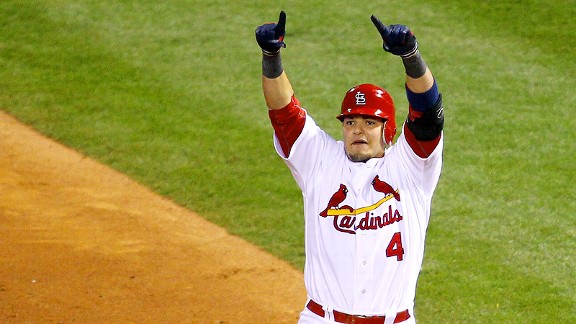 What did you do when Nelly and Salman Rushdie both wish you well? Won the World Series, of course. Celebrities, athletes and fans react to the Cardinals victory. Leave your thoughts in the conversation below!
Athletes and celebrities react on Twitter:
Kurt Warner (@kurt13warner)
CARDS WIN... Time to celebrate STL! Enjoy the parade, I still remember ours! Wish I could have been there, but was there in spirit!
Kerry Rhodes (@kerryrhodes)
Looking at the rangers faces coming into this inning I could tell it was over!! Man.
Nelly (@Nelly_Mo)
11 in 2011 IF U WIT ME let me see ya CARDS HAT and eleven!!all the way from china! http://t.co/B8SIpuAU
Larry Fitzgerald (@LarryFitzgerald) Congrats to the St. Louis Cardinals. Hard fought series they had to overcome in beating TX in seven
Salman Rushdie (@SalmanRushdie) Congratulations to the Cardinals! Such a fun world series.
Shaquille O'Neal (@THE_REAL_SHAQ) Who thinks Albert pujols is gonna get that 300 million now, I do, he deserves it congrats again to Albert and the cardinals organization.
Dane Cook (@danecook)
Congrats SLC on a terrific World Series win. Only 157 days until Opening Day. Let's go Red Sox!!
Danica Patrick (@DanicaPatrick) 10.5 games back at the end of the summer.... To world series champs. They are so cool.
Kyle Rudolph (@KyleRudolph82) Can't imagine the feeling in that Rangers dugout.. Not only losing back to back world series, but being one strike away two different times!
Katie Hamilton (@KandJHamilton) Disappointing ending for us #Rangers, but I couldn't be any more proud of my husband! I love me some Josh Hamilton!
Follow us (@ESPN)
Here's what SportsNation had to say:
beveledge: I need a dollar for every Ranger fan who said "Texas doesn't lose 2 in a row."
elchupanibre55: The only reason why I feel bad for Rangers losing, Ron Washington.
JEMax12: Come on...albert has to stay! If he does, and we get Wainwright back....OOOOH LOOK OUT!!
CardinalNationHappyFlight: Although, the Rangers time will still come. Great team, great series.
dmbase: I really do think they need to revisit the All-Star home field advantage. If Texas has home field advantage in this series I don't think St. Louis wins.
reddaniel46: i demand a movie and a book
jamesmoulton: Noone would believe it.