AP Photo/Tony Gutierrez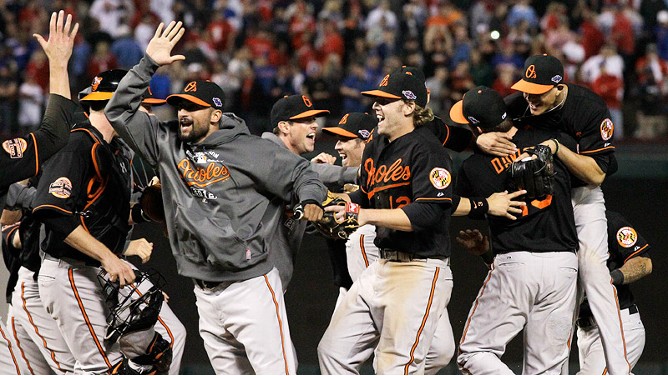 No Stopping Them
The Orioles' miracle run continues, thanks in large part to the great performance from Joe Saunders in the AL wild-card game. David Schoenfield »
Bal - Tex
SERIES DETAILS
ORIOLES WIN OVER RANGERS, 1-0
CONTENT ARCHIVE
FRIDAY, OCT. 5
• Knight: 'Underdog' O's roll right into ALDS »
• Schoenfield: O's continue to defy the odds »
• Orioles top Rangers, advance to ALDS


• Baseball Tonight breaks down Orioles' win


• Hardy describes how O's beat Rangers


• Stats & Info: Matusz recorded the key out »
• Durrett: Rangers' offense fails to execute »
• Taylor: Rangers, Hamilton should part ways »
• Booed Hamilton open-ended on free agency »
• Durrett: Beltre's propels Rangers »
• Taylor: Darvish pitching like an ace »
• Stats & Info: Stopping Josh Hamilton »
• Triple Play: Wild-card picks to click »
• Rangers roster: Extra arms, deep bench »
• Durrett: Three reasons Texas win/loses »
• Olney: Key wild-card matchups

THURSDAY, OCT. 4
WEDNESDAY, OCT. 3



Listen to all games on ESPNRadio.com
MORE FROM ESPN DALLAS

Check out ESPN Dallas, your destination for sports coverage in the Dallas/Fort Worth area.
POSTSEASON HISTORY

Championships: 0
Last title: Never won the World Series
Last season:
Lost in the World Series to the St. Louis Cardinals
ACCUSCORE PROJECTIONS
AccuScore has powered more than 10,000 simulations for every MLB game for ESPN.com, each simulated one play at a time and minimum of 10,000 times. View all projections.
SWEETSPOT BLOG NETWORK