Whom should you root for in the World Series? That's easy.
Root for the Giants. Because their postseason adventure deserves a John Williams film score. Six times they were on the brink of elimination and each time they won, first rallying from an 0-2 deficit to the Reds on the road in the division series, then from a 1-3 deficit to the Cardinals in the NLCS. Their October has been so dramatic that Hunter Pence's shattered bat should have had "Wonderboy" burned into the barrel -- and been replaced by one called the "Savoy Special."
Root for the Tigers. Because in this angry election year when so many Americans are so fiercely divided and partisan, Detroit performed the most patriotic, unifying act of all -- sweeping the Yankees in four games and sending A-Rod home (again).
Root for the Giants. Because they not only have one of the finest, most intimate and most beautiful ballparks in baseball, they built it the old-fashioned way -- they paid for it themselves.
Root for the Tigers. Because their welcoming ballpark is baseball's version of a state fair, filled with tigers, statues, a merry-go-round, a Ferris wheel, Coney dogs, picnic tables and a beer hall. The only thing missing is a crooked carney running a midway booth where not even Justin Verlander could knock over all the milk bottles.
Root for the Giants. Because McCovey Cove commands more attention than any body of water that doesn't have Michael Phelps swimming laps in it.
Root for the Tigers. Because they have a player -- Prince Fielder -- who can actually hit a home run into McCovey Cove.
Root for the Giants. Because 50 years ago, they suffered the most painful loss in World Series history that didn't include a ball rolling between a first baseman's legs.
Root for the Tigers. Because they haven't won a World Series since a bouncer last carded Jamie Moyer at a bar.
Root for the Giants. Because their roster includes a Panda, an Angel, a Buster, a Hunter, a Marco and a Timmy.
Root for the Tigers. Because their roster includes a Prince, an Austin, a Max, an Omar, an Avisail and a Jhonny.
Root for the Giants. Because Bruce Bochy has one of baseball's greatest managerial minds … and its biggest head outside of Charlie Brown.
Root for the Tigers. Because manager Jim Leyland's brilliant career goes all the way back to when Barry Bonds wore a size 7 3/8 cap.
Root for the Giants. Because the most frightening look in orange and black this Halloween will be Matt Cain staring down a batter from the mound. (Except, of course, for Brian Wilson just standing around with that beard.)
Root for the Tigers. Because their home uniform with the traditional old English D against the white jersey is the best, most fashionable look this side of George Clooney on the red carpet.
Root for the Giants. Because they took a stand by keeping Melky Cabrera off their postseason roster even after he served his suspension for taking PEDs.
Root for the Tigers. Because despite leaving Cabrera off the roster, the Giants still benefited from his cheating with all the victories to which he contributed before he was suspended. Plus, San Francisco has reliever Guillermo Mota on the roster, and he's a two-time drug cheat.
Root for the Giants. Because they have an MVP-worthy catcher (Buster Posey) who came back from a broken leg so gruesome you needed a painkiller just to watch the replay.
Root for the Tigers. Because they not only have a Prince, they also have a pitcher (Verlander) and a batter (Miguel Cabrera) who own triple crowns.
Root for the Giants. Because when they play in the World Series, the ground can move.
Root for the Tigers. Because when they play in the World Series, the streets can blaze.
Still not sure for whom to root? Then just root for the series to go seven games. Because it's a long, long four months until spring training.
CSI: Box Score
Each week, I provide a fragment from an old box score and challenge you to determine what game it is from and why it's significant. I give this one a difficulty rating of 5. Answer below:
Baseball Card of the Week
Ralph Terry was the goat when he gave up the Game 7-ending home run to Bill Mazeroski in the 1960 World Series. Two years later, he was the hero when he pitched a 1-0 Game 7 shutout to win the 1962 World Series. (1963 Topps, No. 148). Of course, San Francisco fans hope this series ends a tad differently, with Panda or Buster hitting the ball a couple feet higher than McCovey did.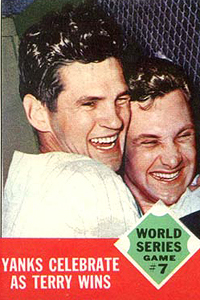 Box Score Line of the Week
With the Yankees trailing three games to none, CC Sabathia pitched a game he called "embarrassing" (3⅔ IP, 11 H, 6 R, 5 ER, 2 BB, 3 K). With his team down three games to one, Barry Zito pitched 7⅓ scoreless innings (7⅓ IP, 6 H, 0 R, 0 ER, 1 BB, 6 K) in a performance that almost justified his $126 million contract. And despite not having his best stuff, Verlander pitched another gem (8⅓ IP, 3 H, 1 R, 1 ER, 0 BB, 3 K) to clinch the American League pennant.
But this week's award goes to this little line in the NLCS Game 3 box score:
T-3:02 (rain delay, 3:28).
Yes, that was a 3-hour, 28-minute rain delay. And while that was going on, the start of Game 4 of the ALCS was being delayed (and eventually postponed) even though not a drop of rain fell in Detroit until almost two hours after the scheduled first pitch.
Which just goes to show you, you can't win no matter what you do.
Yeah, Well, That's Like, Just Your Opinion, Man
But Would It Kill Them To Mix In A Division Title Every Once In A While? Frankly, I'm tired of watching the Cardinals in the postseason, but their consistent success is the most impressive in baseball, perhaps in all of professional sports. Operating in one of baseball's smallest markets, the Cardinals have been to the World Series three times in the past decade (more than any other team) and won it twice. They also have reached the postseason nine times since 2000 and won more postseason games in the past 10 years than the Yankees. And they draw more than 3 million fans every year. Meanwhile, their rival across the state hasn't been to the postseason in 27 years and has only one winning season in the past 19. Rather than whine about the limits of their market, the Cardinals simply win and build themselves into a local institution.
@#$%! @##%$! &!%@$! !&@%$! I'll miss Ozzie Guillen, who must have had a few R-rated responses to his firing Tuesday. Ozzie can occasionally rub people the wrong way, but I've always found him funny and refreshingly honest (perhaps a little too honest for some thin-skinned players). And while he had a disastrous season this year -- beginning with the Castro comments -- he can always point to something no one alive on this earth can say: He won a World Series in Chicago. I hope someone hires him soon, but I expect it will be a long wait.
At Least He's Wearing a Giants Uniform And Not A Spandex Tux. So Far, At Least. Not to imply Brian Wilson is a little obvious in his attempt to get TV time despite not playing, but the next thing you know, he'll be wearing a rainbow wig and holding up a John 3:16 sign.
CSI: Box Score Answer
There were two main clues. The first is Chicago in the pitching lines. The other is the name Newhouser. That would be Detroit's Hal Newhouser, who was the winning pitcher against the Cubs in Game 7 of the 1945 World Series. As everyone should know, this was the last World Series game for the Cubs, and it didn't go well. Hank Borowy and Paul Derringer dug Chicago into a 5-0 hole before their first at-bat, and Chicago lost 9-3. Note that Borowy went 2-2 in that series. He is the last pitcher to have four decisions in a single World Series.