Now
ESPN.com's SweetSpot
@espn_sweet_spot

Real or not? Ronald Acuna and Ozzie Albies show us the future es.pn/2HPSndB
Jesse Rogers
ESPN Staff Writer
Watch Kyle Schwarber react to hitting a home run in a 1-0 win over Milwaukee on Thursday.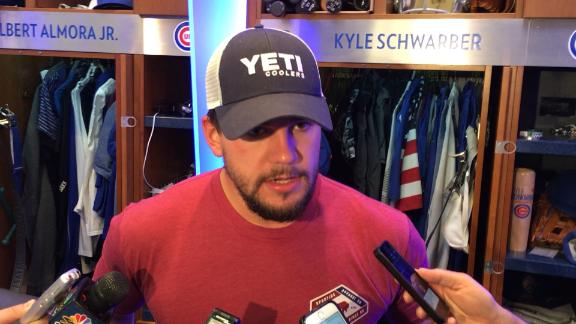 Eddie Matz
ESPN Senior Writer
Last time the Orioles (6-19) had a worse first 25 games was 1988. For those who've blocked it out of their minds, that's the year they started off by losing their first 21 games in a row.
Eddie Matz
ESPN Senior Writer
Break up the Rays! With a 9-5 win over the Orioles, Tampa has now ripped off six straight W's. And they've done it with offense, scoring eight-plus runs in five consecutive games, a franchise record.
Eddie Matz
ESPN Senior Writer
So much for the whole strength-of-schedule argument. The Orioles - who've already faced BOS, HOU, NYY, CLE, MIN - have been outscored 16-6 in 1.5 games vs. the Rays.
Corey Pronman
@coreypronman
.@jaysonst on shortening the MLB schedule theathletic.com/329995/2018/04… pic.twitter.com/zoFWh90mfI
Eddie Matz
ESPN Senior Writer
The Rays are making Dylan Bundy look more like Al Bundy. The Orioles' righty, who came in with a 1.42 ERA (4th in AL), has already surrendered two bombs and a double and has plunked a batter. And it's only the second inning.
Dan Shulman
@DShulman_ESPN
Rubber match between #bluejays and #redsox coming up on SN1 with the ol' Buckeroo and @thehazelmae. #jays will try… twitter.com/i/web/status/9…
Eddie Matz
ESPN Senior Writer
Rays reliever Jonny Venters made it back to the bigs yesterday after six years and three Tommy John surgeries. The coolest part? His wife and three little children were there to witness it. Venters didn't know he was getting promoted until shortly before noon. He called his wife at 12:30, and she and the kids somehow managed to hop a 5:30 flight from Atlanta to Baltimore, arriving at Camden Yards just in the nick of time to watch Venters retire Chris Davis (the only batter he faced) in the bottom of the sixth. "It was special," says Venters. "It was like making my debut again."
Jesse Rogers
ESPN Staff Writer
The Cubs say no change in the status of Kris Bryant who remains "under evaluation" after getting hit in the helmet by a pitch on Sunday. He'll miss his third straight game and is scheduled to meet with the Cubs team doctor today. Tommy La Stella starts at third base in his place.
David Payne Purdum
@DavidPurdum
Only 10 percent of the money bet on the Marlins-Dodgers game yesterday @WilliamHillUS was on underdog Miami. Marlin… twitter.com/i/web/status/9…
Dan Shulman
@DShulman_ESPN
This week's podcast has dropped! Guests - #bluejays GM Ross Atkins, Don Cherry on his days as a baseball player,… twitter.com/i/web/status/9…
SportsCenter
@SportsCenter
Boston has has approved a plan to change the name of Yawkey Way, the street outside Fenway Park named in honor of a… twitter.com/i/web/status/9…
Coley Harvey
ESPN Staff Writer
As he celebrates his 26th birthday today, here's an interesting stat about Aaron Judge from the Yankees. Only three Yankees in the past 50 years have hit more homers than Judge's 63 before their 26th bdays: Don Mattingly (94), Bobby Murcer (77), Derek Jeter (70). Remember, Judge made his MLB debut at 24. Mattingly made his at 21, Murcer at 19 and Jeter at 20. One of Judge's 63 homers actually came on his birthday. He hit a homer in a 3-1 win over Boston last April 26.