Now
Buster Olney
@Buster_ESPN
Bruce Bochy on Pablo Sandoval making his first career start at second base tonight: "We're looking for a quality start."
Rick Sutcliffe
@Sut_ESPN

Landed in Cleveland. Got to hotel. Unpacked. Turned on TV. @Indians still playing? Walked to ballpark. Walked in Wa… twitter.com/i/web/status/1…
Mike Trout
@MikeTrout
Detroit✈️✈️✈️✈️✈️!!!
Coley Harvey
ESPN Staff Writer
Aaron Boone says he really likes Mike Trout from the time he got to know him as an analyst. But now that he's a manager? "Can't stand seeing him walk up to the plate now," Boone said, laughing. He credited Masahiro Tanaka for establishing his fastball against Trout in their first at-bat today. That set a tone the rest of the game.
Coley Harvey
ESPN Staff Writer
Thanks to an inning in which only one ball — Aaron Judge's 119.9-mph single to right — left the infield, the Yankees earned a series win over the Angels on Sunday. The day's 3-1 victory was punctuated by Judge's hit, the hardest recorded by Statcast this season, and a series of third-inning walks that followed. Much like Aaron Hicks' bases-loaded base on balls, Greg Bird also brought in a run when he was hit by a pitch with the bases full. It was Bird's first RBI of the season. The Yankees are now 15-3 in their past 18 home games.
Enrique Rojas
ESPNdeportes
El intermedista venezolano José Altuve va de 4-4 al bate en la octava entrada del partido del domingo entre los Houston Astros y los Cleveland Indians. Altuve ha pegado hits en 10 turnos seguidos desde el viernes, una marca de todos los tiempos para la fanquicia de Houston.
Jesse Rogers
ESPN Staff Writer
Cubs lefty Mike Montgomery will start on Monday against the Pirates as he essentially replaces Yu Darvish in the rotation, at least for one outing. Darvish (right triceps) went on the DL on Saturday pushing Tyler Chatwood up to pitch on Sunday, leaving Monday open for Montgomery who will make his first start of the season.
Buster Olney
@Buster_ESPN
Yep: Bottom line, the Padres bought a second-round pick. twitter.com/BNightengale/s… Similar to how they effectively bo… twitter.com/i/web/status/1…
Buster Olney
@Buster_ESPN
We're about a third of the way into the season. At his current pace, Jose Altuve would finish the season with 213 h… twitter.com/i/web/status/1…
Rick Sutcliffe
@Sut_ESPN

Off to Cleveland this morning. @espn @whitesox @Indians tomorrow. 1 of 3 games on @memorial day
Dan Shulman
@DShulman_ESPN
Lights on, cloudy skies, but fingers crossed the rain holds off till late afternoon. #bluejays #phillies next on @Sportsnet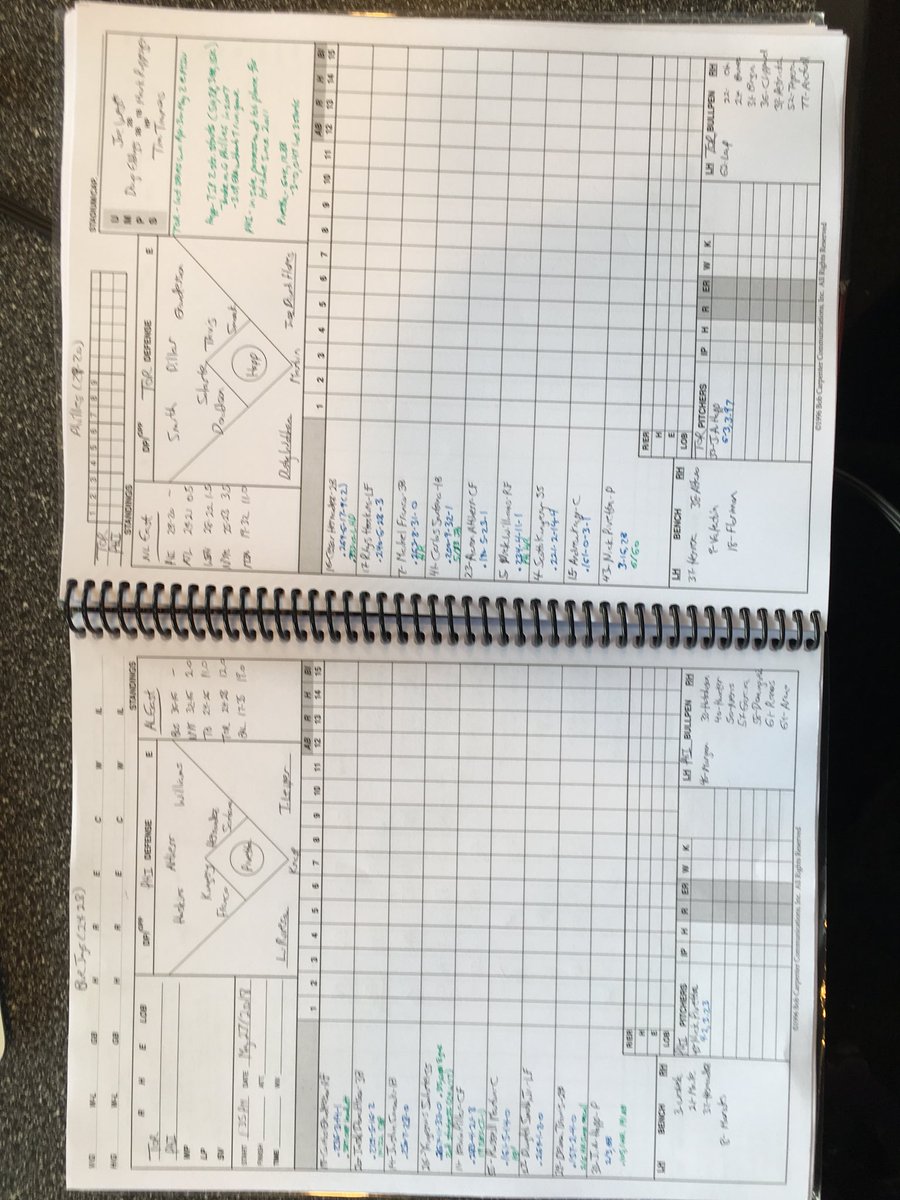 Coley Harvey
ESPN Staff Writer
Aaron Boone says Gleyber Torres is being given the day off after banging up a knee when he dove for a liner in Friday night's game. "He's OK ... don't think it's a big deal," Boone said. Torres is available to the Yankees today if need be.