Now
Buster Olney
@Buster_ESPN
From the great @SlangsOnSports: Another MLB strikeout/HR record will be in jeopardy this season. The number of inst… twitter.com/i/web/status/1…
Bill Barnwell
@billbarnwell

So the best fielder in baseball by UZR/150 has been, um, Kyle Schwarber? fangraphs.com/leaders.aspx?p… pic.twitter.com/jPjBSEpyYw
Jesse Rogers
ESPN Staff Writer
Watch Kris Bryant discuss the Cubs second consecutive loss to the Reds on Friday. He went 0 for 4 with 3 k's.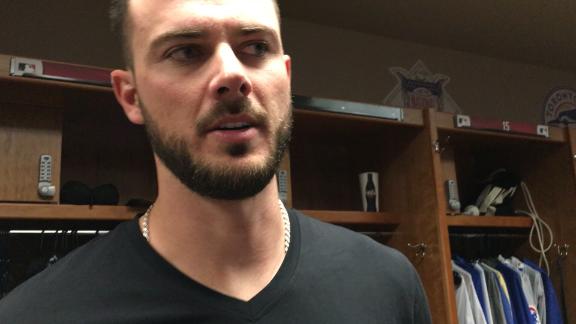 Eddie Matz
ESPN Senior Writer
The Phillies don't appear to be going away any time soon. They trounced the Nationals 12-2 in the opener of a three-game set in DC, thanks to four more hits from white-hot Odubel Herrera, who homered for the fifth straight game. With the win, Philly leapfrogs Washington for second place in the NL East. The Phils are 8-3 in their last 11 games, while the Nats are 3-8. Freaky Friday, anyone?
David Schoenfield
ESPN Senior Writer
Entering tonight, teams were 409-19 when leading by 5+ runs at any point in a game. The Mariners are in danger of blowing their second five-run lead in three games as the Red Sox have rallied from a 10-5 deficit to take a 12-10 lead. J.D. Martinez puts them ahead with a two-run single, his fourth hit of the game.
Buster Olney
@Buster_ESPN
The Cardinals' Jack Flaherty hasn't allowed a hit in his first five innings against the Brewers. espn.com/mlb/boxscore?g…
David Schoenfield
ESPN Senior Writer
J.D. Martinez slams a 1-2 pitch over the center field fence for his 23rd home run to bring the Red Sox to 10-8. Forget Ichiro. Let's just get Nellie Cruz and Martinez in the Home Run Derby.
David Schoenfield
ESPN Senior Writer
Red Sox reliever Brian Johnson will get the chance to face Mike Zunino next inning. The two were three-year teammates at the University of Florida and first-round picks in 2012. During BP, Zunino came over and gave Johnson a big embrace and the two chatted for a bit. He's 0-for-3 with two K's against Johnson.
David Schoenfield
ESPN Senior Writer
Have a night, Nelson Cruz: he crushes another knuckleball from Steven Wright that didn't knuckle and belts his second three-run homer of the game. He's 3-for-3 with seven RBIs and has his second multi-homer game of 2018. The Mariners lead 10-5 and Wright is out of the game.
Eddie Matz
ESPN Senior Writer
Odubel Herrera is blue-hot. The Phillies centerfielder belted a two-run homer off Nats starter Tanner Roark. It's Herrera's fifth straight game with a bomb. In those five games, he's hitting .579 (11-for-19).
David Schoenfield
ESPN Senior Writer
Just like that, the Red Sox erase the 4-0 deficit. Last weekend at Safeco Field, Wade LeBlanc held the Red Sox scoreless for 7.2 innings and retired 22 straight at one point. Tonight, he was eight pitches in and the first four batters had reached with hits. With two outs, Christian Vazquez doubles into the triangle and the Red Sox lead 5-4. It's old-school Fenway Park baseball.
SportsCenter
@SportsCenter
Blue Jays closer Roberto Osuna was suspended without pay for 75 games for violating Major League Baseball's domesti… twitter.com/i/web/status/1…
David Schoenfield
ESPN Senior Writer
Coming off a three-game sweep at Yankee Stadium, this series at Fenway shapes up an important one for the Mariners as they get tested against the AL's best. Nelson Cruz gives them a first-inning lead with a three-run homer over the Green Monster off knuckleballer Steven Wright and Ryon Healy then crushes his first pitch for another homer. Red Sox fans still waiting in line for a Fenway Frank will find their team down 4-0 before finding their seats.
ESPN FC
@ESPNFC

AC Milan's ownership is in major doubt but the club is now being eyed up by the owners of the Chicago Cubs:… twitter.com/i/web/status/1…