Now
ESPN.com's SweetSpot
@espn_sweet_spot

Are the standings becoming easier to predict? es.pn/2nEvnDG
Buster Olney
@Buster_ESPN
Clay Buchholz is struggling this spring. philly.com/philly/sports/…
ESPN UK
@ESPNUK

I'm not sure you're supposed to say that son! 😂 #MLB es.pn/2n8ZxvP
karl ravech
@karlravechespn
Orioles and Red Sox tomorrow at 1 ESPN. Less than a week until Opening day. Gets no better
Jesse Rogers
ESPN Staff Writer
Though hitting .152 this spring Jason Heyward has done some good things late in camp including a 3 walk day on Sunday after hitting his second home run of the month on Saturday. From the start Heyward committed himself to swinging at strikes no matter what kind of frustration came with his batting average. A higher walk total this season would be a step in the right direction for Heyward.
ESPN Staff
Patriots coach Bill Belichick stopped by Diamondbacks' spring training on Sunday and visited with Chief Baseball Analyst Tony La Russa.
Buster Olney
@Buster_ESPN
Kolten Wong clarifies his comments to @Ben_Fred: stltoday.com/sports/basebal…
Jesse Rogers
ESPN Staff Writer
Watch Joe Maddon talk about closer Wade Davis who has a 19.64 spring era. He says he's not worried because the velocity is there and Davis is healthy.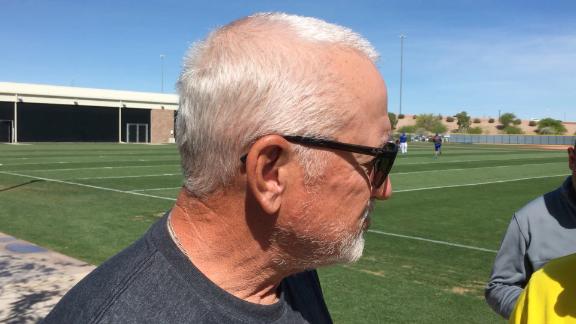 Buster Olney
@Buster_ESPN
Sunday notes. espn.com/blog/buster-ol… Mike Trout's interesting idea for umpires; Meulens a breakout star in WBC; a heck of a back story.
Marly Rivera
ESPN Writer
Yankees released LHP Jon Niese.
Bryce Harper
@Bharper3407
Get your #CapsOn ! Head to your local @lids and step up your cap game with @NewEraCap to get ready for Opening Day… twitter.com/i/web/status/8…
Scott Lauber
ESPN Staff Writer
Red Sox remain "hopeful" of Hanley Ramirez (shoulder) playing first base before end of spring training but also realistic that camp breaks in four days, manager John Farrell says. As such, utilityman Josh Rutledge is getting reps at first base, too, as righty-hitting platoon partner for Mitch Moreland.
Scott Lauber
ESPN Staff Writer
Allen Craig (making $11 million this season) and Rusney Castillo ($10.5 million) among seven players shipped back to minors by Red Sox.
Dan Shulman
@DShulman_ESPN
Buck said today that @russellmartin55 was going to take Canadian Jr National Team kids out for dinner tonight after the game. That's A+ cool
ESPN Chalk
@ESPN_Chalk
Don't forget that @MagicRatSF's NL West and Central #mlb betting previews are up here: es.pn/2mUg4mr