Now
Buster Olney
@Buster_ESPN
Within the notebook: The risk that rival evaluators see in the Padres' trade for Francisco Mejia. es.pn/2uVZSa6
Dan Shulman
@DShulman_ESPN
#bluejays news - @yunitogurriel activated, in the lineup at 2B...Urena optioned to Buffalo. Estrada will not start… twitter.com/i/web/status/1…
Rick Sutcliffe
@Sut_ESPN

I believe I beat the Braves that day. One of my few vs them. twitter.com/ttm_todd/statu…
Buster Olney
@Buster_ESPN
The Indians' separation in the AL Central will give some space for the Twins to pursue best possible deals for Bria… twitter.com/i/web/status/1…
Buster Olney
@Buster_ESPN
The Indians' chances to win the AL Central assessed at 99.6%: fangraphs.com/standings/play…
Buster Olney
@Buster_ESPN
Matt Carpenter keeps eating the salsa. mlb.com/news/matt-carp… As he should. What an incredible run for Carpenter:… twitter.com/i/web/status/1…
Jesse Rogers
ESPN Staff Writer
Watch Javy Baez react to being kicked out of Saturday nights game after getting upset on a checked swing, strike 3 call.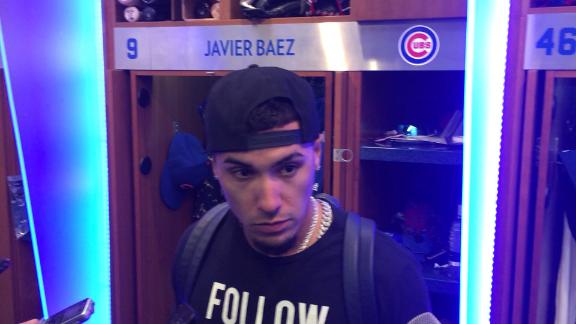 ESPN Stats and Information
Shohei Ohtani is the 5th Angels player with at least 20 extra-base hits through 50 career games (as a hitter).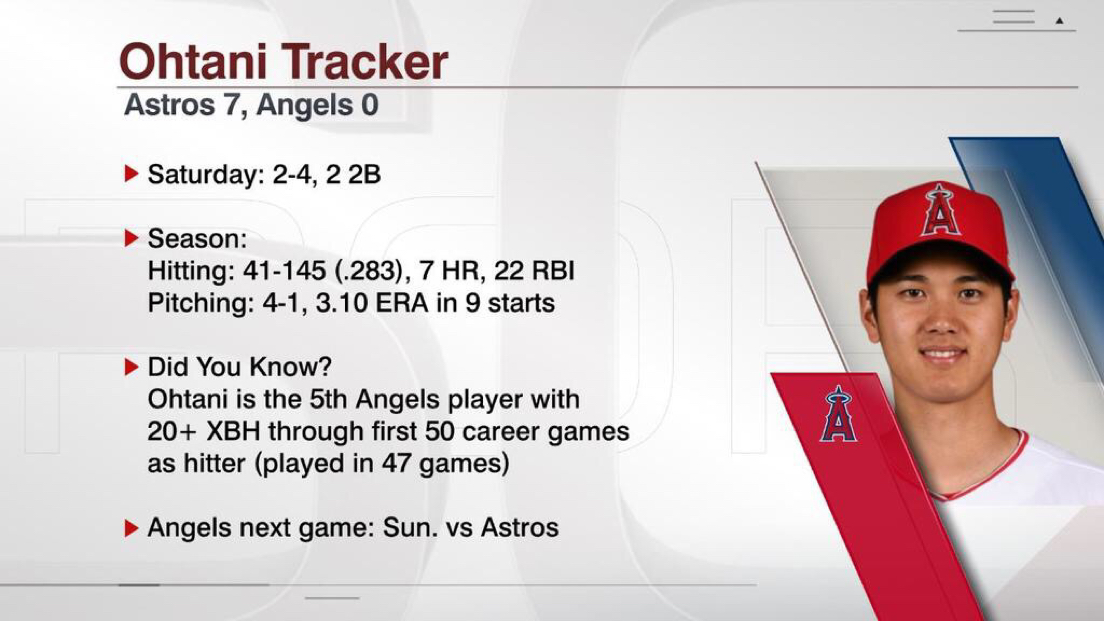 Alden Gonzalez
ESPN Staff Writer
Shohei Ohtani is one of only two Angels with multiple hits against the Astros today. His three swings produced exit velocities of 108.3, 106.5 and 106.9 mph, per Statcast.
Jesse Rogers
ESPN Staff Writer
Matt Carpenter hit his 25th home run of the season, coming off the bench tonight. It's his 6th straight game hitting a home run, including one in Game 1 of the doubleheader this afternoon after hitting 3 on Friday. The homers in 6 straight are a Cards single season franchise record (Elias) while Carpenter's last 12 hits have all gone for extra bases, also a franchise record for the modern era (1900).
Alden Gonzalez
ESPN Staff Writer
Per ESPN Stats & Information: George Springer, 28, now has five career grand slams on the road, the most in Astros history. He broke a tie with Jeff Bagwell.
mark schlereth
@markschlereth
Congrats Garrett Hampson on your first big league hit! 2bagger 👍🏼⚾️ @Rockies
Buster Olney
@Buster_ESPN
Jose Ramirez now lead MLB in fWAR: fangraphs.com/leaders.aspx?p…
Alden Gonzalez
ESPN Staff Writer
The Astros' run-differential is up to plus-193, which is 34 runs higher than the second-place Red Sox. They lead the Majors in ERA and rank fourth in OPS, so, um, yeah.
Buster Olney
@Buster_ESPN
To tack on to what Jerry writes in this post: twitter.com/jcrasnick/stat… Heard that the Orioles are indicating to othe… twitter.com/i/web/status/1…