Now
The Undefeated
@TheUndefeated
For baseball fans, Claire Smith (@MzCSmith) is nothing short of a legend: She was the first female MLB beat writer,… twitter.com/i/web/status/1…
Dan Shulman
@DShulman_ESPN
Disregard...now I am told that because game no longer counts for home field advantage in WS, MLB doesn't feel leagu… twitter.com/i/web/status/1…
SportsCenter
@SportsCenter
This Just In: The Baltimore Orioles have the structure of a deal in place for Manny Machado and are working through… twitter.com/i/web/status/1…
Buster Olney
@Buster_ESPN
After our Cardinals/Cubs broadcast Thursday night, we've got the Mets and Yankees Sunday Night. This week's poll qu… twitter.com/i/web/status/1…
Buster Olney
@Buster_ESPN
Sources: The Orioles have structure of a deal in place, and are going through the medicals/paperwork portion of the… twitter.com/i/web/status/1…
Bryce Harper
@Bharper3407
Thanks big man! Great to compete against you! #classact twitter.com/kschwarb12/sta…
Lindsay Czarniak
@lindsayczarniak
This is how you get your mojo back. Congrats @Bharper3407 #HRDerby twitter.com/nationals/stat…
Eddie Matz
ESPN Senior Writer
Newly crowned Home Run Derby champ Bryce Harper, with his dad by his side, showing some emotion on the podium.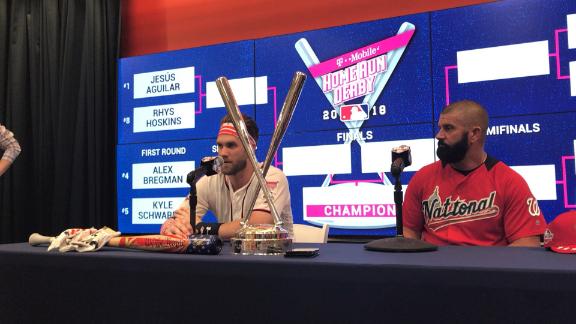 Karl Ravech
@karlravechespn

Indiana University, I see you and I love you @kschwarb12 did IU and the Cubs proud. Awesome performance. Appreciate… twitter.com/i/web/status/1…
SportsCenter
@SportsCenter
Bryce Harper switched into BEAST MODE for the last 30 seconds of his final round! #SCtop10 pic.twitter.com/0va6KsWadb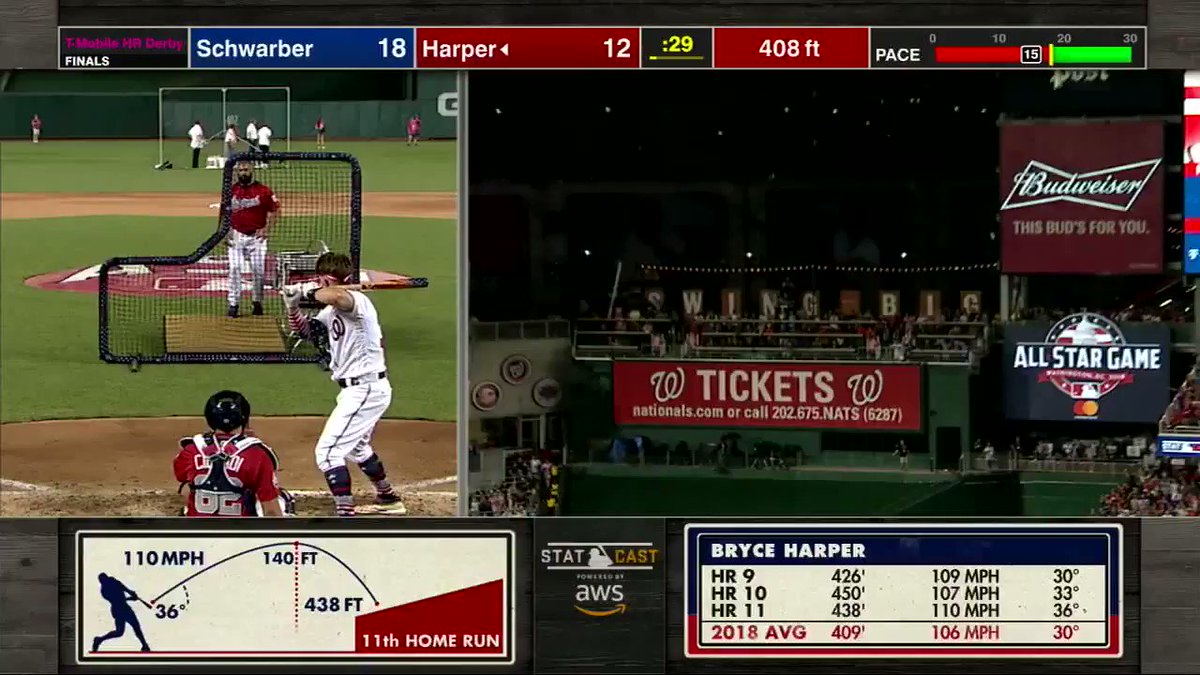 Linda Cohn
@lindacohn
Thanks @Bharper3407 for making me look smart with my prediction earlier today. #HomeRunDerby #Harper
ESPN
@espn

Bryce Harper won the Home Run Derby in the most dramatic way possible. pic.twitter.com/qpnvbcx0xe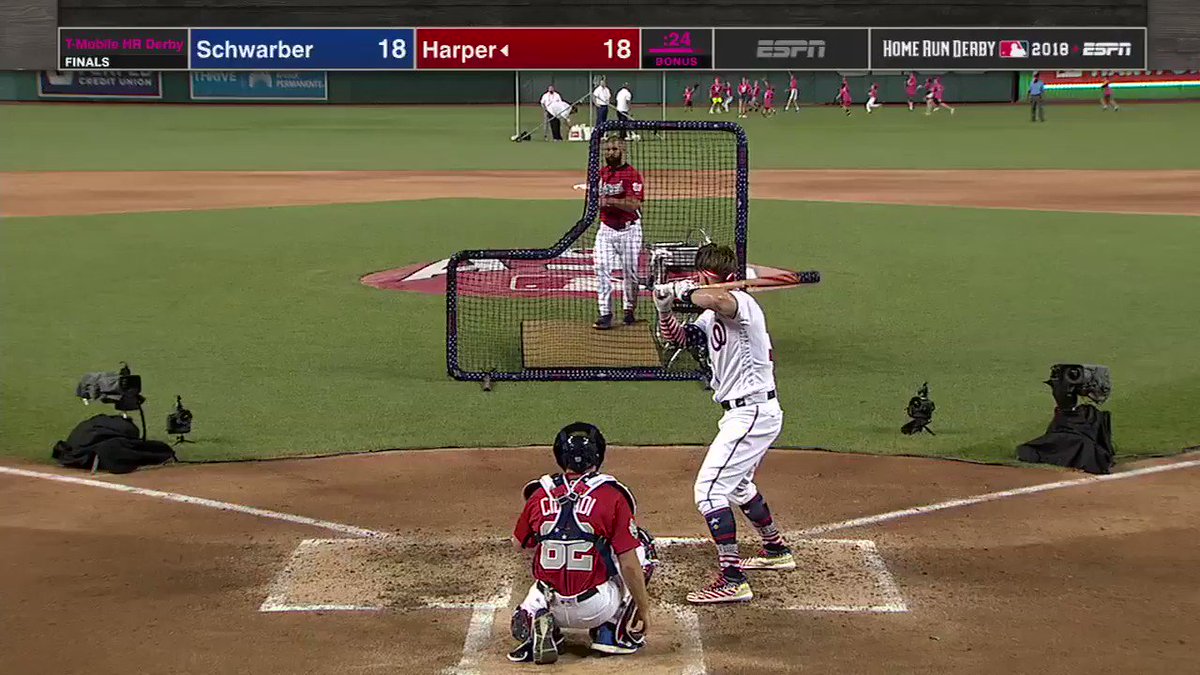 ESPN
@espn

Hometown hero! Bryce Harper pulls off a ridiculous final round to win the Home Run Derby. pic.twitter.com/HPwU7mt8CK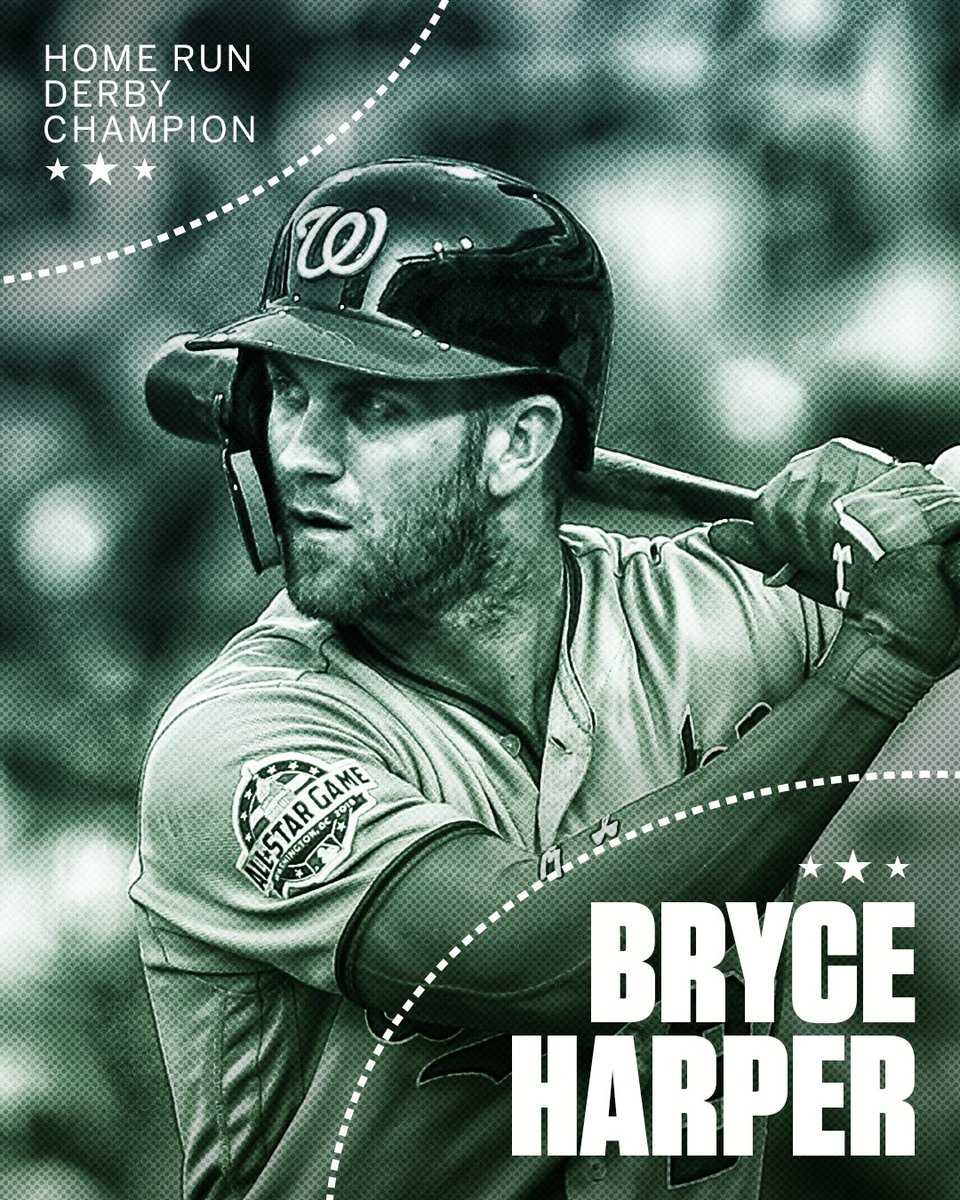 David Schoenfield
ESPN Senior Writer
Bryce Harper hits nine home runs in the final minute and five in the final 30 seconds to tie Kyle Schwarber with a Ruthian effort. He got his 30 seconds of bonus time and with 19 seconds left hits a towering shot to center field to win it, arms raised, maroon streamers littering the field, Dave Martinez picking him up in celebration. Everybody goes home happy. Well done, Bryce Harper; well done, baseball.
David Schoenfield
ESPN Senior Writer
Kyle Schwarber puts the pressure on Bryce Harper with 18 home runs, including six in the final minute and two more in his bonus round. Schwarber has provided some energy, some fist pumps and some excitement to what has been a terrific Derby.