While general managers are trying to decide how much money they should spend this holiday season -- can Jack Zduriencik please come down Seattle's chimney with Robinson Cano? -- you probably face an even more difficult question: What to get the baseball fan on your shopping list?
Or more important, what to put on your own list?
Well, here is some advice based on this year's new baseball books.
"The 34-Ton Bat" by Steve Rushin
"The 34-Ton Bat" tells a history of baseball through its equipment, as only Rushin could. That is to say, he creatively and amusingly uses bats, protective cups, hot dogs, beer, sunglasses, flannel uniforms, stirrup socks and ballpark urinals (just to name a few) to tell how things really were back in the old days -- and how the game has evolved since then.
Disclaimer: Rushin is a longtime friend. But I would admire his writing even if we got along worse than Barry Bonds and Jeff Kent. The book is written in his trademark style as he deftly turns the most acrobatic of phrases and transforms what seem to be trivial references or forgotten history into powerful (and usually humorous) lessons.
The book occasionally meanders, but that's not a bad thing. Even when Rushin goes a bit off the beaten path, the side trip is well worth it. For instance, a chapter that begins with background on the Giants' old Francisco Grande spring training camp ends with a wonderful anecdote about Stanley Pisk, an American soldier in World War II who found a catcher's mitt in the snow during the Battle of the Bulge. He carried the mitt with him the remainder of the war, using it as reminder of all that awaited him back home.
Rushin writes: "Stanley Pisk carried that glove in his backpack to combat's end in Pilsen, Czechoslovakia, and back to the United States, where it very slowly made its way, in 2009, to Cooperstown. There, its story will give comfort to many more, in a way that only catcher's mitts can.
"There are other ways, of course. Former Orioles and Rangers catcher Johnny Oates, afflicted with hemorrhoids in his retirement, found relief from his pain by sitting on his old gamer."
"The 34-Ton Bat," likewise, will be a tremendous comfort to fans by the fireside while waiting for the snow to melt and pitchers and catchers to report. But don't sit on it. Read it.
"Just Tell Me I Can't" by Jamie Moyer and Larry Platt
Don't hesitate to give this book to anyone. There is nary a dirty word or scandalous story within its 265 pages, but there is plenty of wisdom, along with some wit, from one of the most inspirational players of this era. Make that the past two eras, since we're talking about Moyer.
As he entered his 30s, Moyer had a record of 34-54 with a career ERA of 4.56, and was struggling to stay in baseball. His father-in-law, Digger Phelps, encouraged him to take a job selling RVs. But Moyer wound up winning 235 more games and pitching 20 more years. His biography explains exactly how he turned himself around, with the help of sports psychologist Harvey Dorfman.
The sections detailing Moyer's mental and physical approach -- along with some very detailed recounts of individual game matchups -- get a bit repetitive, and I would have enjoyed more on how his wife, Karen, dealt with Jamie's career struggles and their many changes in residence. But the book really shines with interesting and revealing stories about Moyer's career and private life.
For example, when he was trying to get his career going again with the Orioles in 1993 -- four teams had released him since his last big league win -- a friend recommended that Jamie take a lesson from Annie Savoy in "Bull Durham" and wear a garter belt while pitching to clear his mind.
Amazingly, Moyer did.
"I can't believe I'm doing this, Moyer thought to himself as he deviated from his pregame routine in order to stealthily put the garter belt on under his uniform in a clubhouse bathroom stall … And so it was that on June 10, 1993, Jamie Moyer, dressed in a tasteful pink garter belt -- nothing too provocative -- beat the Boston Red Sox, giving up one run on a solo shot to Mo Vaughn, in 5 2/3 innings. It was his first major league victory in three years … To this day, Moyer still carries the garter belt with him, in his shaving kit."
You can probably pass on the gift of a garter belt, but slip this book in a Christmas stocking.
"So You Think You Know Baseball?" by Peter Meltzer
Some gift books go right to the shelf, where they start gathering dust. This one should stay in a handy place, within a bartender's reach or inside the bathroom. I don't say that in disrespect. This is not a book meant to be read cover to cover but repeatedly savored in short stretches.
It is not a new idea to provide hypothetical plays and ask how they should be ruled. The crucial difference in this book is that the scenarios -- bizarre as many are -- actually occurred in real games. That makes each play more meaningful and entertaining. Unfortunately, unless you have a very good memory, it doesn't make the correct answers any easier.
I've written about baseball for a quarter-century and seen thousands of games. I also attended the Harry Wendelstedt umpire school. But I got an embarrassing number of these wrong. I didn't know, for example, that if a player hits a home run and the base runner ahead of him injures himself so badly that he cannot continue, the batter can pick him up and carry him around the bases. He cannot, however, pull his injured teammate, because that would mean passing him.
I do know, however, that this book will entertain the recipient for a very, very long time.
"Southern League" by Larry Colton
Baseball is our national pastime as well as our mirror, reflecting the character, mood and changes in our country. In "Southern League," Colton looks back through that mirror by telling the tale of the Birmingham Barons' 1964 season, when they integrated for the first time.
Colton picked the perfect template. In 1964, Birmingham was the epicenter of the battle for civil rights. The year before, the city arrested Dr. Martin Luther King Jr. and Bull Connor turned police dogs and fire hoses on black demonstrators. Connor got his start as the Barons' radio announcer.
An accomplished author and former Southern League player, Colton tells some incredible stories. Driving to spring training through the Deep South, Tommie Reynolds fell asleep in his car and woke up with a bull's-eye drawn on the window where his head was resting. Blue Moon Odom joined the Barons right out of high school after signing for a $75,000 bonus -- and was greeted by a cop pulling him over and warning him to stay in the "n----- part" of town. And Athletics owner Charlie Finley actually washed the dishes and slept on the couch at Odom's home when he was trying to sign him.
"Southern League" is a quick, good read -- perhaps a little too quick. As much as Colton goes into the desegregation story, I would have enjoyed an even deeper exploration of it rather than so much emphasis on the Barons' fight for the pennant. The strength of Colton's book is not the recap of how the team fared that year; instead, it's the narrative of how the season mirrored the beginning of change in the city where Willie Mays grew up and was taught by the mother of future Secretary of State Condoleezza Rice.
"Class A" by Lucas Mann
Mann's summer following the Class A Clinton LumberKings starts off in promising fashion with a very entertaining account of his night as the team mascot, an opening chapter that also introduces us to that evening's starting pitcher, Erasmo Ramirez. Unfortunately, that sort of spirit does not continue throughout.
There are enough interesting observations to keep you reading -- a chapter on a very dedicated fan stands out -- but the book's overall tone is far too serious. For example, the Clinton fans, who justifiably are a good chunk of the book, often come off as slightly desperate rather than as residents who are simply supporting the local team and enjoying the games. The pure joy of baseball is too often missing.
"Class A" is at its best when Mann describes and relates to the hopes, dreams and crushing disappointments of life in the low minors. I just wish he told more such stories.
"Becoming Big League" by William Mullins
If you want to know what the 1969 Seattle Pilots were like in the clubhouse, read Jim Bouton's "Ball Four." But if you want a passionately researched history on just how Seattle got the Pilots in the first place in hopes of becoming "big league," lost them after just one season (grrrrr, Bud Selig!) and then fought to receive the Mariners eight years later, this is the book.
While Mullins provides short corollary chapters summarizing the Pilots' monthly on-field performance, his focus is revealing what happened off the field and behind the scenes. And he does an excellent job. Read it to learn how the politics and league maneuvering of franchises have changed over the decades -- as well as how they mostly have just become more expensive. For instance, Mullins writes the Pilots had the highest ticket prices in baseball in 1969 -- at $6 for a box seat.
"One Summer: America, 1927" by Bill Bryson
Granted, this isn't exactly a baseball book. It's Bryson's history of the amazing summer of 1927, when Lindbergh flew the Atlantic, talking pictures hit the screen, television was invented, seeds of the Depression were sown and … Babe Ruth hit 60 home runs for the club that still serves as the team against which all other are compared.
Ruth's exploits recounted here are not altogether new, nor are they a large portion of the book. But as with everything Bryson writes, they are wonderfully entertaining, as is so much of this book. You'll greatly enjoy the baseball sections but you may enjoy the rest even more.
And now if you'll excuse me, I've got some holiday shopping of my own to finish. Hmmm. I wonder if my parents would like another Felix Hernandez bobblehead?
CSI: Box Score
Each week, I provide a fragment from an old box score and challenge you to determine what game it is from and why it's significant. I give this one a difficulty rating of 6. Answer below:
Baseball Card of the Week
I'm not exactly sure what Oscar Azocar is doing in this card (1991 Topps, No. 659).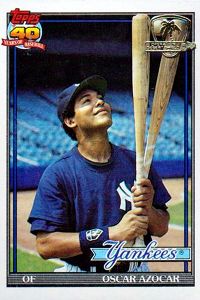 But as you might recall from his card mentioned in this old Off Base, Oscar had a thing for bats.
Yeah, Well, That's Like, Just Your Opinion, Man
It's The Mike Trout Of The Holiday Movie Season. Once again, I must complain about Hollywood's insistence on releasing so many of its best movies during the holiday season when the people who most want to see these movies -- those no longer stacking beer cans or piling up college debt -- have the least amount of time to get to the theater.
Perhaps the best of these is "Philomena," starring Judi Dench and Steve Coogan. Pairing those two together is like pairing Joe Girardi and Jonny Gomes in "Who's On First," but it works brilliantly. A five-tool movie, "Philomena" is a buddy road trip, a mystery, a comedy, a drama and a tear-jerker all in one. Find some time to see it.
CSI: Box Score Answer
Because this week's column is about baseball books, perhaps the name Bouton jumped out at you in this fragment. If it did, perhaps you also noticed the other clues -- that Jim Bouton was pitching against San Francisco starter Ed Halicki and that the reliever who earned the save was Gene Garber. Put all that together and you might have guessed this had to be the game Bouton won in his 1978 return to baseball from an eight-year exile after the publication of "Ball Four." Former Atlanta owner Ted Turner gave Bouton a chance, and the knuckleballer took advantage of it by working his way through the minors and starting five games during a September call-up. This was the only game he won.