My annual That Was the Year That Wasn't in Sports column, about 2013, appeared on ESPN.com earlier. Now it's time to take a look at what doesn't lie ahead in baseball in 2014.
Jan. 8: After electing no one in 2013, the BBWAA actually elects four players (yes, four!) to the Hall of Fame -- Greg Maddux, Tom Glavine, Frank Thomas and Craig Biggio -- in what must be considered the biggest-ever upset for baseball writers except passing up the free hot dogs in the back of the press box.
In a related story, Jack Morris receives a phone call from Cooperstown informing him that he has been elected to take part in a visitor survey with the chance to win an iPhone 5, Galaxy S5 or $2 off admission to the Hall of Fame.
Jan. 18: Crews deflate the Metrodome's roof, causing Dave Kingman's infamous 1984 pop fly to finally fall toward the turf, where it bounces off the glove of first baseman Kent Hrbek, whose body had grown numb and petrified after waiting 30 neck-straining years for the ball.
Jan. 23: Frustrated by the new posting rules that greatly limit their financial compensation, the Rakuten Eagles decide to just say forget it and post Masahiro Tanaka on Craigslist instead.
Jan. 27: The Angels wind up signing Tanaka for $120 million after the Rays had originally secured the rights to the pitcher on Craigslist but could not afford to go to Japan to pick him up.
Jan. 31: The Yankees prepare for spring training by loading their Tampa-bound equipment truck with uniforms, helmets, bats, balls, tees and pitching machines, along with walkers, canes and wheelchairs.
Feb. 2: In response to the question about what he's going to do now that he's won the Super Bowl after the Seahawks beat the Broncos, quarterback Russell Wilson joyously shouts to cameramen, "I'm going to Surprise, Arizona, for spring training with the Rangers!"
Meanwhile, Derek Jeter trips over Punxsutawney Phil's shadow, heralding six more weeks on the disabled list.
Feb. 15: All across Arizona and Florida, in the most eagerly awaited and traditional of spring rituals, pitchers and catchers report to their local golf courses.
March 22: The Dodgers and Diamondbacks open the major league season in Sydney, Australia, where Yasiel Puig somehow manages to overthrow himself during a pregame boomerang toss.
March 31: Baseball's new expanded replay system gets its first test at the season opener in Baltimore. After the game is delayed 23 minutes for a thorough review from multiple camera angles, the umpires confer and finally determine that Jeffrey Maier did indeed interfere with the ball in the 1996 ALCS.
April 23: The Cubs celebrate Wrigley Field's 100th birthday in their customary fashion -- by raising a blue flag with a big white 'L' after the game while their fans drink themselves into a stupor.
May 2: The Twittersphere blows up when A-Rod is again reported to have done something somewhere with someone.
May 16: Disney releases its new baseball movie starring Jon Hamm, "Million Dollar Arm," which is about the lowest-priced prospect signed by the Dodgers in the past year.
June 10: Lorde, the 17-year-old New Zealand sensation whose international No. 1 hit "Royals" about common people getting by on mere dreams was partly inspired by an old photo of George Brett in his Kansas City uniform, releases her newest song -- a sad, melancholy blues piece about enduring decades of misfortune and hopelessness called "Padres."
July 14: Mike Trout wins the dullest Home Run Derby in history when he belts a grand total of four balls over the fence at pitcher-friendly Target Field. Cynics immediately suspect the balls have been juiced.
July 31: The Rays trade David Price to the Mariners for Taijuan Walker and Nick Franklin minutes before the trade deadline. The national media immediately begins speculating about when Tampa Bay will deal Walker and Franklin, who will be eligible for free agency after the 2019 season.
Aug. 20: After Tanaka finally loses a game 2-0, dropping his record to 17-1 with a 1.53 ERA, stat geeks insist that is proof he has just been benefiting from high run support.
Sept. 15: The Yankees are eliminated from contention after their aging roster forgets where it placed the keys to the pennant drive.
Oct. 23: The Mariners and the Pirates meet in the World Series, much to the delight of long-suffering fans in Seattle and Pittsburgh and much to the dismay of Fox.
Oct. 30: In what is surprisingly the highest-rated World Series game in 20 years, Pittsburgh beats Seattle in Game 7 when referee Bill Leavy calls the Mariners for obstruction, a balk and holding. A careful review doesn't provide enough evidence to overrule the calls, though the league does determine that Ed Armbrister interfered with Carlton Fisk in the 1975 series.
Dec. 31: Tenants who share the same building as Bud Selig begin complaining about the commissioner's increasingly loud kicking and screaming in preparation for his upcoming exit from office in January 2015.
CSI: Box Score
Each week, I provide a fragment from an old box score and challenge you to determine what game it is from and why it's significant. I give this one a difficulty rating of 9. Answer below:
Baseball Card of the Week
Has anyone ever looked happier to lay down a bunt than Paul Blair in this card (1970 Topps, No. 285)? Blair led the league in sacrifice bunts the year this photo likely was taken (1969), but bunting was not what made him an All-Star. He was one of the greatest defensive center fielders in history, winning eight Gold Gloves with those dominating Orioles teams from the mid-'60s through the early '70s.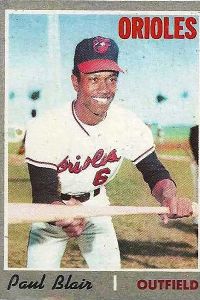 Sadly, Blair died last week at age 69. We will forever remember the image of him covering more ground than even AstroTurf did during that era.
Yeah, Well, That's Like, That's Just Your Opinion, Man
Surprisingly, Though, There Are No Scenes Involving The Late '80s Mets. The new Martin Scorsese movie, "The Wolf of Wall Street," is very entertaining; but at three hours, it is also way, way, way too long. It just gets very redundant. I mean, after about two hours of watching Leonardo DiCaprio have sex in every possible position while doing every recreational drug available in the greater New York market, we get the idea that he is a drug- and sex-addicted slimeball. After 2 ½ hours, it just becomes gratuitous. Meanwhile, these were my top movies of 2013: "Philomena," "Before Midnight," "Somm," "Dallas Buyers Club" and "Fruitvale Station."
And I Still Haven't Gotten To The Section Where Taft Throws Out The First Pitch. Speaking of long, for Christmas I received a copy of Doris Kearns Goodwin's newest book, "The Bully Pulpit," which is about Theodore Roosevelt, William Howard Taft and the progressive movement in the early part of the 1900s. I loved her earlier book on FDR, "No Ordinary Time," and this one has a lot of excellent stuff, too. But so far, I'm thinking it also could have been trimmed back a bit. It's 750 pages long -- not counting the notes -- and about 150 pages into it, we've barely reached the 1890s. I shudder to think what the Scorsese movie will be like.
CSI: Box Score Answer
Granted, there aren't a lot of clues here. The most significant is the absence of earned runs and win-loss records for the pitchers. That might have indicated to you that this was a game from very long ago. Add the matchup between Chicago and Kansas City (two cities that never had teams play against each other in either the American or National League prior to the 1950s) -- along with the 2014 new year just beginning -- and you just might have surmised this was a game from the Federal League, which opened 100 years ago this year.
And what Federal League game would have been significant? Why, the April 23 home opener for the Chicago Federals (later to be called the Whales), which was the first game played at Weeghman Park -- what we now know as Wrigley Field and which will celebrate its 100th birthday this April.
An interesting note about this game is that Kansas City starting pitcher Chief Johnson was served with legal papers after the second inning that prevented him from pitching in the Federal League, which the National and American Leagues considered an "outlaw" league. He was immediately replaced by a reliever.
Johnson eventually was allowed to pitch in the Federal League, but not for long. The league went out of existence after the 1915 season.
You can read more about that first game at "Wrigley" here.
And Happy New Year, everyone!