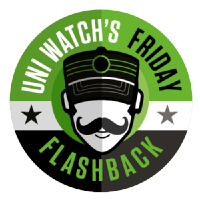 After the tragic death of Miami Marlins pitcher José Fernández on Sunday, there was an outpouring of grief and support around the baseball world. Teams and players saluted Fernández by writing tributes to him on their uniforms, and Marlins players all wore Fernández's name and number for Monday night's game against the Mets. Following that game, the Marlins added a "16" memorial patch.
The Marlins' numerical tribute Monday night was unprecedented for a contemporary player (the only other MLB instance of everyone wearing the same number is the annual Jackie Robinson Day ritual, when all uniformed personnel wear No. 42), but the basic concept of memorializing a fallen comrade on an MLB uniform wasn't new or surprising. It's something we've come to expect.
The surprising thing is that it used to be more the exception than the rule.
Consider this: Big league baseball existed for nearly a century before the first memorial patch appeared in 1973. Up until then, a team only marked a notable death by wearing either black crêpe or black armbands. And the bar for being memorialized on a uniform during the armband was extremely high. When Lou Gehrig died in 1941 -- Lou Gehrig! -- the Yankees didn't wear an armband for him. Neither did any other team.
"The number of patches and other memorials has definitely increased over the years," said Tom Shieber, senior curator at the National Baseball Hall of Fame at Cooperstown, who charts the history and progression of uniform-borne memorials on the Hall's website. It's a phenomenon that was a lot easier to keep track of in the old days than it is today. According to Shieber's records, only 10 MLB teams wore black memorial armbands in the 1950s and '60s combined. By comparison, at least eight MLB teams have worn memorial patches this season alone. And get this: There have already been more memorials appearing on MLB uniforms since the year 2000 than there were during the entire century of the 1900s.
What's the reason for the increased pace of uniform memorials? It appears that there are several explanations -- some logistical, some cultural and most of them interrelated:
• Part of it is just a numbers game -- there are more teams and more players now than there were in, say, 1965. From a simple actuarial standpoint, that means there are more MLB-affiliated people who are, sadly, going to die, which in turn means there will be more situations that call for uniform memorials.
• In addition, the scope of who's considered to be memorial-worthy has become much broader and more inclusive. Teams now routinely wear patches for deceased broadcasters, clubhouse managers, groundskeepers, minority owners, owners' spouses, scouting directors and other figures who never would have been honored in years past.
• Moreover, as sports teams have increasingly viewed themselves as part of the fabric of their local communities, uniform memorials have expanded to include the victims of natural disasters, mass shootings, or other public tragedies, as well as fallen civic and political leaders.
• Culturally speaking, we now appear to be in a less stoic, more expressive era, where outward gestures of all sorts -- including expressions of grief or sympathy in response to death -- are much more common and acceptable than they used to be. One result of that is that the sports world's default response to a death is to acknowledge it in some way on a uniform. Even the patches themselves have become more expressive, with simple numbers or initials often giving way to more elaborate designs.
That spirit of expressiveness can even extend into the opposing dugout. In 2013, for example, the Angels wore a memorial patch for longtime team orthopedist Dr. Lewis Yocum. When the Mariners came to Anaheim for a three-game series in June of that year, several Seattle players wore the Yocum patch, creating the once-unthinkable scenario of players on one team wearing the patch of another team.
Unusual memorial situation: When Angels wore a patch for team orthopedist Dr. Lewis Yocum in 2013, some Mariners players wore it as well. pic.twitter.com/EaUikrFXPc

— Paul Lukas (@UniWatch) September 27, 2016
• The explosion of sports media coverage, social media and jersey merchandising (and, um, uniform columnists) has led to much more attention being paid to small uniform details. One result of this is that fans now expect and sometimes even demand that a team respond to a death on its uniform.
• Finally, the advent of digital design software and digitally driven embroidery machinery has made it much easier for patches to be designed and produced very quickly. What once took days can now often be done in hours, so adding a patch is much simple than it used to be.
Add all of that together and you have our current remembrance-intensive uniform scene. But it took a while to get here. Black armbands didn't give way to memorial patches until 1973, when the Pirates wore a "21" patch for Roberto Clemente, who had died in a winter plane crash during a humanitarian mission. And even then, the Pirates took a series of steps before wearing the patch. They wore a simple strip of black fabric during spring training, then briefly covered the fabric with what appears to have been a paper cut-out (details on that part of the story are sketchy), and then finally adopted the regular patch.
Pirates' 1973 Roberto Clemente uniform memorial, step 1 of 3: Players wear strips of black fabric on sleeve during spring training. pic.twitter.com/bx9wBNJQ5i

— Paul Lukas (@UniWatch) September 26, 2016
Pirates' 1973 Roberto Clemente uniform memorial, step 2 of 3: Regular season starts, black strip gets (paper cut-out?) cover-up placeholder. pic.twitter.com/AK17QGnDME

— Paul Lukas (@UniWatch) September 26, 2016
Pirates' 1973 Roberto Clemente uniform memorial, step 3 of 3: "21" patch added. MLB's first-ever memorial patch. Black armbands until then. pic.twitter.com/C8N1KO1Cyj

— Paul Lukas (@UniWatch) September 26, 2016
If you look again at the list of uniform memorials compiled by Shieber, the Hall of Fame curator, you can see that patches didn't immediately catch on in the wake of the Clemente patch. With a couple of exceptions, black armbands remained the standard for the next 10 years or so, until patches began to overtake them in the mid-1980s. Today the black armband is nearly extinct (perhaps it deserves its own memorial). The last team to wear one on an extended basis -- as opposed to a one- or two-game placeholder stint until a patch was ready to go -- was the 2012 Red Sox, who wore a black band for Johnny Pesky on their road jerseys but used a patch on their home and alternate jerseys.
As uniform memorials have spread, they've also become more personal, with players increasingly inclined to add their own memorial messaging to their uniforms, regardless of whether the team has added a patch. Technically speaking, this practice violates MLB uniform rules, but team and league officials tend to allow it these days.
Most of these personal memorials take the form of handwritten notes on the players' caps, but a few players have gotten more creative. After Cardinals pitcher Darryl Kile passed away in 2002, for example, teammate Jason Simontacchi saluted him via a memorial ankle-band -- presumably the only such accessory ever worn in MLB history. And when another Cardinals pitcher, Josh Hancock, died in 2007, his former college teammate Tim Hudson, then pitching for the Braves, had Hancock's initials sewn onto his jersey.
All the impromptu cap inscriptions for Jose Fernandez remind me of Jason Simontacchi's black "57" ankle band for Darryl Kile in 2002. pic.twitter.com/ZFCps53okv

— Paul Lukas (@UniWatch) September 26, 2016
Another personal (i.e., not team-wide) uniform memorial: Tim Hudson wearing the initials of his former college teammate Josh Hancock, 2007. pic.twitter.com/Oa7Uvu8Y0a

— Paul Lukas (@UniWatch) September 26, 2016
Still, no memorial gesture -- team-based, league-based, or personal -- can top what the Marlins did for Fernández on Monday night, with the entire team wearing his jersey. It'll be interesting to see if other teams do something similar when the next tragedy inevitably strikes. Here's hoping we have to wait a long time to find out.
---
Would you like to nominate a uniform or uni element to be showcased in a future Friday Flashback installment? Send your suggestions here.
Paul Lukas still thinks the best memorial patch worn by any team in any sports is the fedora patch that the Dallas Cowboys wore for Tom Landry in 2000. If you like patches, you'll probably like his Uni Watch Blog, plus you can follow him on Twitter and Facebook. Want to learn about his Uni Watch Membership Program, be added to his mailing list so you'll always know when a new column has been posted or just ask him a question? Contact him here.