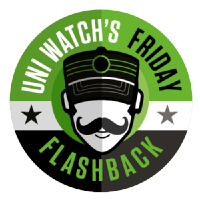 As you may have noticed during the early rounds of the MLB postseason, MLB game caps are now featuring the logo of their manufacturer, New Era. That's part of a new arrangement that will carry over to next season, when the New Era mark becomes a permanent fixture on MLB headwear.
ICYMI: Yes, the New Era logo is now appearing on MLB game caps. Will be retained next season and beyond. More: https://t.co/oJ0tJagPmx pic.twitter.com/ToKEiCKAbq

— Paul Lukas (@UniWatch) October 6, 2016
The New Era maker's mark is the latest development in the relentless proliferation of manufacturers' logos on pro sports uniforms over the past 35 years or so. That trend has been driven by several interrelated factors:
• It's hard to remember this, but retail jersey sales barely existed a generation ago. Uniforms were worn only by the players in those days. But with fans now purchasing huge numbers of jerseys and caps, manufacturers want their logos to be showcased on all that merchandise.
• For many decades, teams in the various pro sports leagues negotiated their own deals with the uniform outfitters of their choice. More recently, league-wide contracts with a single outfitter for the entire sport have become the norm. This has been done in large part to streamline the merchandising process (it's much easier for retailers to order everything from one supplier instead of a hodgepodge of different outlets), but it has also led to a stronger brand presence for the league-affiliated outfitters.
• The legacy sportswear companies that used to dominate the uniform market -- firms such as Rawlings, Wilson and Spalding -- were strictly in the sporting goods business. Their products were sold at sporting goods outlets, period. But today's uniform giants -- Nike, Adidas, Under Armour and the like -- are lifestyle brands that compete in the larger world of fashion and apparel retailing. Branding is a serious part of how they mark their territory. (Interestingly, New Era is a good example of both approaches. The company can trace it roots back to the 1920s and for many decades was simply in the business of making caps for sports teams. It has more recently repositioned itself as a lifestyle and fashion brand that caters to a wide range of consumers, many of whom aren't even interested in sports.)
• Branding and logos have generally assumed a much higher profile throughout the consumer landscape over the past several decades. When viewed in that perspective, the increase of makers' marks on sports uniforms is really just part of a larger trend.
But how did that trend develop on MLB uniforms? The basic protocol for many years was that makers' marks didn't appear on team-issued uniform components (caps, jerseys, pants, stirrups) but usually appeared on player-selected equipment (gloves, cleats, catcher's gear, wristbands). Batting helmets, which occupied a middle ground between uniforms and equipment, carried the ABC logo during this period.
Things began changing in 1987, when Rawlings became MLB's preferred uniform supplier. "If a team was contracted with Rawlings for on-field uniforms, then the Rawlings script appeared at the base of the right sleeve," says Bill Henderson, author of the authoritative "Game Worn Guide to MLB Jerseys." According to Henderson, at least five teams -- the Angels, Blue Jays, Red Sox, Tigers and Yankees -- were not working with Rawlings at that time, plus some Rawlings-affiliated teams were reusing older non-Rawlings uniforms from previous seasons. So while the Rawlings script was the first maker's mark to appear on MLB uniforms, it wasn't universal.
First manufacturer's logo to appear on MLB jerseys was the Rawlings script, in 1987. (Teams not outfitted by Rawlings had no maker's mark.) pic.twitter.com/y4xh3gM8S2

— Paul Lukas (@UniWatch) October 7, 2016
The Rawlings logo had pride of place on MLB sleeves until 1992, when Russell Athletic took over as MLB's preferred uniform supplier. Teams were still cutting their own uniform deals and were not required to use Russell, but Russell-affiliated teams wore the company's logo.
From 1992-99, MLB teams who had their uniforms supplied by Russell Athletic wore a maker's mark. (Non-Russell teams had no mark.) pic.twitter.com/QUDQdTWEKu

— Paul Lukas (@UniWatch) October 7, 2016
Russell's exclusive arrangement lasted until 2000, which marked the beginning of a five-year transitional period. From 2000 through 2004, three different companies had their logos appearing on MLB sleeves: Russell, Rawlings (now using a stylized "R," rather than the full script), and, for the first time, Majestic Athletic. Majestic took over as MLB's first exclusive uniform outfitter 2005, and all uniforms have worn the Majestic logo -- not just on sleeves but also above the back-left pants pocket -- since then.
From 2000-2004, MLB jerseys carried a variety of maker's marks: Majestic, Russell Athletic, Rawlings. Majestic became exclusive in 2005. pic.twitter.com/CQfQBrZn2d

— Paul Lukas (@UniWatch) October 7, 2016
(One exception to all of this: The Yankees have never worn any maker's mark on their uniforms. Why? Because they believe -- correctly, in the opinion of a certain uniform columnist -- that a team's uniform should just represent the team, period.)
Meanwhile, makers' marks have spread to other parts of the uniform. Nike became MLB's base-layer supplier in 2010, and the company's familiar logo has become a fixture on MLB undershirt collars over the past seven seasons, peeking out from behind the top of the jersey. For better or worse, it's a devastatingly effective piece of logo positioning. In fact, many fans mistakenly think Nike makes MLB uniforms, because the undershirt logo is so much more visible than the Majestic mark on the sleeves. The only drawback for Nike has been that some players who have shoe deals or other endorsement contracts with rival companies have taken a pair of scissors and removed the Nike mark from their undershirt collars.
Nike logo began appearing on MLB undershirt collars in 2010. Players with non-Nike shoe deals have occasionally removed the logo. pic.twitter.com/R8PaBcD7Cv

— Paul Lukas (@UniWatch) October 7, 2016
And then there are socks. Of course, most of today's players still wear their pants down to their shoetops, so their socks aren't even visible. But about 15 to 20 percent of players currently go high-cuffed (that figure is the result of an admittedly unscientific Uni Watch research project), and most of them are now wearing socks made by Stance, which became MLB's first official sock provider earlier this year. Teams have been using a mix of old sock inventory and new Stance hosiery over the past few months, but the Stance socks are easy to spot -- they have the Stance logo, as well as the MLB logo, although both marks just look like little dots or splotches from a distance.
New MLB socks being used in recent months have Stance maker's mark, as well as MLB logo. pic.twitter.com/SwpgCVR7ms

— Paul Lukas (@UniWatch) October 7, 2016
So with the New Era mark having now been added to the caps, a given MLB player may be wearing four different corporate logos on his uniform -- New Era, Majestic, Nike, Stance -- in addition to the various manufacturer's marks on his shoes, batting gloves, wristbands and other accessories. The last outliers: batting helmets, which are made by Rawlings but don't carry a maker's mark -- yet.
And what about the other major pro sports? Here's a quick league-by-league summary:
NFL: All NFL jerseys and pants currently feature the Nike logo, but it hasn't always been that way. NFL clubs cut their own deals with uniform manufacturers for years. According to the Gridiron Uniform Database, the definitive guide to pro football uniform history, the first NFL team to wear a maker's mark was the 1985 Jets, who wore the Champion logo on their sleeves.
Per @GridironUniform, first NFL team to wear uniform manufacturer's logo was the 1985 Jets, who wore Champion logo on sleeve. pic.twitter.com/21Uu0KT93Z

— Paul Lukas (@UniWatch) October 7, 2016
Other companies took notice and decided to showcase their logos as well. By 2000, the marks of at least a dozen brands -- Adidas, Apex, Champion, Logo Athletic, MacGregor, Nike, Puma, Reebok, Russell Athletic, Starter, Wilson and Wilson Staff (yes, the golf brand) -- had appeared on NFL sleeves.
1990s NFL uni makers included (l-r, top to bottom) Russell, MacGregor, Starter, Apex, Logo Athletic, Adidas, Puma, Wilson, and Wilson Staff. pic.twitter.com/V81oxZPyHN

— Paul Lukas (@UniWatch) October 7, 2016
The NFL put an end to that free-for-all by signing an exclusive deal with Reebok, whose logo was featured on the league's uniforms from 2002 through 2011. Nike took over in 2012 and will remain as the league's supplier through at least 2019.
Makers' marks have disappeared, however, from NFL helmets. At one point various brands used to put their logos on the helmet's nose bumper (that's the little white panel at the base of the helmet's forehead area), and then the NFL inked a deal that allowed only the Riddell logo to appear there. But after the 2013 season, the league announced that helmet manufacturer's marks would no longer be permitted. Most clubs now put a team logo on the nose bumper, while Kansas City and Washington leave them blank.
NFL helmet manufacturers used to be featured on helmet nose bumpers. No longer allowed since end of 2013 season. pic.twitter.com/QPUTwo4M4e

— Paul Lukas (@UniWatch) October 7, 2016
Most NFL teams put logo or wordmark on nose bumper. Chiefs and 'Skins leave it blank. pic.twitter.com/iDbQ1bDey8

— Paul Lukas (@UniWatch) August 26, 2016
NBA: The history of makers' marks on NBA game uniforms is simple: They've never had any. Former commissioner David Stern believed in the primacy of the team brands and didn't want anything competing with them, so no uniform outfitter has ever had its logo on an NBA uniform -- well, at least in games that count. The Adidas logo has appeared on NBA All-Star Game uniforms since 2009.
No manufacturer's logo has ever appeared on an NBA game uniform - unless you count the All-Star Game, which had had Adidas logo since 2009. pic.twitter.com/DLALCoW6zS

— Paul Lukas (@UniWatch) October 7, 2016
Things will change next fall, when Nike takes over the league's uniform contract for the 2017-18 season. The Nike logo will appear on game jerseys (and so will advertising patches, but that's another topic for another day).
NHL: The NHL was ahead of the curve here, with the logos of assorted jersey manufacturers and lettering shops appearing on jersey hemlines as far back as the late 1970s.
Early NHL maker's mark: A game-worn Oilers jersey from 1979-80 with the Maska logo on the hemline. pic.twitter.com/Snq2mdEjpe

— Paul Lukas (@UniWatch) October 11, 2016
Another early NHL maker's mark: This 1979-80 Sabres gamer has the Maska logo on the front and back hemlines. pic.twitter.com/r2NlPEOsQI

— Paul Lukas (@UniWatch) October 11, 2016
Another early NHL maker's mark: This 1979-80 Nordiques gamer has Sandow SK logo on rear hemline. pic.twitter.com/t4tjqAC6Md

— Paul Lukas (@UniWatch) October 11, 2016
Lots of other companies and shops were represented on NHL jersey hemlines in the early 1980s, including Eastside Sports, CCM, Gerry Cosby, Gunzo's, Steichen's, Nike and others.
NHL maker's marks in early 1980s included Eastside Sports, Gerry Cosby, CCM, Gunzo's, Steichen's, and Nike, among others. pic.twitter.com/ZcZQj6MIXJ

— Paul Lukas (@UniWatch) October 11, 2016
When Nike was outfitting the Oilers, the maker's mark on Wayne Gretzky's jersey was famously moved from the right-side hemline to the left, so that it would still be visible despite the Great One's habit of tucking in the right side of his jersey. Manufacturers simply but the logos on both sides of his hemline when he later played for the Kings, Blues and Rangers.
NHL makers' marks moved from the shirttail to the rear neckline in 2000, with a league-wide protocol of CCM appearing on white jerseys (which were still being worn at home at that point) and the Koho logo displayed on dark or colored jerseys:
NHL maker's marks moved from hemline to rear neckline in 2000. CCM used for white jerseys, Koho for colored jerseys. pic.twitter.com/RGrAnm0fXi

— Paul Lukas (@UniWatch) October 11, 2016
Reebok took over the league's uniform contract beginning in 2005, and its branding has appeared on the rear neckline since then -- first as a logo (2005-06 through 2010-11) and then as a wordmark (2011-12 through the current season).
Reebok marks on NHL jerseys: Logo (used from 2005-06 through 2010-11) and wordmark (2011-12 to present). pic.twitter.com/PpTRgDpIdW

— Paul Lukas (@UniWatch) October 11, 2016
Reebok's NHL deal will expire at the end of this season, with Adidas poised to take over as the league's outfitter beginning in the 2017-18, so we'll be seeing a new maker's mark one year from now.
(Special thanks to Trevor Alexander, Mike Engle, Chris Creamer, Andrew Greenstein, Bill Henderson, and Bill Schaefer for their research assistance.)
---
Would you like to nominate a uniform or uni element to be showcased in a future Friday Flashback installment? Send your suggestions here.
Paul Lukas hates the Yankees but loves their steadfast refusal to wear a maker's mark. If you like this column, you'll probably like his Uni Watch Blog, plus you can follow him on Twitter and Facebook. Want to learn about his Uni Watch Membership Program, be added to his mailing list so you'll always know when a new column has been posted or just ask him a question? Contact him here.