There are two types of baseball fans: Those who follow national storylines and those who mostly just love their local nine. Or perhaps the two types are those who stare fixedly at baseball for three hours every night and those who are happy to keep it murmuring in the background. Or maybe the two types are those who love baseball more than ever and those who miss what it used to be.
We brought all these cohorts together for a survey about the state of the game and the way they consume it. The responses suggest a broad range of fans have found their own ways to get exactly what they want out of the sport, though many are also open to change.
Note: We've left the voting open, if you still wish to participate. You can also keep the conversation going using the hashtag #ESPNMLBPoll on Twitter.
---
1: How many games did you watch, listen to or attend in person during the opening week of the baseball season?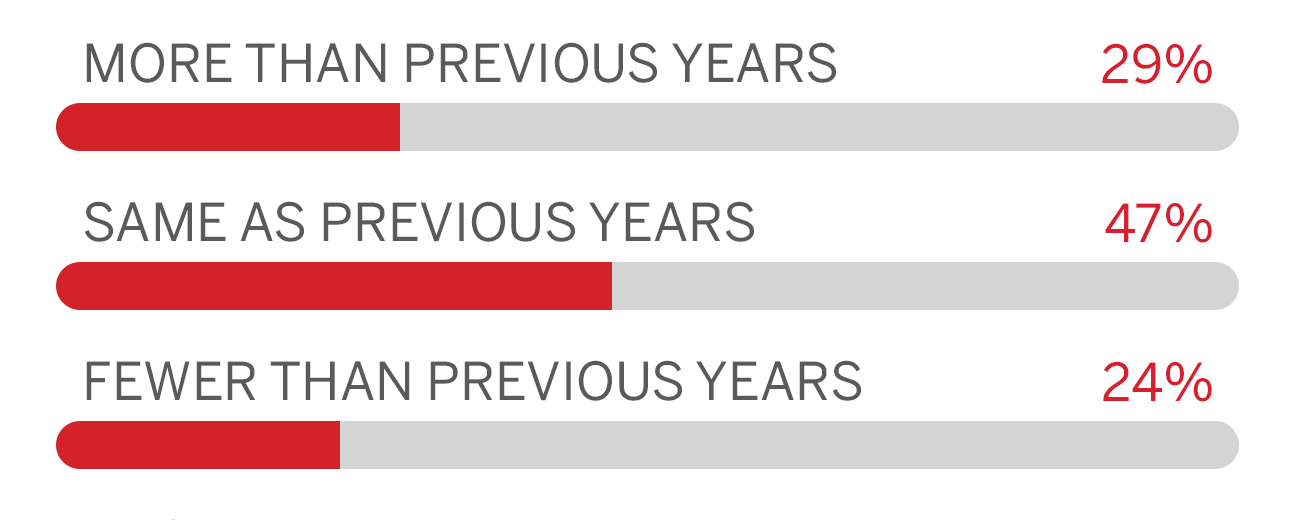 Swore off MLB during 94-95 Strike.
Game is fine.
Absurd costs & rot of greed made MLB
anathema to fun and joy at the ballpark.#ESPNMLBPoll

— Rick Hernandez (@newrivendell) April 12, 2017
Attendance figures back up these responses. Major league teams have drawn about 1,000 more fans per game than they had in the same ballparks through the same number of contests last year. If those rates hold, they would arrest last year's attendance drop, which saw baseball draw its lowest crowds since 2010.
---
2: How do you consume baseball?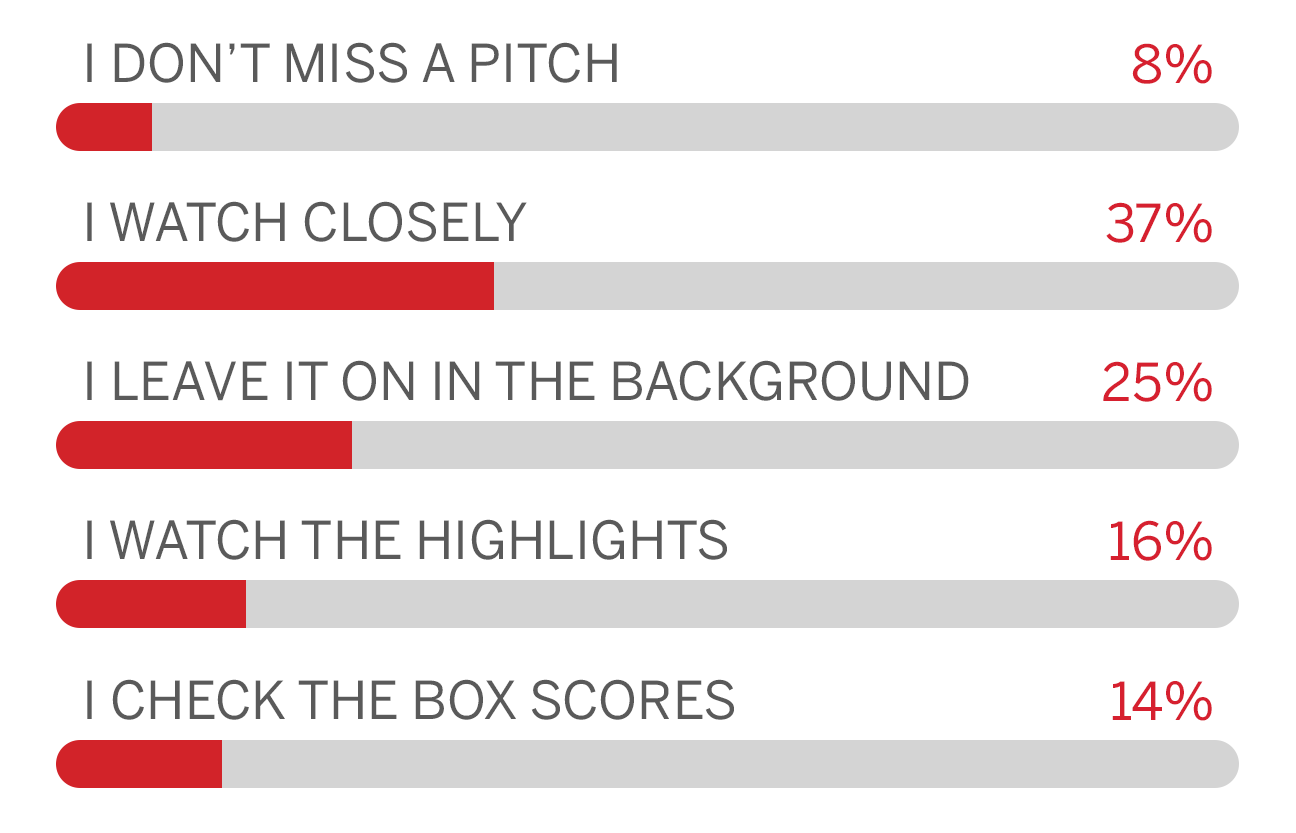 #ESPNMLBPoll Baseball is a mind game. Must hang on every pitch. Most don't have the mental capacity to watch 56 games in one. #ThatsCub

— nathan welch (@Cigartisan) April 13, 2017
As I'm sitting here watching multiple games I can say baseball DOES NOT need to be fixed. #ESPNMLBPoll

— Jake Jarvi (@213Bull) April 11, 2017
While the 8 percent who say they don't miss a pitch are obviously lying, there's an interesting, roughly 50-50 split here: the die-hard fans, who are most affected by the pace of play but who don't seem to be discouraged by it; and the background fans, who consume baseball in a way that makes pace of play or oversupply largely irrelevant.
---
3: Postseason aside, do you regularly watch games that don't feature your favorite team?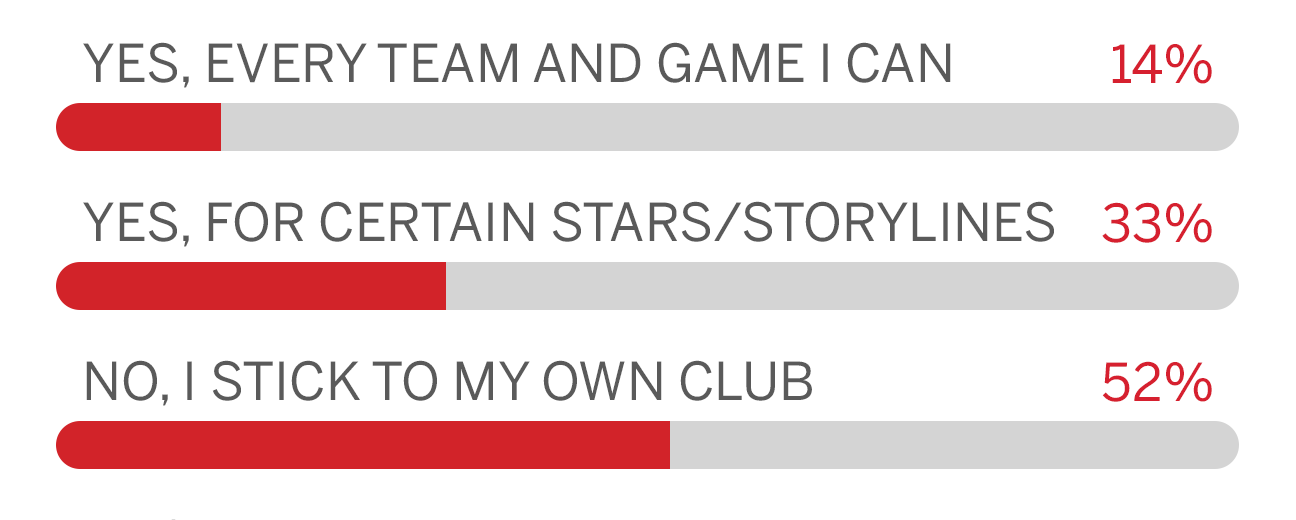 #ESPNMLBPoll Questions 3 & 8 are key. More stars (q8) will lead to less fans only following their team (q3) and grow the game.

— John Henry Safranek✊ (@JohnHSafranek) April 11, 2017
More than half of respondents' loyalties are to the team, not the sport. That makes it hard to turn Mike Trout into a national celebrity, but it's great for regional sports networks spending $60 million per market to claim this audience.
---
4: Is baseball boring?

@espn #ESPNMLBPoll pic.twitter.com/t3t9aFkEc8

— Buddha (@buddha2727) April 11, 2017
Baseball is boring to those who have boring minds. #ESPNMLBPoll

— Strum (@StrumDeuce) April 11, 2017
The only people who think baseball is boring are those who truly don't understand the game. #ESPNMLBPoll

— Laurie Nardone, CFP® (@Laurie_Nardone) April 11, 2017
Of course, parts of it undoubtedly are boring -- just as the flight to your tropical vacation and finding a parking spot for a rock concert are boring. But our respondents see the totality of the experience favorably, suggesting perhaps that fans aren't as focused on the dead moments as the How To Fix Baseball industry is.
---
5: If baseball is boring, why is it boring?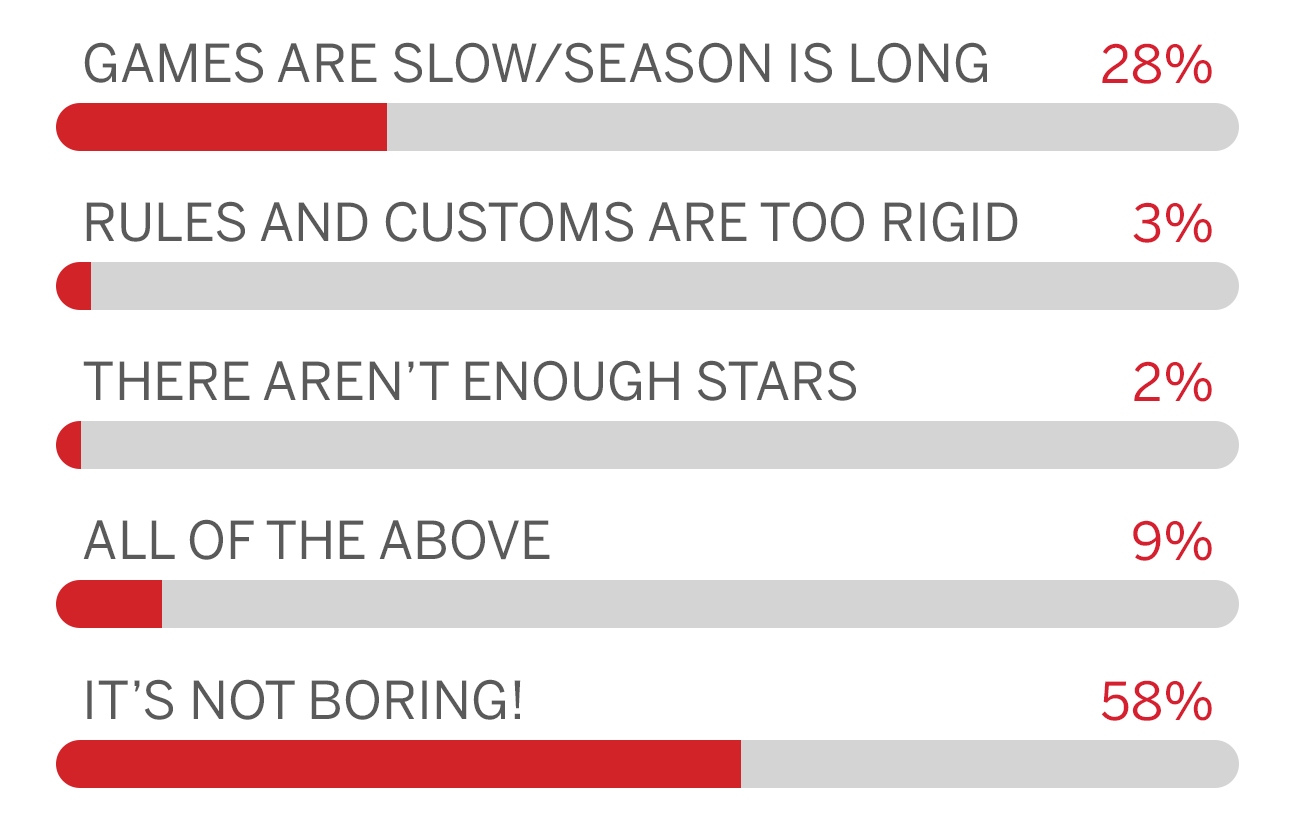 #ESPNMLBPoll the MLB is becoming boring because the players are watching too many strikes and not putting the ball in play

— Joel Baier (@baier_joel) April 11, 2017
It's not great when the most common complaint about your product is "you're giving me too much of it."
---
6: What would be the best way to improve the game?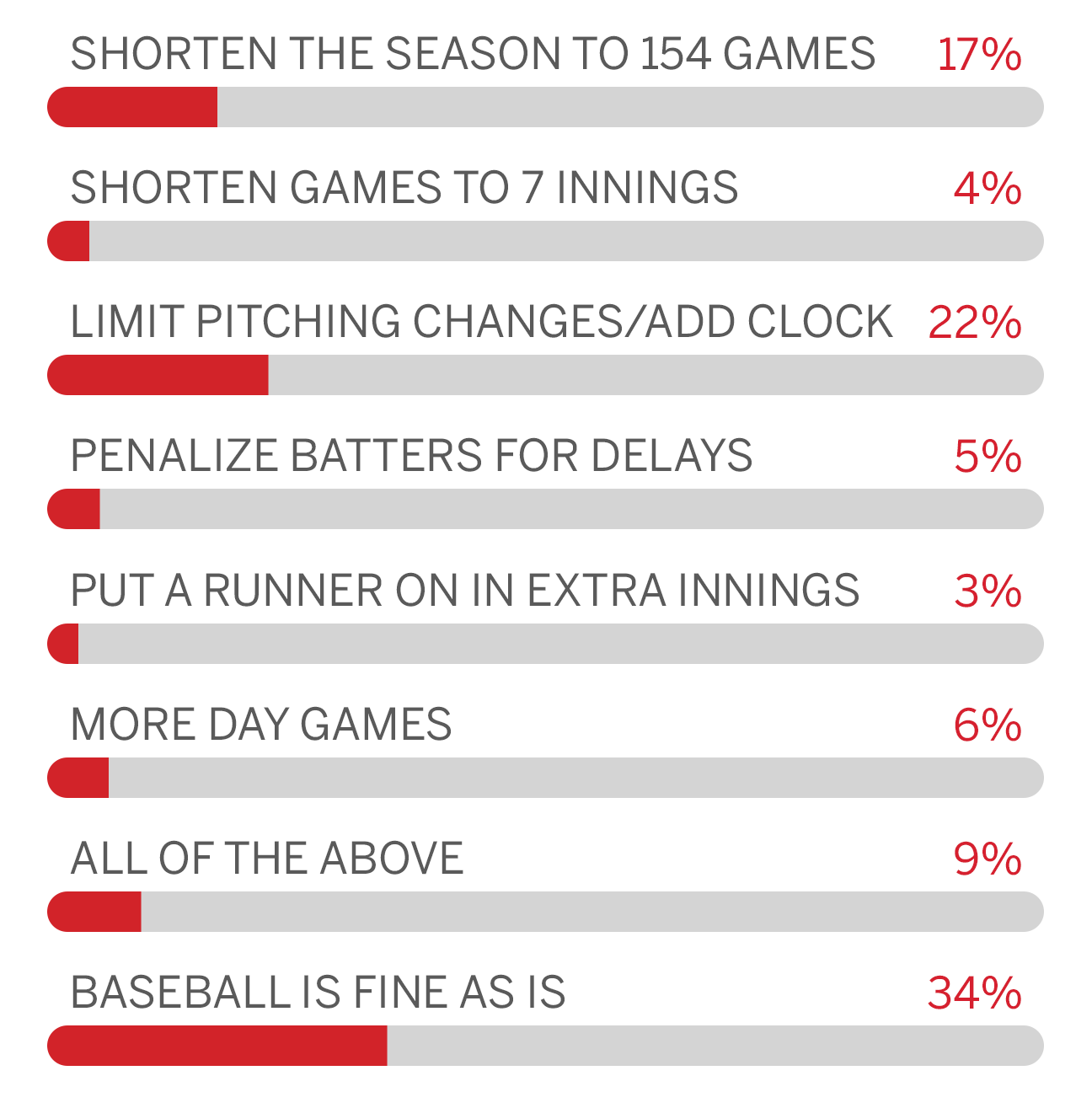 "Baseball was, is and always will be to me the best game in the world." - Babe Ruth explained it best, nothing needs to change #ESPNMLBPoll

— Sam Colein (@scolein13) April 11, 2017
Baseball should shorten the game to 7 innings and should play 100 games not 162 games & 3 balls to get a walk. #ESPNMLBPoll

— Gwynne Abrams (@Gwynne55) April 11, 2017
140 characters isn't enough to explain why baseball shouldn't change. #ESPNMLBPoll

— Benjamin (@VanVeckhoven_) April 11, 2017
#ESPNMLBPoll The majority of us think baseball is perfect the way it is. Don't try to change it just to please the few. They don't get it!

— Scott Underhill (@scottunderhill) April 11, 2017
Some 70 percent said baseball isn't boring in Question 4, and 58 percent stuck to that for Question 5, but here only 34 percent say to leave it alone. Even fans who emphatically consider baseball entertaining, then, are open to changes -- though there's less support for more radical changes (such as shortening games to seven innings).
---
7: How do you rate the state of the game's popularity?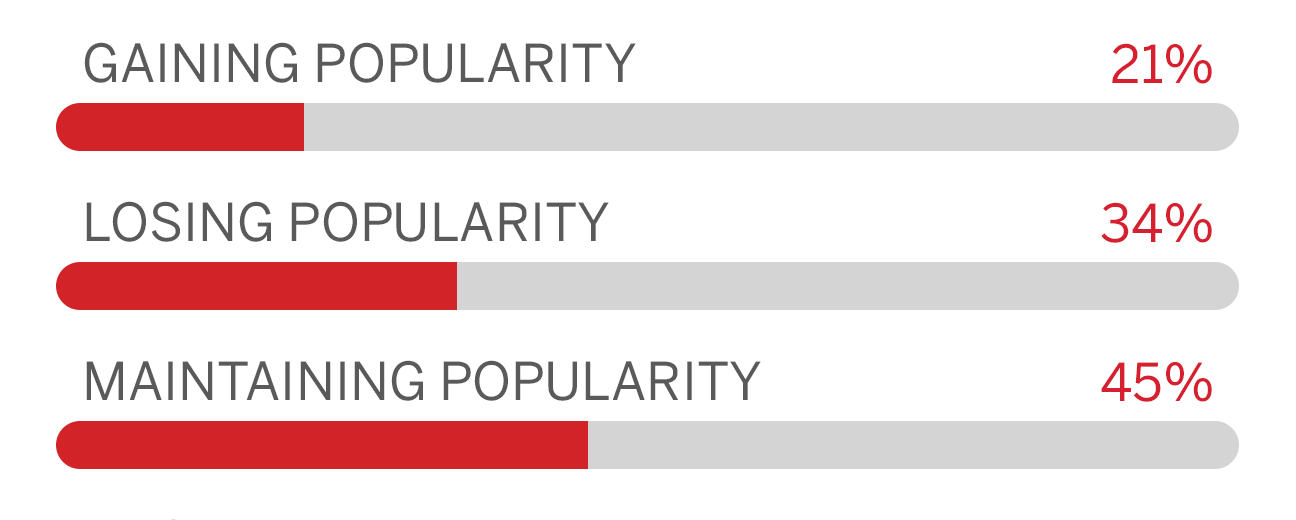 @thebigm The day baseball ignores casual/general audience to appease vocal purists is when it devolves into a niche sport. 4/4 #ESPNMLBPoll

— The Radical Dream (@TheRadicalDream) April 12, 2017
It's worth wondering how different the responses to this question would be if Major League Baseball itself, and baseball writers like us, didn't spend so much time publicly worrying about the state of the game's popularity. Regardless of that influence, though, about half the respondents see baseball as fundamentally stable.
---
8: Do you think the game has enough household names?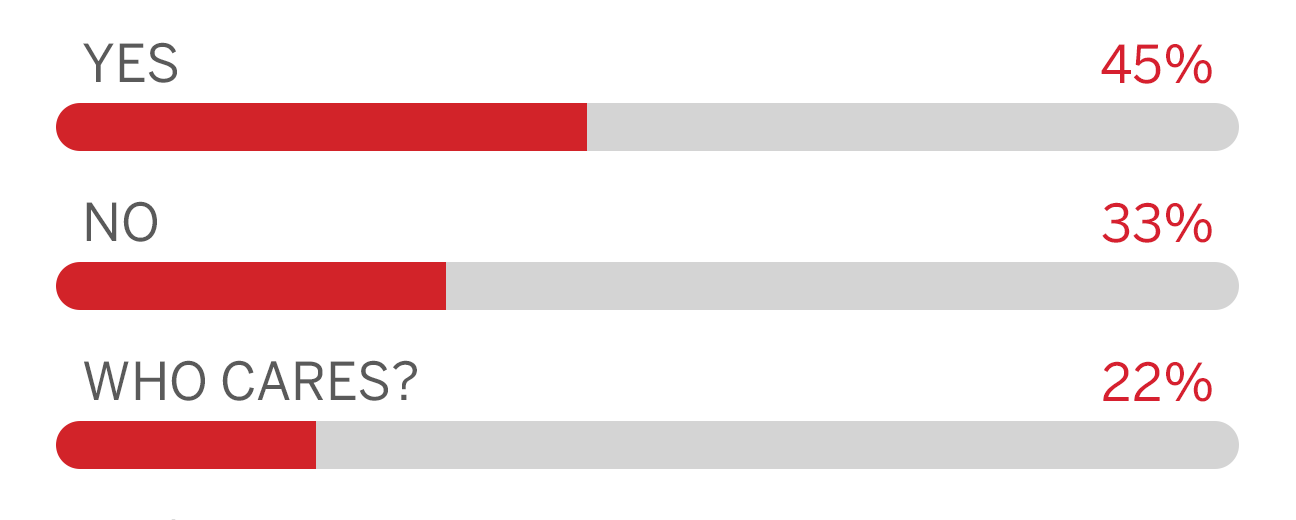 Let's chill out about mike trout, no one cares about anyone on a team that can't win 50 games #espnmlbpoll #allduerespect

— nathaniel (@donaldngivens) April 13, 2017
Considering no active major leaguer is among America's 50 favorite athletes -- that the game arguably has no household names active -- we can probably lump the "yes" and "who cares?" responses together here. That is telling, and consistent with the rest of this survey: Fans are passionate about their teams, not about an industry.
---
9: How do you feel about your team's chances to win a World Series over the next five years?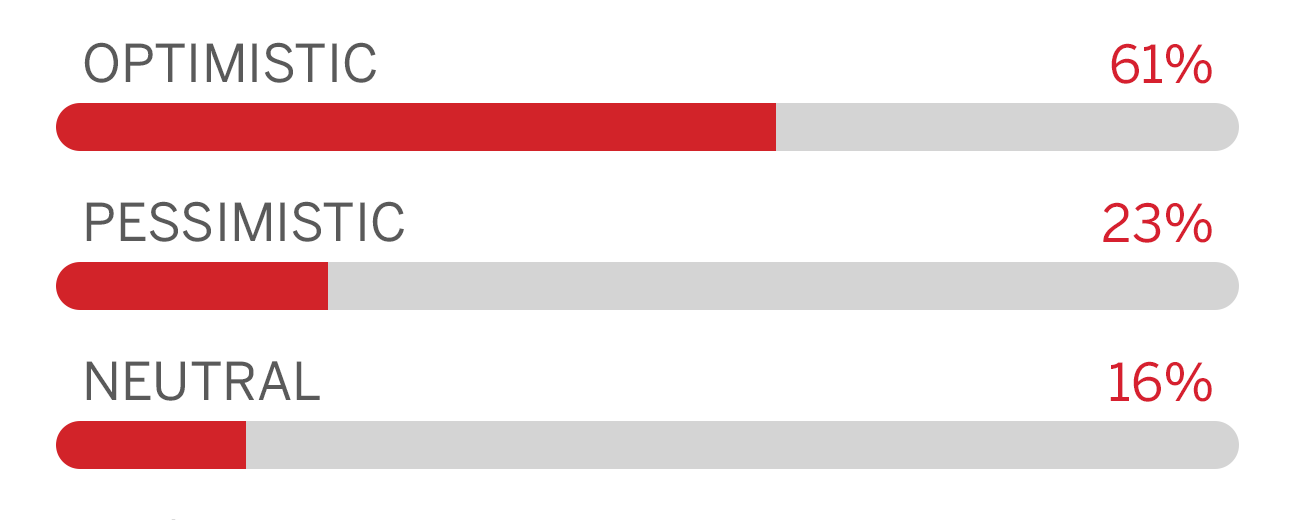 Ahhh but I love everyone's optimism in April. Ask this question again in late-August. 😂 #ESPNMLBPoll pic.twitter.com/tOddzwtclY

— Tara (@BravesDiva) April 11, 2017
Unlike football, where 3 Qbs have been in the past 15 of 17 Superbowls, your team actually has a chance in baseball. #ESPNMLBPoll

— Matt Mayhill (@ChiefsFan13) April 13, 2017
#ESPNMLBPoll has 62% of fans optimistic their team will win the #WorldSeries in next 5 yrs; Must be all those #Cubs fans since 2016 voting

— Sports Antagonist (@ourtradingcards) April 11, 2017
5 of last 7 WS winners were top 10 in payroll. If that doesn't make you pessimistic as a small market team fan, nothing will #ESPNMLBPoll

— Joe Cummings (@mafiawarsjnote) April 11, 2017
Retired commissioner Bud Selig once said that "if you remove hope and faith from the mind of a fan, you destroy the fabric of the sport. It's my job to restore it." He'd probably consider the responses to this question a fine legacy.
-- Poll questions by Matt Marrone