We asked 27 of our MLB experts to look ahead to the second half and make some end-of-season predictions. From the biggest name you'll hear at the trade deadline to the winner of the Fall Classic, here's how the season is shaping up in their eyes.
AL champion

Eddie, Houston is 10 wins ahead of Boston at the break. What made you go with the Red Sox over the Astros?
Admittedly, back in March when I picked the Red Sox to go the World Series, that was based on the assumption that Chris Sale, Rick Porcello and David Price would all be dominant. Even though that hasn't been the case, I'm stickin' to my guns. Because that's what I do. -- Eddie Matz
---
NL champion

Scott, what's it going to take to make your Nationals pick happen?
After three Division Series losses in the past five years, it's incumbent upon general manager Mike Rizzo to address the Nationals' only weakness and do whatever it takes to get back-end bullpen help. There figure to be plenty of options too, from Raisel Iglesias or David Robertson to Ryan Madson or even a reunion with Mark Melancon. -- Scott Lauber
---
World Series winner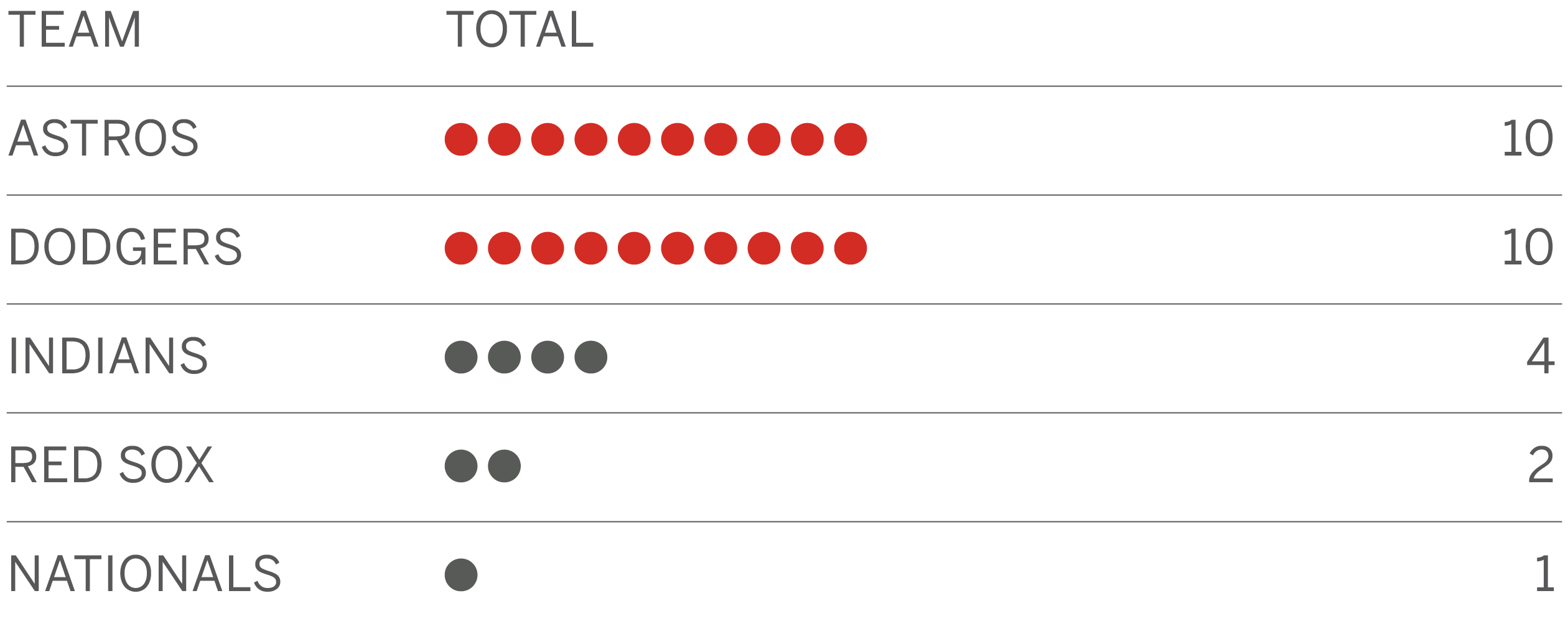 Dave, you're the only one taking Washington. Why?
OK, the Nationals don't have a championship-caliber bullpen. Tanner Roark has been terrible. Dusty Baker's history in the postseason is, umm, a bit checkered. But you know they'll trade for a couple of relievers, they have four of the top 11 hitters in the majors based on wOBA, and Max Scherzer is capable of a Bumgarner-like run in the postseason. Plus, this was my preseason pick, so I'll stick with it. -- David Schoenfield
AL MVP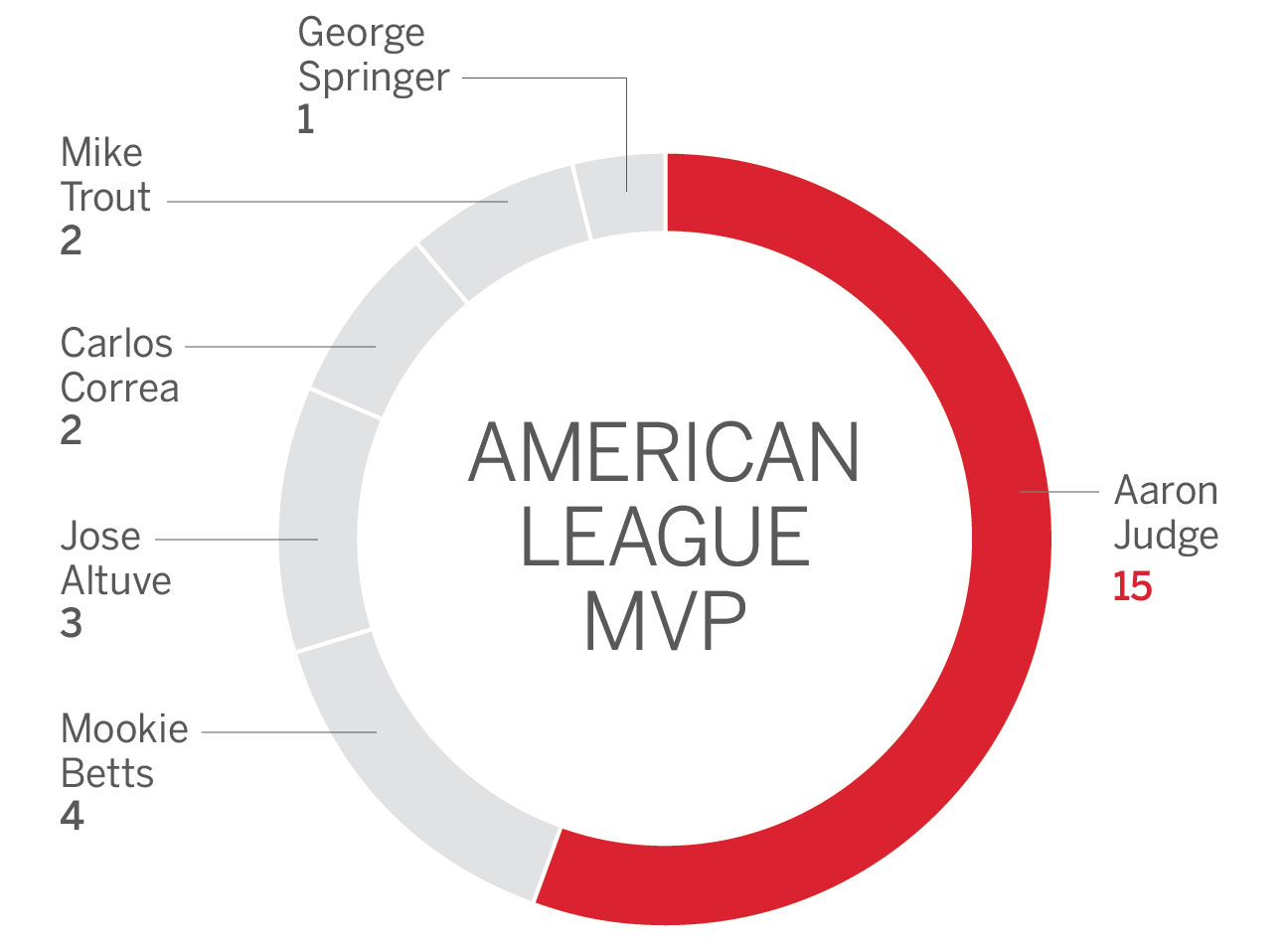 Sarah, what is it that makes Judge the clear favorite here?
Judge is leading the majors in wins above replacement, he's setting records left and right (like the Yankees rookie home run total), and his team has done better than was expected. The bullpen has faltered lately -- and other offensive performers haven't been quite to Judge's level, which is bringing the offense down -- but Judge himself has kept the team in the playoff race with his power. And he's doing it all at just 25 years old. If he wins and also takes home Rookie of the Year honors, he'd be the third player ever to win ROY and MVP in the same season, joining 27-year-old Ichiro Suzuki in 2001 and 23-year-old Fred Lynn in 1975. -- Sarah Langs
Brad, there are a couple other Astros on this list. Why does Springer stand out to you?
It just feels like the AL MVP will come from the Astros. While there is a school of thought that the quantity of their high-level performances this season will result in their stars drafting votes from each other in the balloting, I see Springer emerging as the top vote-getter. He gets the most time on the highlight reels because of his prodigious and plentiful leadoff homers and makes the plays in center field. -- Brad Doolittle
---
NL MVP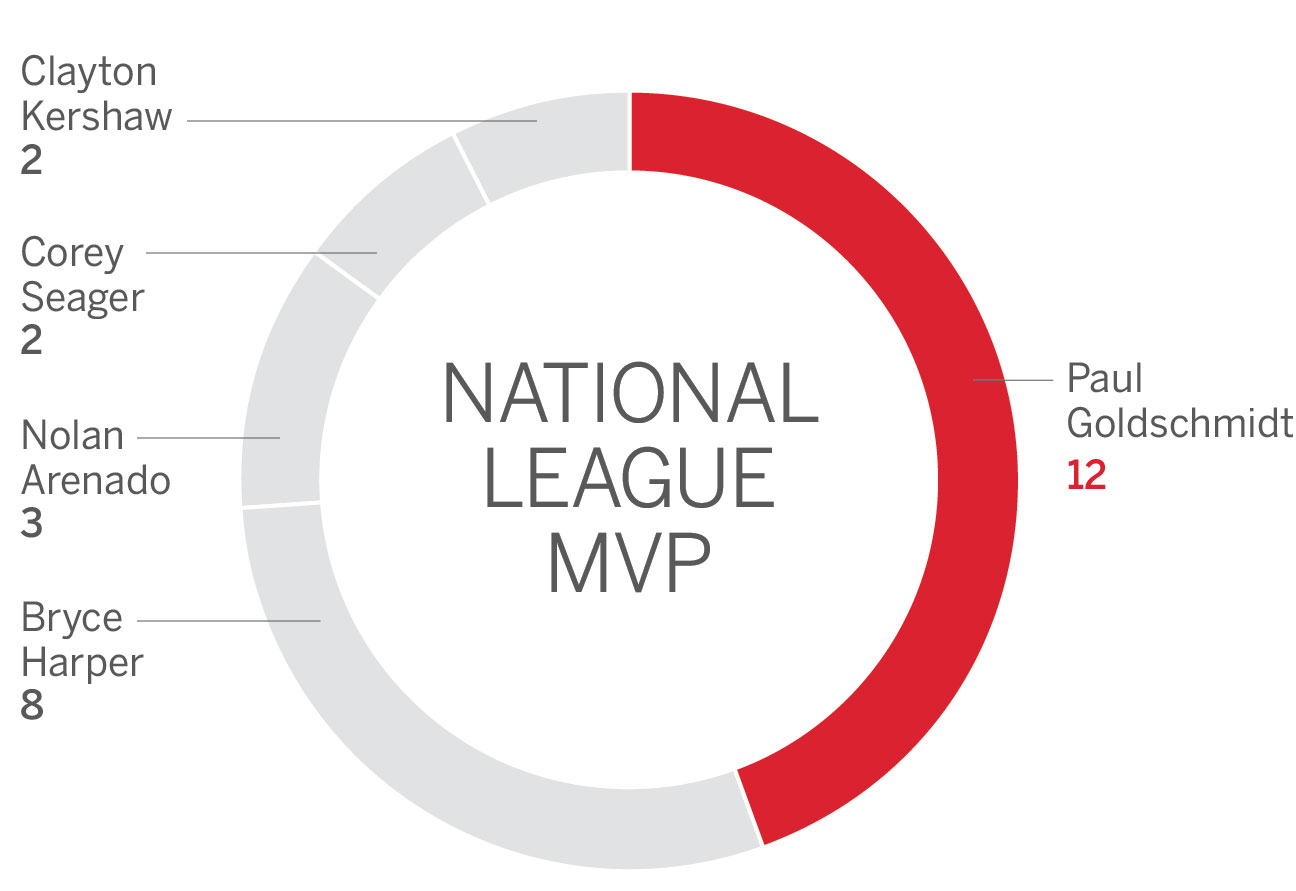 Dave, you went with the perennially underrated Paul Goldschmidt. What makes you think he'll get his due this season?
The NL MVP race looks like a crowded affair, including several players from the Nationals plus Clayton Kershaw in the mix. As much as Kershaw and Max Scherzer will probably deserve consideration, it's hard for pitchers to win -- especially when there are two standouts. So I'll go with America's first baseman, who has the highest WAR at the break and will lead his team to the playoffs. -- Dave Schoenfield
AL Cy Young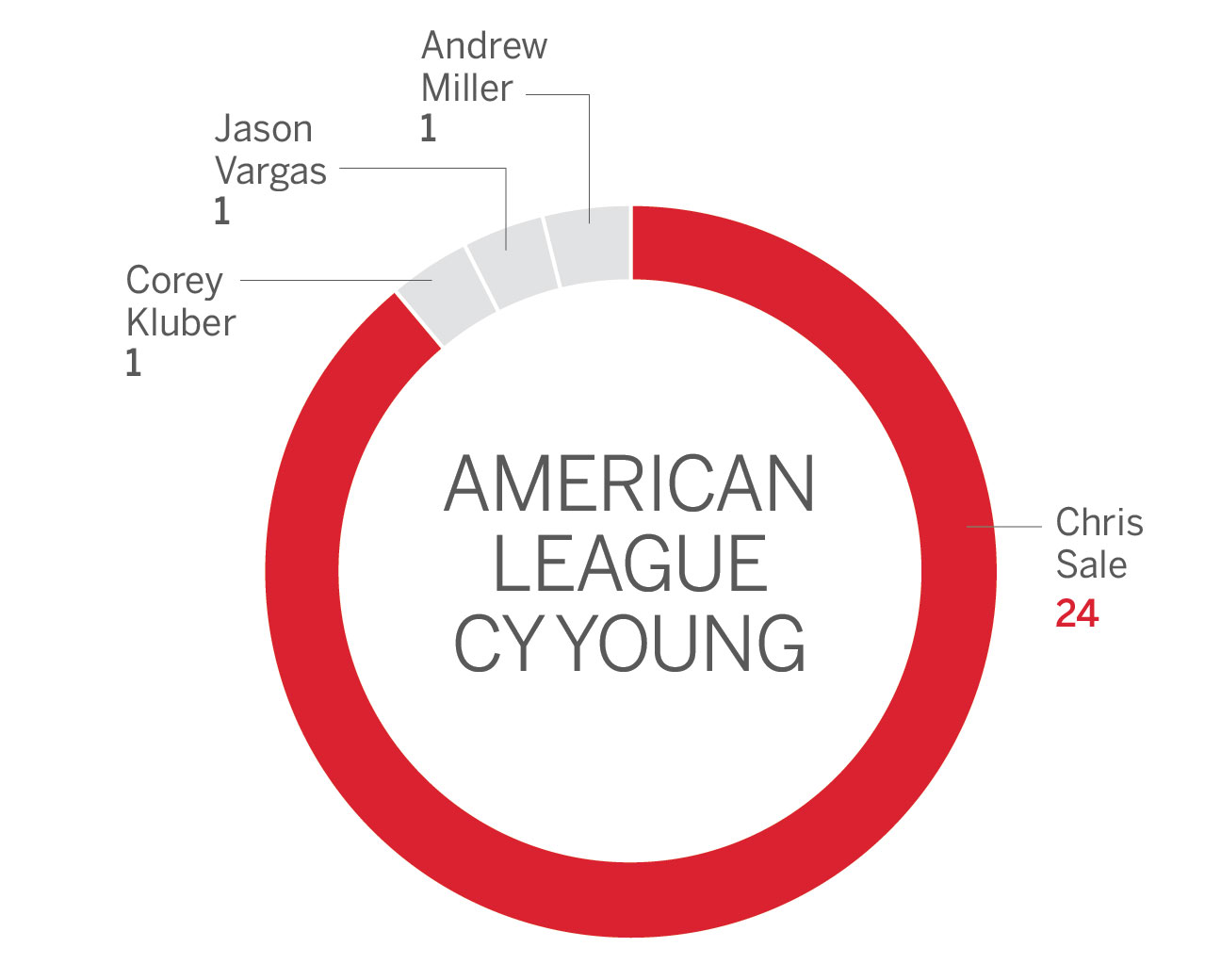 Mark, how can Kluber surpass Sale in the second half?
Corey Kluber's back strain in May might have been a blessing in disguise. It allows him to keep his arm fresh with a physically-demanding workload in 2017. Look at what he has done since he came back: a 1.24 ERA, 74 strikeouts and just one home run allowed in his first seven starts. Even if his ERA doubles, he'll be in strong contention for the honor. -- Mark Simon
---
NL Cy Young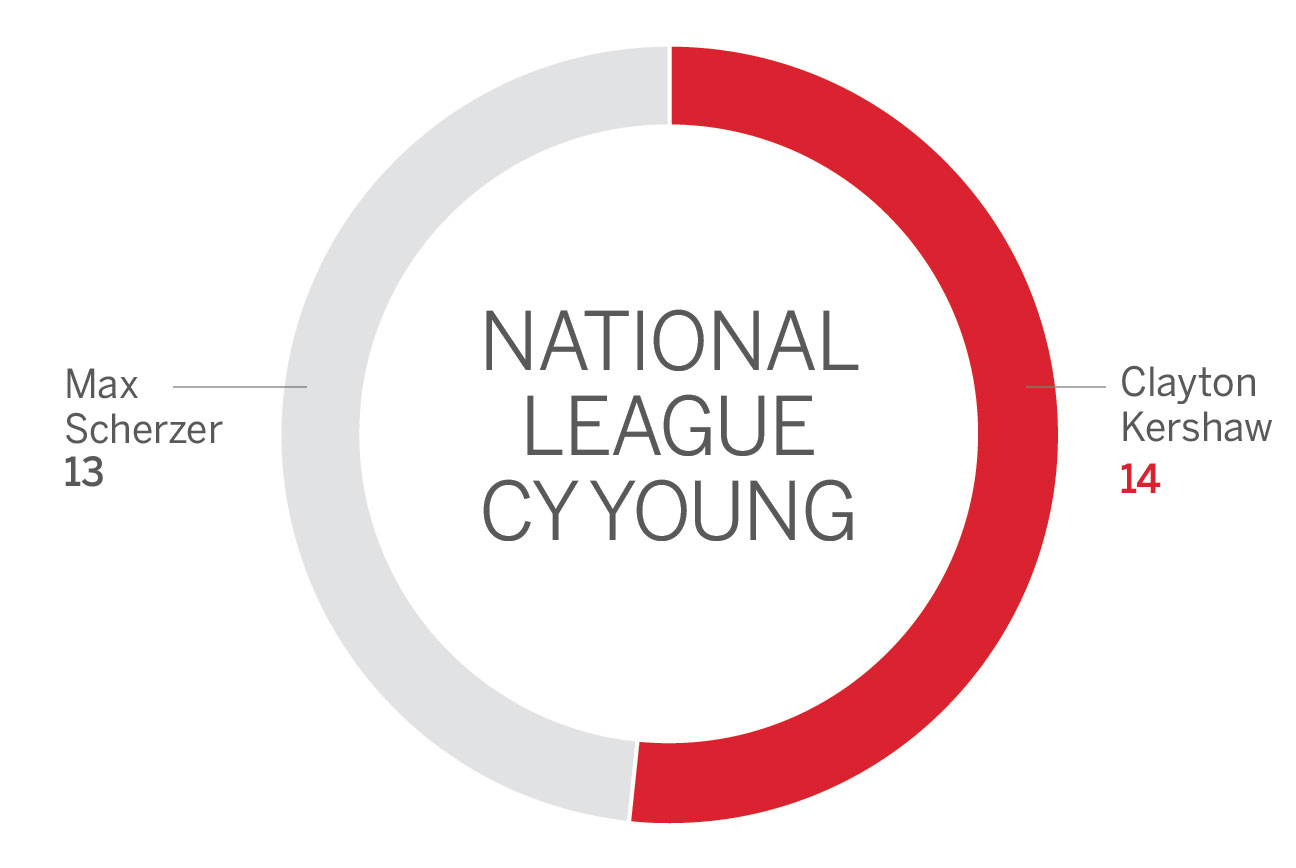 This is a close call, Brad. How did you decide?
Scherzer is both dominant and consistent, qualities that of course also describe Kershaw. Because Kershaw could actually have his best season yet in wins (which I'm sure still matters to some subset of the voters), this should be a truly epic race. But I think Scherzer will end up getting more innings, and he's already on pace to have more than a two-WAR advantage, an awfully big gap for Kershaw to close. -- Brad Doolittle
How many games will the Astros win?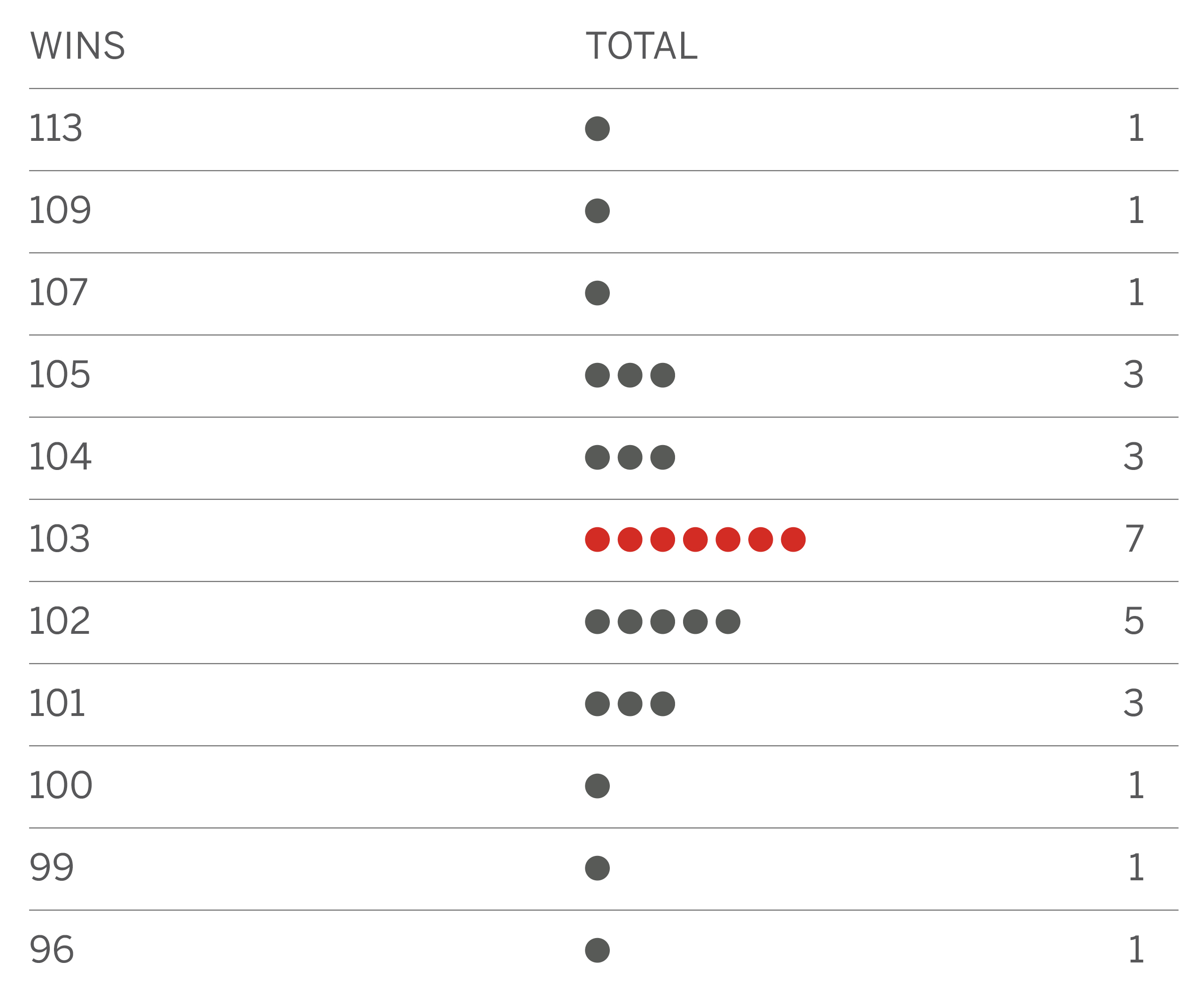 You had the highest total for Houston, Sarah. What puts it above 110 for you?
The Astros are on pace for just under 110 wins, but this team has shown resilience and has not looked "bad" for a full week at any point this year. They just lost their 10th road game of the season. In July. It took them 41 road decisions to lose their 10th road game. The only teams to play more road games before losing that 10th road game were the 1906 Cubs and 2001 Mariners, who share the all-time wins record of 116. -- Sarah Langs
How many games will the Dodgers win?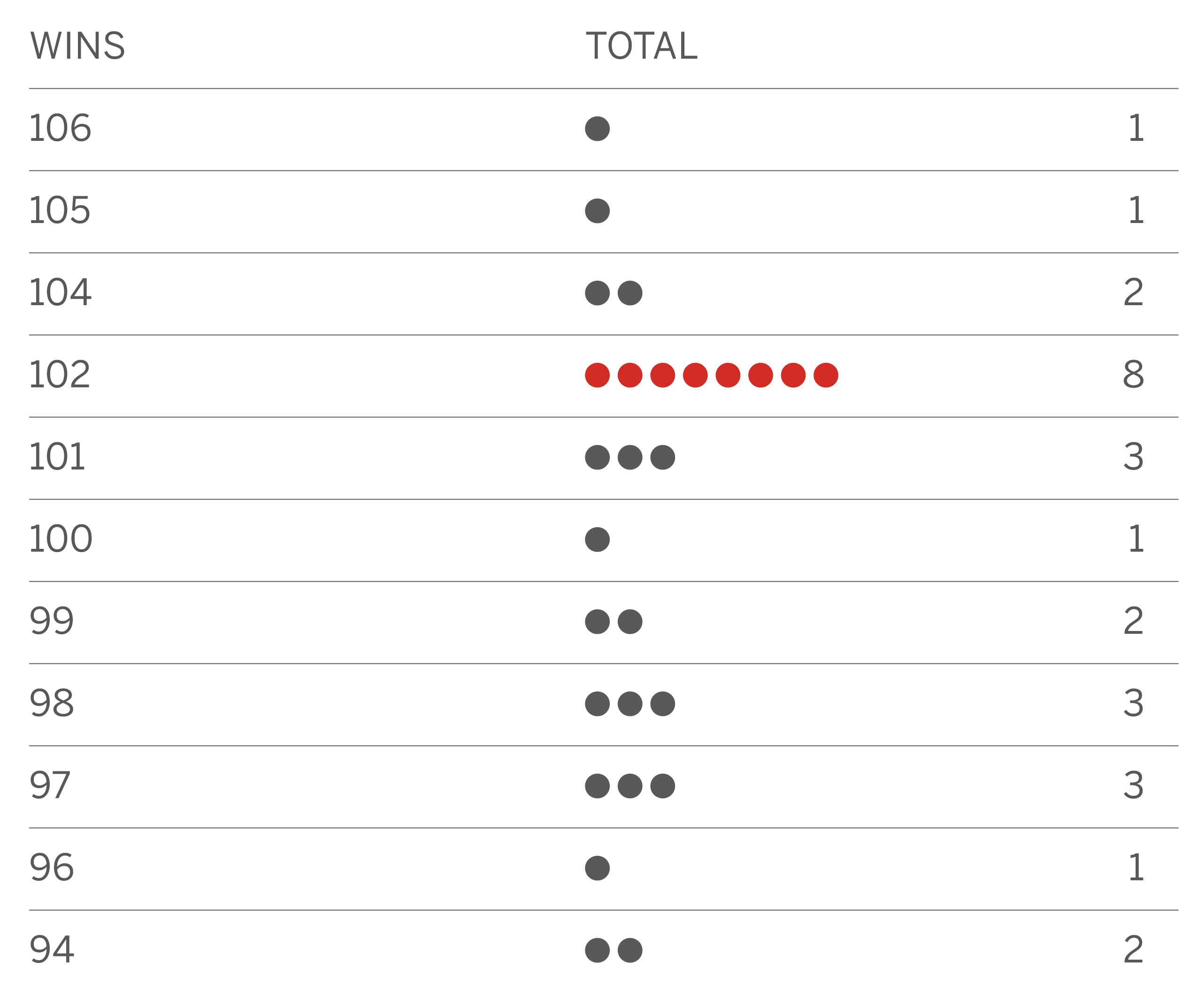 The panel is going triple digits for the Dodgers, too. What makes them such a threat, Christina?
If you want top-tier talent delivering high-end performances, it doesn't get any stronger or deeper than what the Dodgers are getting from their best. Their Kershaw-Kenley connection gives them the single best starting pitcher in the game and the single best closer in the game, but Alex Wood's breakthrough season gives them a one-two punch atop the rotation that could be overpowering in a short series. They'll still need to score on other teams' top starters, but the Dodgers' depth gives them an edge there as well. Their lineup might start with Corey Seager, Justin Turner and Cody Bellinger, but they have the power one through eight in the lineup to create a big inning on offense at any point in-game. Remember, Yasiel Puig bats eighth for this team fairly often -- and he should, even while putting up his best power numbers since his rookie season. Add in Dave Roberts' active and aggressive management of his bench and bullpen to win matchups beyond what his marquee players do in their turns and at-bats, and there's no team more likely to win a seven-game series in October. -- Christina Kahrl
Will Aaron Judge hit 50 home runs?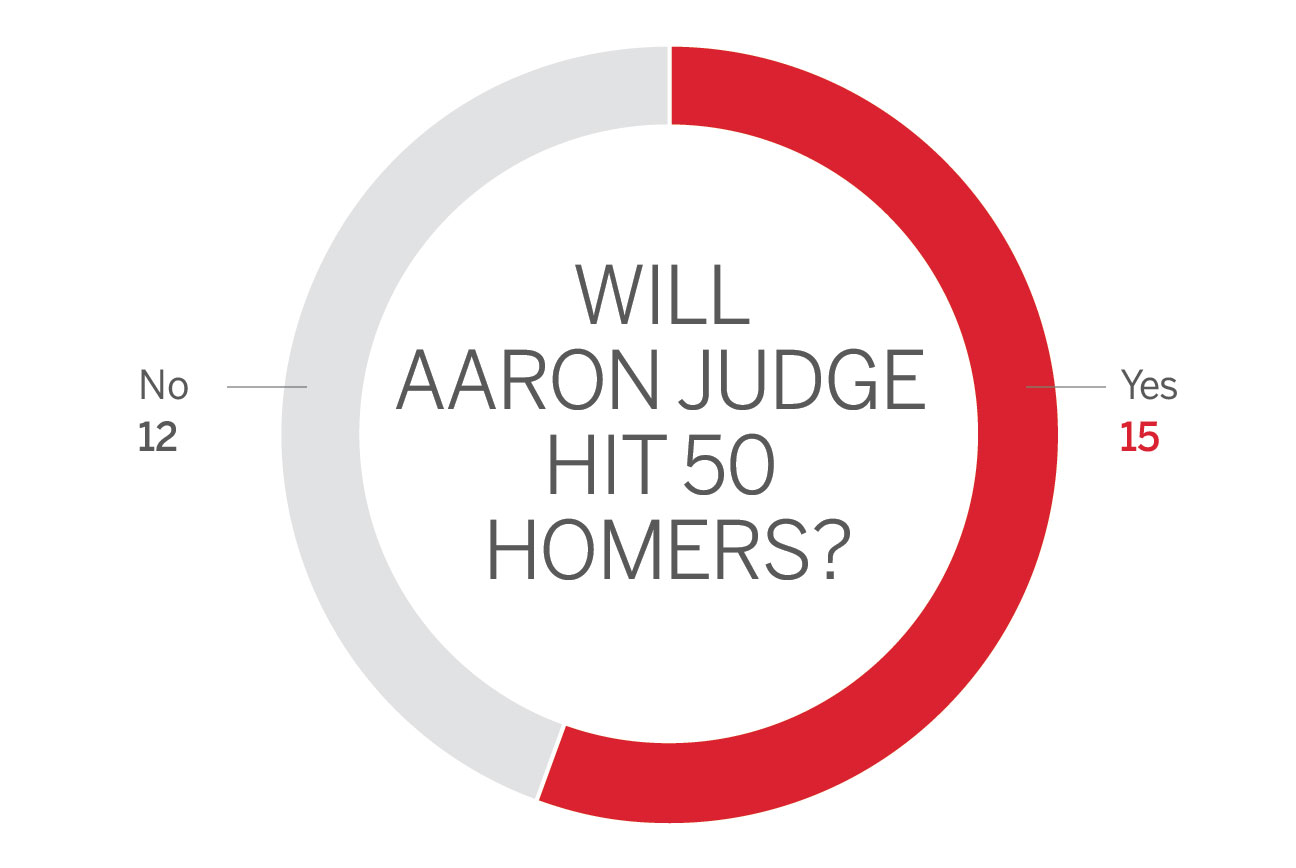 Another close one here, Dave. Why did you take the over?
Even though he remains on pace for more than 200 strikeouts, Judge's ability to zero in on strikes means that when he does connect, it often goes a long way. With his obvious raw power, combined with the lively baseballs, he'll become the third 50-homer guy in the past 10 seasons (joining Chris Davis in 2013 and Jose Bautista in 2010). -- Dave Schoenfield
Who's the biggest name that gets traded?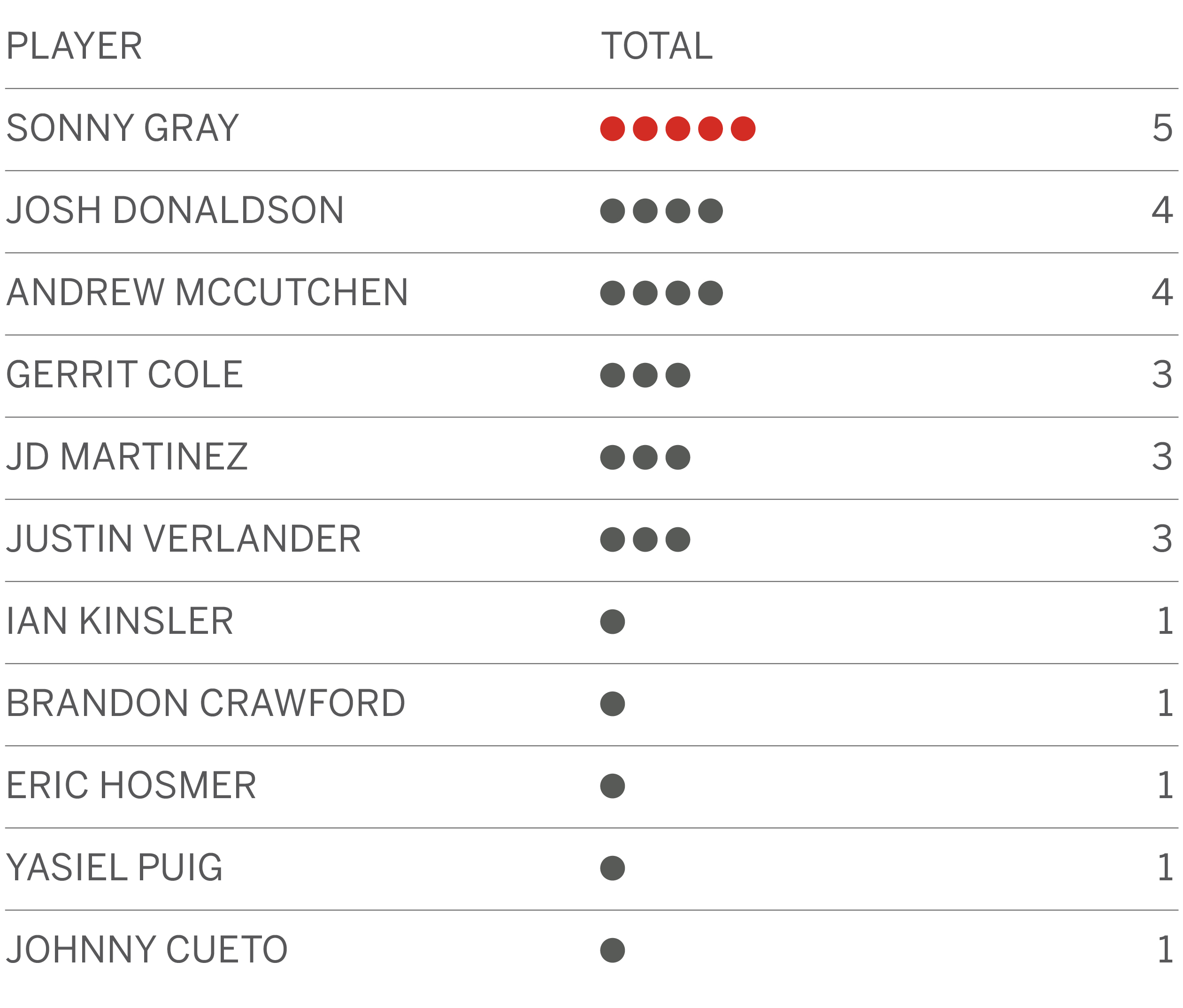 Dave, is McCutchen's recent hot streak really enough to entice other teams?
His recent surge -- he has arguably been the best hitter in the majors since May 26 -- has brought his trade value back up. While he's signed through next season, it makes sense for the Pirates to trade the former MVP winner now while he's swinging a hot bat. -- Dave Schoenfield