BALTIMORE -- Blue Jays pitcher Marcus Stroman was struck on the right elbow by a hit ball Saturday night, forcing him out of Toronto's 7-2 win over the Baltimore Orioles. 
Stroman immediately dropped to the ground and squirmed in pain near the mound after Mark Trumbo's line drive hit him in the arm. He remained on the turf for several minutes before standing up with aid from Toronto's trainer.
"Obviously, you panic right at first. It just felt like my arm exploded,'' Stroman said. "But once I kind of started to squeeze my hand while I was on the ground and kind of feel that I had my strength in my wrist and my hand, I kind of felt a little better."
Stroman was removed with two outs in the second inning by bench coach DeMarco Hale, who was subbing for manager John Gibbons.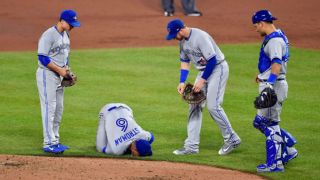 "He thought that he might be going to be able to pitch,'' Hale said. "But we saw that the bruise was on his arm there, so it was a no-brainer for me.''
The injury was diagnosed as a contusion, and X-rays were negative.
Stroman struck out three and gave up two hits.
He was replaced by Matt Dermody, who went 2⅓ innings before Luis Santos allowed one run and two hits over 3⅓ innings in his first big league game.
Stroman came into the game with an 11-6 record and a 3.11 ERA.
The Associated Press contributed to this report.