LOS ANGELES -- Arizona Diamondbacks manager Torey Lovullo announced right-hander Taijuan Walker will start Game 1 of the National League Division Series on Friday against the Los Angeles Dodgers.
"It's something we've been thinking about pretty much the entire time," Lovullo said. "We just wanted to check a few extra boxes and make sure. We're excited about it."
The Diamondbacks won a topsy-turvy NL wild-card game on Wednesday, beating the Colorado Rockies 11-8. In doing so, Arizona used its top two starting pitchers, Zack Greinke and Robbie Ray, to get a combined 18 outs. That left the identity of the Dbacks' first pitcher in the next round as something of a mystery until Lovullo's media conference, held before Thursday's workout at Dodger Stadium.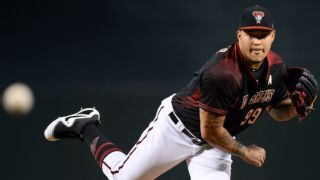 "[Walker is] throwing the ball well against the Dodgers, and he's going to be ready for the challenge," Lovullo said.
Walker, a Southern California native, will face Dodgers ace Clayton Kershaw. He just finished his first year with Arizona, going 9-9 with a 3.49 ERA over 28 starts. He faced Los Angeles three times, going 2-0 with a 3.24 in those outings. Both wins came at Dodger Stadium.
"I'm ready," Walker said. "I've done my research. I've faced them a couple times this year, so they've seen me a little bit, too. So I think it should be a pretty good matchup."
Lovullo said he had not finalized his decision on who will start Saturday's Game 2, but Ray is a possibility. Ray, a power-throwing lefty, dominated the Dodgers during the regular season, going 3-0 with a 2.27 ERA with 53 strikeouts in 31⅔ innings.
"We haven't gotten that far yet," Lovullo said. "Everything that Robbie gave us yesterday told us that he feels good, and we want him to walk into the throwing program today and tomorrow just to see where he is at. So we haven't quite determined the Game 2 starter, but we're going to drill down to that as quickly as we possibly can."
Greinke, a former Dodger, is slated to start Game 3 on Monday at Chase Field in Phoenix, where he went 13-1 during the regular season. After his short outing Wednesday, Greinke would be pitching on normal rest.