WASHINGTON - Max Scherzer will start Game 3 of the NLDS for the Washington Nationals.
Manager Dusty Baker made the announcement before Friday's opener against the Chicago Cubs. He also confirmed that lefty Gio Gonzalez will start Game 2 on Saturday.
"We're going to go Gio tomorrow," Baker said, "and then Max will go -- slated to go Game 3."
Scherzer, who is Washington's ace and the reigning NL Cy Young winner, exited his final regular-season start on Sept. 30 after suffering what he called a "small tweak" in his right hamstring. With Scherzer originally expected to be the Nats' Game 1 starter for the second year in a row, the injury forced Baker to reconfigure his rotation, which now features Stephen Strasburg taking the mound against Chicago in the opener.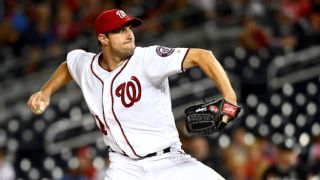 On Friday afternoon, while Baker held his pregame news conference, Scherzer threw his first bullpen session since injuring his hamstring. 
"We'll see how he comes out," Baker said.
This season, Scherzer went 16-6 with a 2.51 ERA in 31 starts, his lowest total since 2010. In August, he missed two weeks with a neck injury, and in his second start back from the disabled list on Sept. 2, he was struck in the calf by a line drive. Considered a leading candidate to win his third Cy Young award, Scherzer led the National League in strikeouts (263) and WHIP (0.90), while helping Washington to its fourth division title in six seasons.