LOS ANGELES -- Arizona Diamondbacks manager Torey Lovullo announced power-throwing lefty Robbie Ray will start Saturday's Game 2 in the National League Division Series against the Los Angeles Dodgers.
Lovullo said he waited as long as he could to make the decision official after Ray was used for 34 pitches during Arizona's wild-card victory over the Colorado Rockies on Wednesday.
"I talked to him after his throwing program yesterday," Lovullo said before Friday's 9-5 loss in Game 1.
"He said he felt fantastic. I had a conversation with him today, and he said he felt even better. The type of relationships that I've established with these guys is built on trust and communication. So it was a swift and easy conversation."
Ray, Arizona's No. 2 starter during the season, dominated the Dodgers this year, going 3-0 with a 2.27 ERA and 53 strikeouts over 31⅔ innings. Ray went 15-5 overall during his breakout fourth big league season with a 2.89 ERA. His ERA ranked fourth in the NL, and his 218 strikeouts ranked third. Ray led the league in strikeouts per nine innings (12.1).
"Within three or four minutes, I could tell by the look in his eyes that he wanted the ball tomorrow and he was ready," Lovullo said. "We had minimal concerns."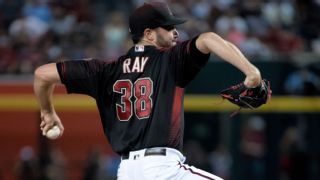 Ray's appearance Wednesday was his postseason debut, an experience he hopes will smooth things for him on Saturday during a postseason in which several top starting pitchers have struggled.
"My arm feels great and ready to go," Ray said. "I wouldn't lie to him. I wouldn't give this team anything but 100 percent of myself. I feel like that would be cheating me and cheating the team. So I feel 100 percent and I feel ready to go."
Lovullo repeated his comment from Thursday that he expects No. 1 starter Zack Greinke to throw in Monday's Game 3 in Phoenix. However, he has not made any decision about a possible Game 4.
"We're expecting some dogfights out there and some really, really strong battles," Lovullo said. "We're going to use every bit of force that we possibly can to make sure that we take care of today. So where that lands us on Game 4, we're not sure at this point."