Ron Gardenhire became the third -- and possibly the final -- candidate in the Boston Red Sox's managerial derby.
Gardenhire, who spent this season as the Arizona Diamondbacks' bench coach, interviewed Wednesday with Red Sox president of baseball operations Dave Dombrowski. Earlier this week, the Red Sox met with Houston Astros bench coach Alex Cora and recently deposed Detroit Tigers manager Brad Ausmus.
It's unclear whether the Red Sox will broaden their search beyond those three candidates.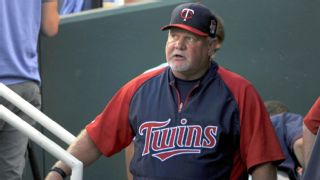 "We are still discussing if we will do that or not," Dombrowski said in an e-mail.
Regardless of which candidate emerges as Dombrowski's top choice, a second interview, presumably involving ownership, is likely to occur before a final decision is made.
Gardenhire turns 60 later this month and has more experience than Cora and Ausmus. Gardenhire spent 13 seasons as manager of the Minnesota Twins, leading them to six postseason appearances. He brings a reputation as a players' manager and was a help to first-year Diamondbacks manager Torey Lovullo.
Cora, who turned 42 Wednesday, is also in the mix for managerial openings with the New York Mets, Tigers and Philadelphia Phillies. He is perceived across baseball as the likely front-runner for the Red Sox.
"He challenges people. He challenges me," Astros manager A.J. Hinch said of Cora. "He's someone who's all about winning. And I think to watch our players respond to him, he's got a lot of respect in that clubhouse because of the work he puts in and the attention to detail that he brings. That's why he's the hottest managerial candidate on the planet and deservedly so."