Punxsutawney Phil emerged from his hole on Groundhog Day and saw his shadow, supposedly heralding another six weeks of winter. This is absolutely ridiculous. The end of winter was not determined by some marmot in western Pennsylvania crawling out of his nest and seeing the sun on Feb. 2. Who would believe such superstitious, unscientific folklore? Especially since everyone knows winter officially ended the previous day, when the first set of Topps baseball cards went on sale.
Each year I write about my first pack and how the contents help determine what kind of a season it will be -- two years ago I got Tim Lincecum and Buster Posey and the Giants went on to win the World Series -- but this time I must confess I'm cheating a little. When I ripped open the first pack and saw Neil Walker, I decided to give myself a mulligan and open another pack rather than have a Pittsburgh Pirate be the first harbinger of the season.
No. 145, Billy Butler: Great. I pass on a Pirate only to get a Kansas City Royal. But it's hard to complain about Butler, who hit .291 with 19 home runs and 95 RBIs last year. The amazing thing is, despite that success, the Royals didn't trade him away this winter.
Butler's card also provides an example of how the new Topps series differs from those of the past. It shows him with his helmet off and a big grin on his face as he celebrates some big hit, possibly a home run. Topps has several cards like this in the 2012 set -- there is the card of Michael Morse tossing Gatorade over a teammate -- and they're kind of cool. It certainly beats the old cards that always showed players in one of four standard poses: Pitchers had to be shown with hands above the head in a fake windup or with the pitching hand pointed toward the camera in a follow-through. Position players either had to be shown in a pretend batting stance or holding a glove and bent over as if they were Little Leaguers about to field a grounder. Those requirements went all the way back to commissioner Kenesaw Landis and Jamie Moyer's rookie card.
No. 116, A.J. Pierzynski: I love A.J., but I'm in the minority on this. ESPN ranked him as the most hated player in baseball a couple years ago; Sports Illustrated named him the meanest player in baseball; and GQ once ranked him ninth among the most hated athletes in all sports. All of which prompted Ozzie Guillen to say, "If you play against him, you hate him. If you play with him, you hate him a little less."
No.221, Luke Gregerson: Ughhh. Easily the ugliest card of the pack, this card has a very annoying background that reflects the light in colored sparkles. Even worse, Gregerson is wearing one of those awful Padres camouflage jerseys.
No. 97, Jim Thome: For some reason, Thome is listed with the Minnesota Twins, even though the Twins traded him to Cleveland in August and he signed with the Phillies in November. Either Topps had a very early deadline or it has some inside trade information not even Buster Olney is aware of.
No. 206, David Robertson: Another example of the improved Topps photography, this card is a very cool shot taken from above while Robertson delivers a pitch. But just to show that Topps hasn't gone all slick and modern, the back of the card describes him as a "gas-chucking right-hander."
No. 274, Alex Liddi: This card, showing Liddi sliding across home plate, is my favorite. I just wish Topps still ran those goofy cartoons on the back so we could see Liddi drawn tossing pizza dough while in his baseball uniform under a caption that reads, "Mamma Mia! Alex is the first ever major leaguer raised in Italy!"
No. 200, Miguel Cabrera: The card lists Cabrera's position as first base, but of course that was before the Tigers traded for Prince Fielder. To handle the move to third base, Miggy has reportedly shed 20-25 pounds while manager Jim Leyland is adding two to three packs of cigarettes a game.
No. 299, Mitch Moreland: Here's what is written on the back of the card: "Since I could walk, I wanted to be a professional baseball player," says Mitch, whose passion is just one thing that endears him to the Rangers. A .419 average in the 2010 ALCS and World Series is another." Here is what is not written: His .259 average, 51 RBIs and 92 whiffs last year, however, were not so endearing.
No. 33, AL RBI Leaders: This card, featuring images of the top three RBI leaders (Curtis Granderson, Robinson Cano and Adrian Gonzalez), is so dull I may stick it in the spokes of my bicycle.
Topps Golden Giveaway Card: This is a promotional card that requires me to power up my laptop, go to the Topps website, register my name and date of birth, provide my email address and a password, retype the password, select a secret question about my personal life, provide the answer to that question for future ID purposes and then enter the nine-character code from the back of the card. What, no retina scan?
And what did I get for all this effort? I'm told I've won a 2012 Arizona Diamondbacks coin, but I do not know if this is real coin or a virtual coin. I am offered the choice of trading it for another team's coin, which I do, asking for a Mariners coin instead. But I don't know if I got it or whether it's real, either. For crying out loud -- just give me a stick of stale, dusty gum!
That's the pack. Based on the cards, I predict the Tigers will win the AL Central, the Royals will finish second, Liddi will be a rookie of the year candidate and Thome will be to be traded (you heard it here first).
CSI: Box Score
You know the drill. Each week I provide a fragment from an old box score and challenge you to determine what game it is from and why it's significant. I give this one a difficulty rating of 9. Answer below.
Baseball Card of the Week
Wes Westrum doesn't look like he's posing or anything in this card, does he (1966 Topps, No. 341)? I imagine he's hollering to rookie Nolan Ryan on the first day of spring training, "Hey, kid, get your butt in gear or you're not going to last long in this game!"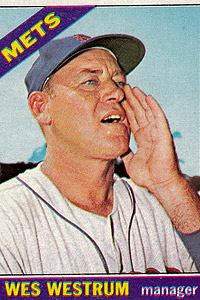 CSI: Box Score Answer
Did you spot the clues in the names? If so, you recognized the names on the left as players with the late '90s Orioles. And you recognized the names on the right, particularly Linares, as Cuban players. That's because this box score fragment is from the March 1999 game, when the Orioles played the Cuban national team in Havana, the only time major leaguers have played in Cuba since the U.S. imposed the trade embargo.
The embargo marked its 50th anniversary earlier this month. It's time to admit the embargo is a failure and end it. The Castro regime is repressive, but how can we justify an embargo against Cuba when China is one of our largest and most important trade partners? Heck, we ended a trade embargo with Vietnam nearly two decades ago. We have good relations with Saudi Arabia, where half the population -- i.e., women -- have so few rights they're not even allowed to drive a car. And yet, we stubbornly maintain the Cuban embargo even though this ban has failed miserably to reach its goal despite 50 years of trial. The only people the embargo hurts are the innocent Cuban citizens. (If only Cuba had enormous oil reserves or children making inexpensive iPhones under abusive factory conditions, perhaps that would convince us to lift the embargo.)
If Fidel Castro and Bud Selig can sit side by side (which they did that day) and Albert Belle can visit Cuba without causing an international incident, surely we all can find a way to get along as neighbors.

Jim Caple is a senior writer for ESPN.com. You can follow him on Twitter at jimcaple.