Tim Wakefield retired over the weekend, but the 45-year-old pitcher's career isn't necessarily over. In a few years he can join the beanbag baseball league at my parents' retirement home. Jamie Moyer, naturally, probably could play now.
Beanbag baseball is a game the retirees play every Tuesday and Friday year-round. Residents divide into two teams, then take turns tossing beanbags at holes in the game board 20 or so feet away. The holes are designated for singles, doubles, triples and home runs. Any bag that fails to find a hole is considered a strike, and three strikes make an out. Three outs, and the inning is over. So it's just like real baseball, only with less scratching and spitting.
"I love the camaraderie and the way we cheer for each other," resident Noreen Bissett said. "We cheer for the other team as much as ourselves. And we have a lot of laughs. It's not much in the way of exercise, but at least we're moving."
True, there isn't much running or sliding. (Manny Ramirez would fit right in.) When a player gets a "hit," he or she takes a seat in chairs that are labeled for the corresponding base, then slides over to the next chair if forced along by subsequent hits. Considering some residents are in their 90s, this is strictly station-to-station, chair-to-chair ball. It's kind of like watching Astros catcher Chris Snyder run the basepaths.
The team occasionally travels to games at other homes, some as far as 40 miles away. When they play another retirement residence, the players wear jerseys. They even occasionally have cheerleaders for big games, although I suspect the dance routines are more likely to "Begin the Beguine" than "My Humps." Or at least I hope so.
Nancy Trosky, who works at the residence, runs the game. She is such a passionate Mariners fan that she and her husband painted their home's closet doors to resemble clubhouse lockers, with the names of Ichiro and other Seattle players above. "My husband was the umpire chief for the Babe Ruth league," she said. "He would get up on Saturdays and go over to the field at 8 o'clock. I would go with him. We would be there all day, from 8 to 6. I miss it."
That's the beauty of this game. It allows people to continue playing baseball decades after most of us left the sandlot for the final time with a pulled hamstring, torn rotator cuff or, more likely, a faded T-shirt that no longer covers ever-growing stomachs. The game is always there for you no matter your age. Beanbag baseball provides a little exercise, a little distraction and a little nice competition.
I wrote a story last week about Brett and Danielle Lawrie, and the extremely competitive beanbag game they played last spring with their father that led to highly emotional postgame trash talk (Danielle) and some major league frustration (Brett). I thought of that when I joined my dad in a game last week. Beanbag baseball is much harder than it looks. I went 1-for-5 and even missed the board entirely with a couple of tosses. The Lawries would have been disgusted.
Still, as Bissett said, what trash talk you hear is very genteel and encouraging. The worst thing said was after one woman's toss landed two feet short of the board and someone shouted, "We'll get you some Wheaties, and you'll put the bag through the wall. Well, either Wheaties or cream of wheat."
I had a two-run triple, but I also made the final out of an inning twice, the second of which ended the game and our team's 10-5 loss. But at least I didn't hit anybody. Betty McDonald missed the board with one toss and accidentally hit my father, who was sitting next to it.
"What do I like about this game? It kind of reminds me of my skiing days," McDonald said with a laugh. "I could keep up on my skis, but I would hit people." She said that hitting someone with a beanbag was embarrassing, "but at least he doesn't have a bullet hole in him."
McDonald was a delight to listen to as she told me about her life. McDonald met her "Mr. Wonderful" after he served on a bomber crew based in Italy during World War II. My father was a navigator on a B-24 crew in Italy as well. Marylou Schall grew up near Seattle's international district, where half her high school class was sent to Japanese internment camps during the war. Bissett's two sons played hockey in Sweden. Agnes Stagg was a columnist at our local paper for years.
I'll say this: Their tales are a lot more interesting to hear than big leaguers complaining about day games after night games.
Which brings up the one thing missing from beanbag baseball. The residents go back to their rooms far too quickly. What they need is a bullpen so you can sit around chewing sunflower seeds and listening to the players' life stories.
CSI: Box Score
You know the drill. Each week I provide a fragment from an old box score and challenge you to determine what game it is from and why it's significant. I give this one a difficulty rating of 6. Answer below.
Baseball Card of the Week
Before there was all the fuss over Jeremy Lin (and is it a requirement to refer to him by his full name and not just by his last?), there was Fernando-mania. And before there was plentiful crisp action sports photography, there were awful posed cards like this one (1982 Fleer, No. 27). Couldn't they have at least gotten Valenzuela to pose on the mound rather than the outfield?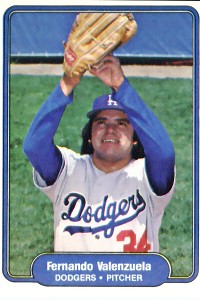 Yeah, Well, That's Just Like Your Opinion, Man
• Sultans of Slap: The Mariners were last in the majors in runs scored each of the past two seasons, scoring even fewer runs in 2010 (513) and 2011 (556) than they did in 1994 (569) when the last two months of the season were canceled thanks to the strike. One attempt to boost the offense was trading Michael Pineda for rookie catcher Jesus Montero. Another move is an interesting one (or puzzling, depending on your view). Manager Eric Wedge said Tuesday that Ichiro, who hit just five home runs and batted a career-low .274 last year, will bat third and Chone Figgins, who batted .188 with a .241 OPS, will lead off. Moving your worst hitter to the leadoff slot and a singles hitter to the third slot is not what most sabermetricians would advise, but the Mariners hope it has a positive effect on the two players.
"I'm confident that Figgins can get back to his old self as a leadoff hitter," Wedge said. "That's when he was the Figgins who produced, got on base and scored runs and was really a pain for opposing teams when he did lead off for Anaheim."
Look, I get that Seattle owes Figgins $17 million the next two seasons and is still hoping to get some value from him (possibly in a trade), but the Mariners would be better off giving time to Kyle Seager (or perhaps Alex Liddi). The whole point of rebuilding is to, like, rebuild.
• But Does Babe Ruth's Ghost Snore?: You've heard of sleeping under the stars? The Baseball Hall of Fame does it one better and lets some fans sleep among the superstars this spring. On the weekends of March 9-10 and 23-24, children ages 7-12 (and their adult guardians) can spend the night in the Plaque Gallery, the large room where all the Hall of Famers' plaques are mounted on the wall. There is only one problem with this program: I don't think I can pass for 12 years old anymore.
• Unfortunately, They Say I Look Just Like The Photo On My Baseball Credential: The Underwear Bomber received multiple life sentences last week, but if there were any justice, he would spend that entire sentence in an unending airport security line, repeatedly removing and replacing his shoes, liquids and laptops. But as much as people love to complain about airport security, two TSA agents made my day last week. When I handed my driver's license to the TSA agent checking IDs, he eyeballed the photo closely, looked at me, examined the photo again, looked back at me, studied the photo again, looked back at me and shook his head, saying he could not accept the driver's license as proper identification because the photo did not look like me. That was the nicest thing anyone has said to me in years. Then he handed my driver's license to the next TSA agent who said that yes, it was my photo; "He just lost weight." I would have tipped them both on the spot but feared another TSA agent would pull me aside for further screening.
CSI: Box Score Answer
There was one major clue, a couple of minor clues and a little guesswork in this box score. The major clue was the name Moyer in the Chicago lineup. The minor clues were the names of his teammates and opponents that pin this game to the mid-'80s. With that information, perhaps you guessed this box score fragment is from Jamie Moyer's major league debut. If so, give yourself a big bottle of Ensure.
Moyer beat Steve Carlton in his first major league game, June 16, 1986, when he was 23 years old. MLB's minimum salary was $60,000, there still were no lights at Wrigley Field and the Cubs had gone only 41 years since their last World Series appearance. The Phillies would release Carlton within two weeks, and his career would be over within two years. Moyer is still pitching, God bless him.

Jim Caple is a senior writer for ESPN.com. You can follow him on Twitter at jimcaple.