With all the trades and free-agent moves during the winter, fans practically need to go to extended spring training to get back up to speed. Fortunately, the annual Off Base spring training notes are here to help. Or maybe not.
Athletics: Producers have begun filming "Moneyball II,'' in which budget constraints force general manager Brad Pitt to trade away all the children he and Angelina Jolie have before their kids grow older and the couple can no longer afford to pay their college education. … After missing almost all of last season, DH Manny Ramirez tested positive for 50 pictograms of humility Tuesday. The slugger said he doesn't know how the emotion could have gotten into his system, even in such a low dosage.

Wilpon
Mets: Owner Fred Wilpon celebrated his favorable settlement of the Madoff lawsuit this week by purchasing the deed to the Brooklyn Bridge. "This is yet another wonderful way for me to honor the baseball team I care most about -- the Brooklyn Dodgers,'' Wilpon said. The owner also said he will restore $50 million to the Mets' payroll "just as soon as I receive my share from helping that Nigerian princess free up her fortune in frozen assets.''
Rockies: Left-handed pitcher Jamie Moyer threw two more scoreless innings Tuesday when scouts had him at "One Mississippi, Two Mississippi.'' The 49-year-old Moyer vowed to keep pitching "until stirrup socks come back into fashion.''

Giants: The Giants say the Athletics must give them all revenue associated with next week's "home games'' in Tokyo because San Francisco retains territorial rights to everything west of San Francisco Bay, including the Pacific Ocean, Hawaii, Asia, Indonesia, Australia, the Indian subcontinent, Africa, Eastern Europe, the lost continent of Atlantis, the Middle East, Western Europe, the Atlantic Ocean and everything else up to the very shores of the Americas. "They can play in Syria, though,'' Giants president Larry Baer said.
Astros: Former Houston OF Lance Berkman told ESPN.com that in addition to forcing new owner Jim Crane to change leagues, Bud Selig extorted the Astros into wearing rainbow jerseys from the 1970s and '80s. "Why would any team wear anything that ugly if they weren't forced at gunpoint?'' Berkman said.
Diamondbacks: Rookie RHP Trevor Bauer has added a new wrinkle to his celebrated warm-up routine. In addition to taking a short run from behind the mound and firing his first pitch as hard as he can (usually all the way to the backstop), he'll also try to hit the mascot in the head with his second pitch, knock over a pyramid of milk bottles with his third, crack open a pi¤ata with his fourth and finish by splashing C Miguel Montero into a dunk tank with his fifth.

Pettitte
Yankees: After a 50-pitch bullpen session Tuesday, LHP Andy Pettitte said his arm felt so good and he's still so young that he is confident he can come out of retirement several more times to break the record held by Brett Favre. "At least,'' he said, "I can break it unless Roger [Clemens] comes back again.'' … Yankees GM Brian Cashman is asking the Mariners for the missing 4 mph on RHP Michael Pineda's fastball.
Brewers: OF Ryan Braun filmed a commercial for Federal Express this week in which he ships a urine specimen to commissioner Bud Selig, only to have it stored next to a carton of old milk in a deliveryman's refrigerator for six months until the specimen grows mold and testosterone. The commercial closes with the line: "Federal Express: When you absolutely, positively need plausible denial.''
Mariners: Although they sent him to the minors last week, the Mariners bestowed 2011 first-round pick Danny Hultzen with the title Archduke of Safeco-Herzegovina, first in line of succession to King Felix.
Rangers: The Mike Napoli-C.J. Wilson feud continues to trend upward. After Napoli said he looked forward to homering off Wilson and the pitcher responded by tweeting the catcher's phone number, Napoli escalated matters by posting Wilson's address and his high school yearbook photo on his Facebook page. Wilson then tweeted Napoli's driver's license photo and credit card number, including the security code on the back. Napoli then posted Wilson's Social Security number and ATM PIN. Wilson then took the confrontation to DEFCON 1 by unfriending Napoli.

Dodgers: According to a Los Angeles Times report, at least one bidder in the team's auction has inquired about selling the naming rights to Dodger Stadium. Among the names being considered are: Apple iPark 4 (which would undergo remodeling every six months whether needed or not); the Exxon-Mobil Ballpark and On-Shore Drilling Site at Chavez Ravine; the Ace Parking Lot at Dodger Stadium; the House That Halliburton Rebuilt for $12 Billion in Taxpayer Money; and, of course, in a nod to their Brooklyn history, California state finances and owner Frank McCourt -- Debits Field.
Red Sox: Manager Bobby Valentine named LHP Jon Lester his Opening Day starter. RHP Josh Beckett, of course, is in charge of ordering the fried chicken.
CSI: Box Score
You know the drill. Each week I provide a fragment from an old box score and challenge you to determine what game it is from and why it's significant. I give this one a difficulty rating of 5. Answer below.
Baseball Card of the Week
What the hell is Gus Zernial doing in this card (1952 Topps No. 31)? Well, as Todd Newille explains on this website (scroll down), Zernial hit six home runs in three games in May 1951, so a photographer somehow stuck six baseballs to his bat and had him pose for the photo. They don't take photos like that anymore. Probably a good thing.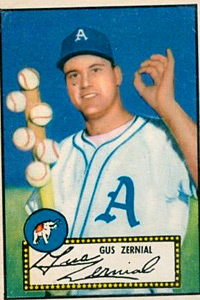 Box Score Line of the Week
Seattle's Jason Vargas gave up seven runs in two-thirds of an inning Monday while his Cubs opponent, Travis Wood, gave up seven in two innings, but this week's award goes to Jake Peavy for throwing five no-hit innings Saturday. Unfortunately, new manager Robin Ventura took him out before Peavy could complete a Cactus League no-hitter, but he still had the line of the week:
5 IP, 0 H, 0 R, 0 ER, 1 BB, 5 K
Because of injuries, Peavy has missed more than 50 starts and has been unable to win as many as 10 games the past three seasons. But he says he's healthy and optimistic about returning closer to the form that won the 2007 NL Cy Young.
"I've got too much pride and too much love for the game, and a little bit of that was taken from me,'' Peavy told reporters after the game. "But I'm healthy and I'm blessed. Today, my ankle didn't hurt me. I didn't take a Tylenol.
"It's so refreshing to be healthy, truly out there with your mind at ease.''
CSI: Box Score Answer
There were several clues here. The biggest were all those home runs hit by Los Angeles -- specifically by Anderson, Kent, Drew, Martin and Garciaparra. The next clue? Trevor Hoffman's name at the bottom of the San Diego lineup. And the final clue? The linescore that shows the Dodgers scoring four runs to tie the game in the bottom of the ninth and two more in the 10th to win it. Add it all up, and this was the Sept. 18, 2006 game when the Dodgers rallied from a 9-5 deficit by hitting four consecutive home runs in the bottom of the ninth -- two off Hoffman's first two pitches -- and won it on Garciaparra's two-run shot in the 10th.