TOKYO -- Opening Day is always special, no matter where it is played, no matter what day it is played, no matter what hour it is played.
So don't whine about traveling 5,000 miles to a foreign country. Don't complain about the food or the jet lag or waking up every morning promptly at 3 a.m. Don't bitch that no one back home is even watching the game because it's being played at such a ridiculous hour in the United States. Don't go on about how you have to fly home after this and resume playing meaningless exhibition games. It's Opening Day. Embrace the opportunity. Seize the day.
Like Tom Wilhelmsen. A couple of years ago, he was out of baseball and tending bar in Tucson, Ariz. So when the Mariners traveled to Japan for the season-opening two-game series with the Athletics, the Seattle reliever made the most of it. He got up early to go to Tokyo's famed fish market. He experienced the crushing intimacy that is rush hour in the Tokyo subway system. He even attended the Oakland-Hanshin Tigers exhibition game Monday as a fan in the right-field seats.
"I dressed up," he said. "I bought a bunch of gear. I bought some [inflatable] bats and a scarf and a towel and plopped my butt down with those guys and started going with it. When they scored runs, we knocked the ThunderStix together."
So who were you rooting for? The Athletics or the Tigers?
"I was in Tigers gear. I have to root against my opponents," he said. "The Tigers scored a couple runs off me [in an exhibition Sunday] so I was hoping they would get a couple runs off the Athletics. It was a lot of fun. They have a different song for every player and every situation. It was pretty good. Once they scored a run, they turned around to me and I was able to knock ThunderStix with them. That was pretty darn cool. You can't beat that."
Yet he did. During Wednesday's opener at a sold-out Tokyo Dome, Wilhelmsen took over from 2010 Cy Young winner Felix Hernandez with the score tied 1-1 in the ninth and threw two scoreless innings for the 3-1 victory. Three years ago he was a bartender. Heck, two days ago he was just another fan in the stands. Now he leads the major leagues in wins. "How cool is that?"
Very. And yet, Brendan Ryan topped it. The Seattle shortstop proposed to his girlfriend, Sharon, on Tuesday evening atop the Mori Tower on Tokyo's Roppongi Hill. With the sun setting in a cloudless sky and the Tokyo lights starting to blaze. On his 30th birthday. He had been planning the proposal ever since the Mariners' opening series was set last fall. He even learned how to say, "Will you marry me?" in Japanese. And he got down on his knee to say those words to her.
"Sharon had been to Japan before -- she had spent a month over here teaching English and dance," Ryan said. "She had gone on and on about it, almost rubbing my face in it about how much fun she had had here and how cool it was, so I knew it would be special to her once I knew we could bring a guest. It just all made sense. It was a pretty cool opportunity and I'm glad I was able to take full advantage of it."
Did he ever. He scored Tuesday night with the proposal when Sharon said yes and scored again Wednesday when he slid home with the winning run in the 11th inning on Dustin Ackley's single. "Thirtieth birthday. An engagement. And now opening day," he said. "It's pretty unbelievable."
And yet, Ichiro might have topped it.
Ichiro Suzuki left Japan 11 years ago and the homecoming of the country's most popular player was both eagerly awaited and long in coming -- the Mariners' season-opening series in Japan was cancelled in 2003 due to the start of the Iraq war. There was enough demand for tickets for Wednesday's opener -- many selling for more than $200 -- that extra seats were added down the lines so close to the action that fans were issued batting helmets to protect themselves from foul balls.
Everywhere you looked, there were people wearing Ichiro jerseys. Fathers and sons, mothers and daughters, husbands and wives. One fan was Hiroko Hirakawa, an 80-year-old woman who proudly held up a handmade banner with Ichiro's name. She wore a Mariners T-shirt, a Mariners jacket and an Ichiro cap covered with Mariners pins. She says she has traveled to Seattle once every season for the past 10 years just to see Ichiro play. "I usually go at the end of May when the Mariners are still in the playoff race," she said through an interpreter.
Ichiro gave her and all the others something to cheer Wednesday. Again and again. Coming off the first sub-.300 season of his career and batting third, Ichiro went 4-for-5. He singled off the pitcher's glove in the first inning. He singled deep in the hole at third base in the fourth. He singled up the middle in the sixth. He singled and drove in an insurance run in the 11th inning.
"Welcome home, huh?" Wilhelmsen said. "A great show for the fans and for us. It's just amazing. Felix is truly the King of Seattle and Washington but that was just godly."
It was the first time Ichiro has ever had four hits in an opener.
"More than the four hits, it was the atmosphere," Ichiro said. "Being able to enjoy the atmosphere with the fans. Being there with the same feeling? That was special for me. That's what will stay with me. Seeing the fans and how they react and welcomed the players. They're very warm-hearted. It makes you proud."
Whether you're a former bartender, a shortstop and future husband, or a future Hall of Famer returning to the nation that reveres you, Opening Day is special. You don't even have to play. You can just be a relief pitcher who never got out of the bullpen but savored the moment because last year at this time you literally were a substitute teacher and high school coach as Seattle rookie Steve Delabar was.
"Last opening day I was sitting on a high school bench," Delabar said. "It's been a crazy ride in the past year. But you know what? I'm here and I'm having fun with it."
You never know what baseball will bring. Or take away. So seize the day. Remember, there are only 161 games to go.
"Thinking about it we only have one more day left here," Ichiro said. "This is like a moment that will go by like that. You will reflect and think that, Wow, that was quick. That's why I'm going to take the next day important. I like to go day by day because this is special."
CSI: Box Score
You know the drill. Each week I provide a fragment from an old box score and challenge you to determine what game it is from and why it's significant. I give this one a difficulty rating of 4. Answer below.
Baseball Card of the Week
As the Athletics and Mariners open the season in Japan, and Yu Darvish prepares to start the season with Texas, let's pause a moment to remember the oft-forgotten first Japanese player in the majors, Masanori Murakami (1965 Topps, No. 282), who pitched for the Giants in 1964-65. Murakami had it a little rougher than today's Japanese players. He not only didn't have a multimillion-dollar contract, he had so little money in spring training he once told me, "I had to hitchhike into town for dinner."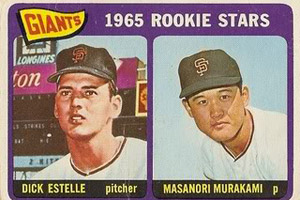 Box Score Line of the Week
Opening Day was familiar for Felix Hernandez. The Seattle ace pitched a great game (one run in eight innings) and he had nothing to show for it thanks to low run support, leaving with a 1-1 tie in the ninth. His line:
8 IP, 5 H, 1 R, 1 ER, 0 BB, 5 K
CSI: Box Score Answer
The big clue here is in that final line that shows Boston starter Hideo Nomo hit Seattle's Ichiro Suzuki with a pitch. That happened in May 2001 in the first matchup between Nomo, the first successful Japanese starting pitcher, and Ichiro, the first (and still most) successful Japanese position player. We can only imagine what the tabloid headlines were like back in Japan.