The Mariners and Yankees stunned their fans Monday when Seattle traded Ichiro Suzuki to New York. What does the future hold for the aging future Hall of Famer? Will he finally get a World Series ring? Will the Mariners ever get back to the postseason? Off Base has the inside skinny …
July 23: Asked what it's like to be traded from the last-place Mariners, who have never played in a World Series and haven't been to the postseason in 11 years, to the first-place Yankees, who have played in 40 World Series and missed the postseason only once in the past 17 years, Ichiro declares, "Today … I consider myself … the luckiest man … on the face of the earth."
July 25: After homering to lead the hated Yankees to a three-game sweep of the Mariners, Ichiro tells reporters how wonderful it is to play for a team that adds quality players at the trade deadline rather than ignoring obvious needs to save a little money, as Mariners CEO Howard Lincoln did in 2001 and 2002 and 2003. Lincoln angrily responds to the criticism by vacating Ichiro's 12 annual bobblehead dolls in Seattle.
July 26: Seattle's tax base takes a crippling hit when the Japanese press corps that has covered Ichiro for the past 12 years relocates to New York City.
July 27: New York fans welcome Ichiro to Yankee Stadium by loudly chanting his name during the traditional roll call at the start of the game, giving him a standing ovation for his first at-bat and then booing him repeatedly after he attempts to bunt for a hit with two out and a runner on second base in a 5-2 loss to the Red Sox.
July 29: New Yorkers cheer Ichiro after he swings away to beat the Red Sox with a dramatic, ninth-inning walk-off nine-hop infield single just past Boston closer Alfredo Aceves.
July 31: Minutes before the trade deadline, the Mariners acquire Fake Ichiro, the Japanese actor who impersonates the real player for fan photographs. Manager Eric Wedge then announces that Fake Ichiro will bat third so that Chone Figgins can return to the leadoff spot. There is no noticeable drop-off in the team's offense.
Aug. 3: Having never once seen his own team play in the 20 years of his ownership, Mariners owner Hiroshi Yamauchi flies to New York to see Ichiro play against Seattle in Yankee Stadium. "Well," Yamauchi explains to reporters, "he's finally playing for a winner."
Aug. 5: Boos increase for Ichiro after a three-game sweep by the Mariners at Yankee Stadium that leaves Fake Ichiro with a higher batting average than the real player, .250 to .248.
Aug. 13: The Mariners attribute Fake Ichiro's poor Zone Rating in right field to his odd insistence on positioning himself in foul territory in Section 115, Row C, Seat 3 of Safeco Field.
Sept. 15: Reggie Jackson tells Sports Illustrated that while "Ichiro is a good friend, I don't see him as a Hall of Famer."
Oct. 3: Ichiro's bunt single lifts the Yankees over the Red Sox in New York's season-ending game, assuring the Angels of a wild-card spot and leaving a nine-team tie for the AL's second wild-card spot. The Mariners, meanwhile, finish dead last with a 65-97 record and are the only team to miss the wild-card playoff.
Oct. 4: The Mariners quickly respond to their latest last-place season with Yamauchi instructing Seattle general manager Jack Zduriencik to give Fake Ichiro, who hit .188 with a .204 OBP, a three-year, $15 million contract extension.
Nov. 15: Ichiro hits a dramatic ALCS-winning home run off Yu Darvish when his bases-loaded popup is caught by Fake Jeffrey Maier who runs onto the field and then carries the ball back into the right-field stands. Somehow, none of the umpires notice the Fake Jeffrey Maier and rule that instant replay was inconclusive.
Nov. 21: Ichiro goes 5-for-22 with no runs and no RBIs when the Yankees beat the Pirates in six games to win the World Series. Due to the late end of the series, New York City mayor Michael Bloomberg combines the Yankees' championship parade with the Macy's Thanksgiving Day parade.
May 23, 2013: Seattle's 13th annual Ichiro Bobblehead Night draws a disappointing crowd of 9,348. Fans attribute it to the doll's depiction of Ichiro receiving his World Series ring in a Yankees uniform.
Nov. 11, 2017: Danny Farquhar goes 20-3, wins the Cy Young and leads the Mariners to their first World Series when they beat the Yankees in a seven-game ALCS.
Jan. 12, 2018: In a 20-year anniversary episode of "Seinfeld," Mr. Costanza yells at Brian Cashman, "What the hell did you trade Danny Farquhar for?"
CSI: Box Score
Each week I provide a fragment from an old box score and challenge you to determine what game it is from and why it's significant. This one is a bit different because it's two fragments. I give it a difficulty rating of 4. Big clue: These box scores are from the same day. Answer below:
Baseball Card of the Week
Good luck in New York, Ichiro. And thanks for the memories in Seattle, where you'll be forever remembered in this iconic pose (2010 Topps Town, No. TTT6).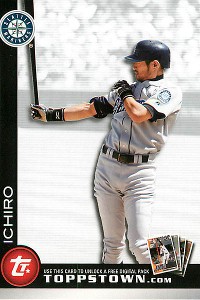 Box Score Line of the Week
Cole Hamels and Matt Cain each homered against each other in the same inning Saturday, the first time opposing pitchers have done that in 15 years. Jon Lester allowed 11 runs in four innings (4 IP, 9 H, 11 R, 11 ER, 5 BB, 2 K) Sunday. Atlanta rallied from a 9-0 deficit against Stephen Strasburg to beat the Nationals 11-10 in extra innings Friday night. And Ichiro batted in the eighth spot, for a team other than the Mariners (4 AB, 0 R, 1 H, 0 RBI).
But this week's award goes to St. Louis' Allen Craig for this line:
2 AB, 2 R, 2 H, 1 RBI
What's so amazing about two hits in two at-bats? He had both of those hits in the same inning as a pinch hitter. Batting for starter Jake Westbrook with the score tied 0-0, one on and one out in the bottom of the seventh, Craig doubled. And the Cardinals kept hitting, long enough that Craig batted again, and hit his second double of the inning. The Cardinals eventually scored 12 runs in the 12-0 shutout, leaving this other bizarre line:
CSI: Box Score Answer
If you thought Ichiro changing clubhouses after his trade between opposing teams Monday was unusual, this was even more interesting. Like I said, the biggest clue was that these two fragments were from the same day. The other big clue was the name Youngblood in the lineup for both New York and Montreal. That's because these box scores are from Aug. 4, 1982, when Joel Youngblood was traded between the Mets and Expos, yet still played for both teams in different cities. He left the day game in Chicago after the trade was completed, flew to Philadelphia and batted in the night game for the Expos there. He's the only player to get hits for two different teams in two different cities on the same day.