The Top 10 Signs Your Team Is Out Of Contention For A Postseason Berth:
10. Your best player, who will be eligible for free agency, has already started wearing a Yankees cap and jersey.
9. Your starting rotation has a frequent-buyer card to the local Popeye's chicken franchise … And it's full of stamps.
8. Your favorite team is Atlanta, and it has a six-game lead over the next wild-card contender.
The climax to last season was so dramatic, so thrilling and so captivating that even Tampa Bay fans briefly considered actually buying tickets to a game before deciding to just stay home and watch on TV instead.
So after one of the most dramatic finishes in memory, baseball naturally voted to change its postseason format. We can't have excitement like that again! Not when the alternative is the unrelenting drama and tension of seeing which team with the 10th-best record in the majors reaches the playoffs.
The stated objective behind adding a wild-card team -- and then making the two wild cards square off in a one-game playoff -- was to create a greater incentive for finishing in first place. Like Sunday alternate jerseys, this never made sense to me. Since the addition of the wild card in 1995, how many times was there actually an incentive NOT to finish first? Plus, even if you do think being the wild card isn't a significant disadvantage, the remedy is definitely not to add MORE wild cards.
The obvious benefit of adding wild-card teams is that it allows more teams into the playoffs, which usually means more contenders and intrigue in September. The drawback is that by allowing in such teams, you open up the possibility that they might get hot and win the World Series despite not even winning a division. This has happened four times in the past decade alone. And it will happen even more frequently now that there are twice as many wild-card teams.
Although I think it's a safe bet the Cubs still will not reach the World Series.
7. Your favorite team's game broadcasts are bumped for football. And MLS soccer. And World TeamTennis. And roller derby. And Serbian arm wrestling. And rhythmic gymnastics …
6. Half your favorite team's opening day lineup is now playing for the Dodgers, and you don't live in Los Angeles.
5. There are so many September call-ups that the players have to dress in the parking lot and sit in the stands.
The unstated reason for the additional wild card is to increase attendance/revenue for teams that previously would be out of contention by September. But for the moment, the extra wild card doesn't seem to be helping much. In the past couple of weeks, enough contenders have pulled away from the pack that there doesn't appear to really be any more teams in the hunt this September than any previous one.
What the new format does add is a great deal of confusion as to where the opening rounds will be played, which will be real fun for traveling secretaries. Especially if there is a tie.
This is the biggest hazard to the new format. Baseball already is dancing on a wire with the weather due to the full slate of playoff games pushing the World Series into November. But with the very real possibility of a series of wild-card tiebreakers delaying the start of the postseason, the World Series could be interrupted by the Rally Reindeer flying over the field and dropping misfit toys on Skip Schumaker.
4. You hear your team's best pitcher threw a perfect game and your immediate response is, "Yeah, but did we win?"
3. The stadium concession stands have begun selling those helmet ice cream sundaes in football helmets.
2. Roger Clemens is about to join the starting rotation.
It's fun to see the Orioles and Athletics with a real chance to reach the postseason. But they would have that chance without the added wild-card team. At last glance, the Orioles were tied for first place in the AL East, while the Athletics had the best record of any team not in first place. You didn't need to add a wild card (or Brad Pitt) to make their September interesting.
Perhaps the current situation will improve as this month goes on, especially if (cross fingers!) the Yankees continue to slump. After all, when September began last year, an exciting finish seemed unlikely in either league. And if the new format fails to produce more contenders this season … well, as Cubs fans say, there is always next year.
We'll see. But having more teams contending doesn't necessarily mean the races will be more exciting. It just means the entire regular season will be less meaningful. Championships will not be won over the course of seven months (including October), but over a couple of weeks at season's end.
Baseball's road to the world championship won't be any more tense or thrilling with the extra wild card. It will simply become more random. Although, alas, probably not random enough for Royals, Padres and Mariners fans.
And the No. 1 sign your team is out of contention:
You root for the Cubs … and it's April.
CSI: Box Score
Each week, I provide a fragment from an old box score and challenge you to determine which game it is from and why it's significant. I give this one a difficulty rating of 7. Answer below:
Baseball Card of the Week
The late-season call-up of Hurricane Bob Hazle (1958 Topps, No. 83) in 1957 remains the only recorded instance of a Category 5 hurricane hitting Milwaukee. Unfortunately, after batting .403 with seven home runs in 41 games that year, Hazle blew out over Lake Michigan in 1958, when he was quickly downgraded to a tropical storm, and then to a light thunderstorm, and finally to just cloudy with a chance of late-afternoon sprinkles. (Hazle hit .211 with two home runs in 1958 and never played in the majors again.)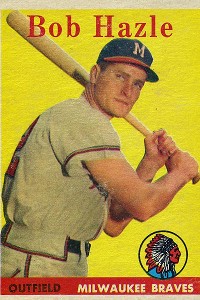 Box Score Line of the Week
2010 Cy Young winner Felix Hernandez won his third 1-0 game of August and his fourth of the season (9 IP, 5 H, 0 R, 0 ER, 1 BB, 5 K) while 2011 Cy Young winner Justin Verlander allowed a career-high 12 hits and eight runs (5 2/3 IP, 12 H, 8 R, 8 ER, 3 BB, 6 K). And Philip Humber, who threw a perfect game earlier this season, allowed eight runs and retired only one batter in a very imperfect relief outing (1/3 IP, 7 H, 8 R, 8 ER, 2 BB, 0 K).
But this week's award goes to Cleveland's Tony Sipp for this impressive line:
2/3 IP, 0 H, 1 R, 1 ER, 4 BB, 0 K
Interestingly, Sipp didn't walk in a run -- it scored on a bases-loaded sacrifice fly, after which he walked the bases loaded again before getting the hook. His struggles that inning were sort of indicative of his team in the second half. Cleveland was three games over .500 and three back at the break. Now it's 20 under and 15 1/2 back, and not even five extra wild cards would make its September worthwhile.
Yeah, Well, That's, Like, Just Your Opinion, Man
"Are You Ready For Some Concussions!?" The NFL kicks off its season on Wednesday night, which means it is time for baseball players on noncontenders to focus on their fantasy league teams. But as the media and federal government continue to spend a lot of energy combatting the evil of performance-enhancers in baseball, let me ask this: For the sake of his health, which sport would you want your child to play professionally: baseball or football? If you didn't pick baseball, Child Protective Services might want to have a word with you.
That Monkey On Their Backs Is Carrying Fay Wray In One Paw And Naomi Watts In The Other. A little more than three weeks ago, the Pirates were 16 games above .500 and looking like a very good bet to finally end their streak of 19 consecutive losing seasons. They also were looking like they could fulfill the higher goals described by outfielder Andrew McCutchen at the All-Star Game. "The fans just want to get that monkey off their back of 19 consecutive losing seasons," McCutchen said. "But when you get that off your back, you're going to want more. 'OK, we're .500. Now let's get to the playoffs.' 'OK, now we're in the playoffs, how about making the World Series?' They're gonna want more; we know that. And we want more, too. We want more than .500. Why not get it all in the same year?" Unfortunately, the Bucs have gone 8-17 since Aug. 8, and while they're still a good bet to finish .500 or better, it's no sure thing. I wish McCutchen and the Pirates well -- I would love for a national TV audience to see their gorgeous ballpark in the postseason -- but first things first. Cross your fingers and knock on wood that Pittsburgh fans finally get to see a winning season.
Unfortunately, You Also See A Number of Yankees Caps In Europe. During a recent post-Olympic trip to Barcelona, I visited the site of the 1992 Games and was delighted to find that the baseball stadium not only is still there, but is still being used, partly by the Barcelona Beisbol School. When I visited, the outfield needed mowing and the infield needed dragging, but at least the field was still there. Baseball might have been kicked out of the Olympics, but it's refreshing to see that kids are playing the game in Spain and the rest of Europe. And it's also reassuring to know they deal with the same issues kids in America do. When we walked past the field, three young players were looking for the baseball they had thrown over the fence.
CSI: Box Score Answer
Did you spot the clues? The first ones were the names Johnson and Wood as the two pitchers. The second was the score: Boston 1, Washington 0. This fragment is from the epic pitchers' duel between Boston's Smoky Joe Wood and Washington's Walter Johnson 100 years ago this week (Sept. 6, 1912, to be exact). Wood had just won 13 decisions in a row on his way to tying Johnson's then-record of 16, which the Big Train had set the previous month. The game was played at a sold-out Fenway Park, which had opened just five months earlier. A century later, it remains one of the finest and most famous games ever pitched there.