REGENSBURG, Germany -- After batting .340 with 13 home runs at Triple-A New Orleans this season, third baseman Mike Cervenak had hoped to spend this September with the Miami Marlins. Instead, this week the 36-year-old player found himself on a ballfield along the Danube River singing the Czech Republic's national anthem as part of a rookie hazing.
"I don't like to toot my own horn, but I think we were in key and we sang it very well," Cervenak said. "A couple of the guys emailed me [I would have to sing it] when I was still in the States so I spent the better part of my eight-and-a-half hour plane flight memorizing the Czech national anthem. I memorized it first in English, thinking I would be able to sing it in English, then scanned over it in Czech, but when I got here they informed me I had to sing it in Czech."
A team rep assured me that Cervenak sang the anthem very well -- thanks to a little pre-trip help from his mother and also having the words written out on paper. The third baseman declined a repeat performance for me Wednesday afternoon, though. "I think that my singing will be on pay basis from now on," he said with a grin.
Cervenak is in Regensburg for a qualifying tournament for next spring's World Baseball Classic, representing the Czech Republic against Germany, Great Britain and Canada. He grew up in Michigan, but his mother is from a city in the former Czechoslovakia, and though that city is now in Slovakia, under WBC eligibility rules, his mother's Czechoslovakian birth qualifies Cervenak to play for the Czech Republic team.
Asked what "home run" is in Czech, Cervenak replied, "I couldn't even tell you -- hopefully I find out, though."
There are many such players in the WBC qualifiers -- Shawn Green and Gabe Kapler are playing for Israel in this week's qualifier in Florida -- but the rest of the rosters provide ample evidence of just how well the game is growing across the Atlantic.
Most of the players on the European teams not only can sing their national anthems in their native language unaided, they also know what it's like to compete on the occasional field without infield grass, drive three hours to find a game and scour the Internet for bats and gloves. They endure it because they love playing ball.
"It's very hard," Cervenak's Czech teammate Marek Minarik said of acquiring equipment. "I always buy on eBay from the U.S. and they ship it to me."
Minarik grew up about half an hour outside Prague, learning the game from his father. Despite having really nowhere to practice other than a handball gym, he was so promising a young pitcher the Phillies signed him three years ago at age 16. He was 1-0 with a 2.65 ERA at their Gulf Coast League team this summer. His goal is become the first major leaguer born and raised in the Czech Republic.
"I want to make the big leagues and be famous and make some money," he said. "If I make it to the big leagues, I will try to help other Czech teams get better. I will give them money to buy the balls and bats."
Few ballplayers can match German outfielder Max Kepler-Rozycki's pedigree no matter their country of origin: He is the son of two ballet dancers, Kathy Kepler and Marek Rozycki, who met on tour in Berlin. "Some people say I have quick feet and that I'm light on my feet," he said. "But I can't dance at all, so I didn't get any of that."
Kepler-Rozycki grew up in Berlin, and because his father is from Poland and his mother from Texas, he speaks German, Polish and English. In fact, after two seasons at Minnesota's Appalachian League team in Elizabethton, Tenn. (plus his mother's Texas background), he has picked up a bit of an accent. "Have I? Maybe a bit," he said. "I've started saying 'Y'all' now."
He started playing baseball at age 6 while attending John F. Kennedy School in Berlin, and chose the sport over soccer and tennis. While playing at the baseball academy here in Regensburg, he signed with the Twins at age 16 for $800,000, the highest contract bonus ever paid to a European ballplayer. Long and lean, the left-handed hitter batted . 297 with 10 home runs and a .925 OPS this summer.
"Baseball's popularity is growing in Germany -- it's growing fast," said Kepler-Rozycki, 19. "As you can see here, we have a great field and there's going to be a lot more in the next years. Baseball is not as big as in the U.S., of course, but it's getting there. We're getting a lot of promotion for baseball and younger kids are starting to play it."
The game will grow even more if German players such as Kepler or Donald Lutz can reach the majors. Lutz was born in New York to an American father and a German mother, but moved to Germany at age 1 when his parents divorced and grew up here. Now 23, he is on Cincinnati's 40-man roster and reached Double-A this summer. The Reds may have signed Joey Votto to a 10-year contract extension, but there is always room for a big left-handed hitter with power.
For now though, Lutz is focused on trying to win this week's qualifier to reach the WBC. "We want to show the world we have talent here and play hard."
It won't be easy. Canada failed to win a game at the 2009 WBC and so must qualify for next spring's tournament by winning here against the European teams. The heavy favorites, the Canadians dazzled the young groundskeepers here Wednesday by slamming so many home runs in batting practice that someone had to retrieve the baseballs lest they run out.
You never know in a tournament, though. After all, in the qualifying tournament for the 2004 Olympics, the U.S. allowed only two runs -- but unfortunately both were in a 2-1 loss that kept them from Athens. (Canada whipped Great Britain 11-1 in Thursday's opener, with the Brit team featuring two starters from England and the rest from former British colonies such as the Bahamas, Australia, South Africa, Canada and, of course, the U.S.).
While the International Olympic Committee stubbornly keeps baseball out of the Summer Games because major leaguers can't compete -- though the IOC has no such problem with soccer not allowing its best players in the Olympics -- the World Baseball Classic continues to grow. That's the reason for the four new qualifying tournaments this fall. Sixteen teams are playing for the last four spots in the WBC, with 12 teams already having qualified. Twenty-six major league teams are represented by players in the qualifiers, including eight from the Phillies organization.
While playing in a WBC qualifier isn't the same as playing in the majors -- for one thing, there is no $500,000 minimum salary -- Cervenak agrees that playing here is a pretty good consolation. "It's a very cool life experience. I'm pretty happy and excited to have had it."
Regensburg is a fine historic town with almost as much beer as Milwaukee and even better brats (and mustard). It is wonderful feeling to enjoy a lunch of brats and sauerkraut at the tiny, 500-year-old Wurstkuch'l on the Danube River, and an hour or so later find yourself in baseball park watching batters slam pitches against the late-summer sky.
It's an even better feeling to see firsthand the tape-measure distance the world of baseball has spread.
CSI: Box Score
Each week I provide a fragment from an old box score and challenge you to determine what game it is from and why it's significant. I give it a difficulty rating of 8. (Hint: Keep in mind that we're nearing the end of the season.) Answer below:
Box Score Line of the Week
Ichiro Suzuki had seven hits in a Wednesday doubleheader, including a 4-for-4 nightcap (4 AB, 0 R, 4 H, 1 RBI) in which he also stoles four bases but still somehow did not score a run (sound familiar, Seattle fans?). Chicago's Francisco Liriano gave up two runs despite giving up just one hit Saturday (7 IP, 1 H, 2 R, 2 ER, 2 BB, 9 K) while Atlanta's Kris Medlen struck out 13 (7 IP, 5 H, 1 R, 1 ER, 1 BB, 13 K) to continue his impressive stretch of pitching since moving to the rotation.
But this week's award goes to relief pitcher Shlomo Lipetz, who was unable to find the strike zone or close out a 7-0 lead in the ninth inning of Israel's World Baseball Classic qualifier win over South Africa on Wednesday. The pitcher from Tel Aviv threw 20 pitches, 14 of them balls, before giving way to another reliever. His line:
1/3 IP, 0 H, 3 R, 2 ER, 3 BB, 0 K
Israel held on to win the opener 7-3, and with France and Spain as the only other teams in the qualifier, it has a strong chance to advance to the WBC next spring, when Ryan Braun, Ian Kinsler and Kevin Youkilis could join the team (players with Jewish ties are allowed to play for Israel).
Baseball Card of the Week
Hmmm. Maybe this guy can come out of retirement for Israel (1963 Topps, No. 210).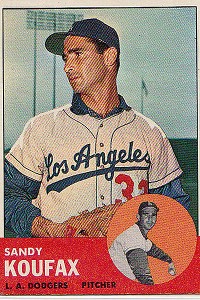 Yeah, Well, That's Like, Just Your Opinion, Man
Just So Long As We Never Hear Vuvuzelas At The WBC: The World Baseball Classic may not be the World Cup yet, but neither was the World Cup when it started. These things take time to build and the WBC is only seven years old. The WBC is already big in Asia and some Latin American countries, but what would help is if more American players felt the same passion for the tournament rather than just seeing it as an interruption to their six-week spring training routine. Having Joe Torre as the U.S. manager next spring should go a long way toward improving that.
But Sadly, There Was No Race Between Giant Bratwursts Wearing Tyrolean Hats And Lederhosen: Despite being played on a rather chilly evening and not including the German team, Thursday's WBC opener between Canada and Great Britain drew a good crowd of 3,704. A big game in Germany is like a game in America circa 2000, with a lot of music -- including such anthems as "Take Me Out to the Ballgame," "Cotton-Eyed Joe," "The Macarena" and "Who Let the Dogs Out"-- and an over-abundance of sound effects over the loudspeakers. One part of German baseball I hope catches on in America? The beer was selling for three Euro (about $3.75) in the concession stands.
Pete Rose Probably Is Very Interested In The Odds For This: I'll Have Another finished one race shy of horse racing's Triple Crown. but can Miguel Cabrera become baseball's first Triple Crown winner in 45 years? With two weeks left in the season, he leads the American League in batting and RBIs and is one home run behind Josh Hamilton. According to Elias, he is the first player since Carl Yastrzemski (who won the crown in 1967) to lead in those two categories and be within two home runs of the lead with two weeks left in the season.
CSI: Box Score Answer
The three big clues were the triple play (TP-Chicago), the name Ashburn and the "New York" in the linescore. After that, you had to take into consideration we're nearing the end of the season and the next few box score fragments will reflect that. Put that all together and you might have guessed this box was from the final game of the Mets' historic 40-120 season 50 years ago in 1962. The Mets ended their first season not only by having their starter walk in a run and last just one-plus innings, their final rally ended when they hit into a triple play, the last play of Richie Ashburn's career. Despite hitting .306 and making the All-Star team, Ashburn retired rather than endure another such season with the Mets.