With the regular season ending today, it's time to decide which team to root for in the postseason. Hint. It won't be the Pirates.
Even with an additional wild card team in each league, a lot of fans out won't have a dog in the hunt, which is where my annual Rootability Index comes into play. The Rootability Index is a precise, scientific and Keith Law-approval-pending measurement of factors such as: seasons of futility, World Series droughts, payroll size, likability of players, adversity overcome, market size and various intangibles. (An example of an intangible: "They are not the Yankees.")
Here are the rankings, from lowest to highest on the Rootability Index:
YANKEES. Rootability Quotient: 10.53
Pros: Ichiro would finally get to play in a World Series. And it's been three whole years since New York last played in a World Series. (Can you imagine the agony, Cubs fans?) And … well … ummm … hmmmm … I'm thinking, I'm thinking!
Cons: No TV shots of Minka Kelly this time.
CARDINALS. RQ: 28.32
Pros: True, we've seen a lot of the Cardinals in the World Series in the past decade, but at least this time we wouldn't have to sit through Tony La Russa's endless pitching changes. And wouldn't you just love to get inside Albert Pujols' head if his ex-teammates reach the World Series without him while he spends October at home (or more likely, on his own private island)?
Cons: St. Louis fans could come up with a Rally Mole or a Homer Gerbil or a Postseason Possum.
GIANTS. RQ: 63.78
Pros: After rebounding from that awful early season-ending broken leg last year, Buster Posey deserves to have this MVP-caliber season extended for several extra weeks. Matt Cain could throw a no-hitter. And the Giants are entitled to some extra followers for declaring that regardless of how far they advance, Melky Cabrera will spend the entire postseason at home watching on TV and regretting his decision to cheat. (Just don't mention Guillermo Mota.)
Cons: If the Giants win another World Series, injured closer Brian Wilson could show up to the victory parade in leather chaps -- and nothing else.
BRAVES. RQ: 65.67
Pros: After his Hall of Fame career, Chipper deserves to go out a winner. Converted reliever Kris Medlen could be the National League's best pitcher who hasn't climbed Mount Kilimanjaro this year. With Game 7 of the World Series scheduled for November, we could use a city where players won't have to wear MLB-authentic long underwear, ski masks and polartec parkas. And most importantly, Atlanta fans deserve a deep postseason run for showing some class and not whining about their team's epic collapse last September. (See: Red Sox fans.)
Cons: As always, the Tomahawk Chop.
TIGERS. RQ: 89.49
Pros: Detroit fans deserve this after the many challenges and misery brought on by the past decades. And in addition to the Lions, the city has endured rough economic times as well. Meanwhile, the Tigers haven't won a World Series since Tom Selleck was wearing a Detroit cap in primetime and manager Jim Leyland was just a one-pack-a-day guy. It also would be interesting to hear Cy Young stud Justin Verlander account for his All-Star Game performance (when he was more concerned with hitting 100 than his spots) that helped cost the American League home-field advantage, though not as interesting as seeing whether Miguel Cabrera steps to the plate wearing a batting helmet or his Triple Crown.
Cons: Mitt Romney could show up to take credit for Detroit's rebound from that 119-loss season in 2003.
REDS. RQ: 91.20
Pros: Cincinnati fans deserve this -- the Reds haven't won a postseason game since Schottzie 2 was leaving MLB-authentic souvenirs on the field. Reliever Aroldis Chapman throws so hard the broadcast networks' show actors will ask to sit in the upper deck for their cameo promotional appearances for fear of getting hit. And Dusty Baker is a great manager who deserves to win a world championship to silence all the critics who blame him for the 2003 Cubs NLCS collapse rather than, like, the players who suddenly took the field with their hands around their throats.
Cons: Pete Rose would probably cause a scandal by betting against the Reds.
RANGERS. RQ: 91.95
Pros: Texas really deserves to win after losing the past two World Series, including last year's heartbreaker when it twice was within one out of winning it all. And not only would we get to see Yu Darvish on an international stage, we would almost certainly get to see Nolan Ryan on the mound again for another first pitch. (I think he's thrown so many first pitches, the Nationals would shut him down.) Plus, the Rangers need to win the World Series before Li'l Wash is taller than Big Wash. (As it is, I think Li'l Wash may already be a freshman at Texas this fall.)
Cons: While a warm weather site is appealing, late World Series games could force Josh Hamilton to take extra caffeine to stay awake, which could require him to take a seeing-eye dog into the batter's box.
ORIOLES. RQ: 94.41
Pros: Boy, do Baltimore fans deserve this -- the Orioles haven't been to the postseason since Cal Ripken Jr.'s playing streak and his hairline were still intact. The O's also are coming off a long stretch -- four consecutive last-place seasons and 14 consecutive losing seasons -- so dire and awful it was worthy of an entire season of "The Wire." Plus, we would get to see a sold-out Camden Yards, home to so much late-inning magic this season that during pregame introductions, the Orioles' starting lineup should walk out of a cornfield instead of the dugout.
Cons: The Orioles might actually wear those awful baseball caps with the white front panels, which would be the greatest World Series scandal since the 1919 White Sox.
ATHLETICS. RQ: 98.70
Pros: Manager Bob Melvin, pitching coach Curt Young and batting coach Chili Davis deserve Vatican beatification for working miracles with a roster of names the casual fan might mistake for the cast of "Glee." I mean, they have an all-rookie starting rotation and their payroll is less than the Yankees tip the player parking lot valets. For crying out loud, rookie pitcher Sean Doolittle was a minor league first baseman last year. And look at it this way: The farther the Athletics advance, the more tweets we get from Brandon McCarthy.
Cons: If Oakland wins, Hollywood will be tempted to make a quickie sequel to "Moneyball," only this time with Adam Sandler as Billy Beane.
NATIONALS. RQ: 100.05
Pros: Cubs fans think they've gone a long time since the World Series? Washington hasn't seen the postseason since 1933 -- FDR's first year in office (and Jamie Moyer's rookie season). This is the first winning season for a Washington team since the 1969 Senators when Ted Williams was manager. On a talented young team, dynamic rookie Bryce Harper's presence in the World Series would guarantee baseball almost as much wall-to-wall, 24/7 media attention as a replacement ref in an NFL regular-season game. And the Nationals' possible losers-to-champs saga is the first story coming out of D.C. that even Republicans and Democrats can agree on and rally behind. (Though that's probably too much to ask of Fox News and MSNBC.)
Cons: The farther the Nationals advance, the more stories we will have to read about whether they should have shut down Stephen Strasburg. And if the Nationals reach the World Series, Montreal Expos fans will have a long, long winter to think about what could have been.
CSI: Box Score
Each week, I provide a fragment from an old box score and challenge you to determine what game it is from and why it's significant. I give this one a difficulty rating of 6. Answer below:
Baseball Card of the Week
Shown here throwing the only 100-mph spiral in history (1989 Upper Deck No. 774), Nolan Ryan has truly made Texas a two-sport state.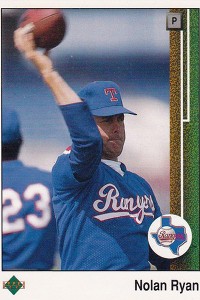 Box Score Line of the Week
Tampa Bay's James Shields had a brilliant game in a losing effort Tuesday (9 IP, 2 H, 1 R, 1 ER, 0 BB, 15 K). Neither Houston's Fernando Abad (1 IP, 0 H, 1 R, 1 ER, 1 BB, 2 K) nor Minnesota's Samuel Deduno (1 2/3 IP, 0 H, 0 R, 0 ER, 2 BB, 2 K) allowed a hit in their starts last week. And of course, Cincinnati starter Homer Bailey threw a few more hitless innings Friday than those two did (9 IP, 0 H, 0 R, 0 ER, 1 BB, 10 K).
Now, a no-hitter normally would win this award; but in a season when there were seven no-nos, Bailey just loses out to someone whose box score line was five years in the making. That would be Adam Greenberg, who was hit by a pitch five years ago in his first and only major league plate appearance previous to Tuesday night. Then the Marlins signed him to a one-day contract and he finally got an official at-bat.
And he struck out on three pitches. His line:
1 AB, 0 H, 0 R, 0 RBI
As a friend asked, would you rather have your only major league plate appearance be a HBP, or your only major league at-bat be a three-pitch strikeout five years after getting hit by a pitch?
Yeah, Well, That's, Like, Just Your Opinion, Man
And If You Disagree With Me, You're Nothing But No-Good Commie Scum. With one day left in the regular season, I'm still not sure for whom I'll cast my American League MVP vote. But I am absolutely certain I will be mercilessly ripped no matter whether I vote for Mike Trout or Miguel Cabrera. I agree with a fellow MVP voter who told me the other night, "All I know is you shouldn't criticize anyone for voting for the other guy." And yet, people will. This year's MVP vote will be scrutinized, analyzed and criticized more than a Supreme Court decision. I can appreciate the debates and the arguments, but not the anger and superior tone of those who have differing opinions. Both Trout and Cabrera have had great, MVP-deserving seasons. We have to cast our first-place vote for one or the other. Why turn that vote into a Fox News/MSNBC segment on the election?
On the other hand, I do know who I would vote for in baseball's other award races. NL MVP: Buster Posey. AL Cy Young: David Price. NL Cy Young: R.A. Dickey. AL Rookie: Trout. NL Rookie: Harper. AL Manager: Bob Melvin. NL Manager: Davey Johnson. (Amazing how easy someone else's ballot is, isn't it?)
Trouble With The Cliches.Over the weekend, I saw the anti-"Moneyball" film: Clint Eastwood's movie about an old baseball scout, "Trouble With the Curve." The terrific St. Paul Pioneer Press movie critic Chris Hewitt nicknamed it "Gran Slamino" due to the similarity of Eastwood's crotchety-old-man character in this movie to his crotchety-old-man character in "Gran Torino." I had such low expectations for the movie that I wound up enjoying it. Or, at least I did until the ludicrous and yet all too predictable ending. Sorry, I'm not a complete "Moneyball" guy, but I have a hard time siding with a half-blind, ornery scout who somehow "hears" a hitch in a player's swing that no one else can see. And how the hell did the Red Sox get the No. 1 pick in the draft anyway? That might be the most unbelievable plot point in an Eastwood movie since he sang "I Talk To the Trees" in "Paint Your Wagon."
Worst Loss For The Mariners Since Game 6 Of The 2001 ALCS. Baseball fans in the Pacific Northwest haven't had much to cheer about in the past decade, and now they're about to take another hit. After covering the Mariners for a quarter-century, Larry LaRue of Tacoma's Morning News Tribune is moving on to a general columnist gig. When I was a much younger writer, Larry and I were both up for the Mariners beat job in Tacoma. Much to my disappointment, the paper hired Larry; but he quickly showed why he deserved the job ahead of me. Larry is one of the best writers in baseball -- I marvel at how fresh, lively and concise his game stories are -- and he also is one of the best people with whom to share a press box. I'm going to miss seeing him regularly, but will enjoy reading his columns. LaRue also has a wonderful collection of personality-driven stories about the players he's covered available as an eBook from Amazon and Kindle, "Major League Encounters." Do yourself a favor and buy it.
Now, If He Can Just Add Cy Young Winner To That List. Congratulations to R.A. Dickey, who was named the well-deserved winner of this year's Branch Rickey award for community service. The award caps off a brilliant season for Dickey, who won 20 games, made the All-Star team, threw back-to-back one-hitters, published a best-seller and climbed Mount Kilimanjaro as part of a charity drive. He is an inspiration both on and off the field.
CSI: Box Score Answer
This fragment had two big clues and a couple little ones. The little ones were the names in the Dodgers and Giants lineups, which indicated this game was from the early 1960s. Which season and which game, though? The big clues were the stolen base total for Maury Wills (104) and the four-spot the Giants put up in the ninth inning. With that, you should have been able to deduct this was the box score from the finale of the three-game playoff between the Giants and Dodgers after they had tied for the 1962 National League pennant. Just as they had in 1951, the Giants rallied from a 4-2 deficit in the ninth to win.
Recalls Wills of the Dodgers' crushing loss: "We were busy counting our World Series money."