The best part of the winter meetings is not the actual meetings, which rarely live up to expectations. No, the best part is following the rumors and notes that never quite come to pass, like those in my annual Hot Stove League notes …
YANKEES: The New York Post now claims that SS Derek Jeter is devoting his offseason to buying up every remaining package of Twinkies before Detroit 1B Prince Fielder and San Francisco 3B Pablo Sandoval get them first. … 3B Alex Rodriguez outlined his rehab schedule for the upcoming surgery on his left hip. Two weeks after surgery, he'll begin walking and then advance to light running; and by spring training, he will start sessions of soft toss with Australian bikini models near the Yankees dugout.
WHITE SOX: The latest YouTube video to go viral is a recently discovered, heartwarming piece of black-and-white footage that shows a New York City policeman giving a pair of boots to Shoeless Joe Jackson.
CUBS: The Cubs' rebuilding plan took a hit when Kerry Wood pulled former C Todd Hundley and former OF Milton Bradley out of the Wrigley Field ivy. … After a man took photos of several wild coyotes wandering outside Wrigley Field last week, a fan released photos of 25 of their half-dead victims wasting away in the Cubs dugout and on the field during games this past season.
ROYALS: Mark Hill, a mechanic who lives near Kansas City, denies that he used the jersey numbers of former Royals greats to pick his winning Powerball ticket last week. "I'm only 52," he said. "I'm too young to know the Royals ever had any great players." … Royals owner David Glass did, however, ask Hill if he would be willing to help with next season's payroll.
PIRATES: The Pirates have been unable to make any deals or hold any negotiations at all since general manager Neal Huntington became hopelessly lost inside the sprawling, 2,900-room, 43-acre Opryland Resort Hotel where the winter meetings are being held. The Pirates will use bloodhounds to track down Huntington if he doesn't find his way back to the team's suite by this afternoon. "Actually, given the deals he usually makes, it might be for the best if we don't find him," one team executive said.
MARINERS: Playing off the popularity of the annual Nathan's hot dog-eating contest, the Mariners will hold a Chone Figgins Contract-Eating Contest in January. Six-time Nathan's champ Joey Chestnut declined to participate, saying the contract is too unappetizing for even him to swallow. … Surprisingly, the Mariners did not tender a contract to RHP Larry Bernandez, allowing the popular fictional player to become a free agent.
MARLINS: In a surprise move, the Marlins signed RHP Zack Greinke to a $150 million contract and then immediately traded him to the Blue Jays. Owner Jeffrey Loria insisted, however, that the team will definitely keep OF Giancarlo Stanton. "That is, IF the city builds us a more lucrative $1 billion stadium to replace our current, obviously inadequate facility.'' … Loria and team president David Samson also made a large donation to the local Toys For Tots drive, then took back all the toys to their villas atop Mount Crumpit.
BLUE JAYS: Canadian authorities say they will have to hire more border agents to handle all the Marlins entering the country.
RANGERS: Free agent Josh Hamilton is said to be in Nashville at an undisclosed location, possibly with former vice president Dick Cheney. In a phone call with reporters, Hamilton reiterated that God will tell him where to sign. General managers, meanwhile, say that negotiating with God is challenging. "The only person who has His number is Buster Olney," one GM said. "But it doesn't matter because we're told He prefers to respond via burning bush."
METS: In a visit to the Opryland, Nashville resident R.A. Dickey said he is working on a sequel to his best-seller, "Wherever I Wind Up." The working title of the sequel is, "Wherever I Wind Up, the Mets Will Regret Trading the Reigning Cy Young Winner One Year Before He Is Eligible for Free Agency, Especially When His Current Contract Is Just $5 Million."
TIGERS: 3B Miguel Cabrera told ESPN Deportes that he is growing increasingly upset he hasn't received his triple crown yet. He said he needs the crown in time to attend Prince William and Duchess Kate Middleton's upcoming baby shower. "Apparently, Carl Yastrzemski doesn't understand the line of succession," he complained. "I just hope all the rubies and sapphires are still there."
NATIONALS: Minutes after signing RHP Danny Haren, the Nationals pulled off another coup when they signed Oscar-winning actor Daniel Day-Lewis to compete as Abraham Lincoln in next year's presidents mascot races.
GIANTS: Non-tendered by the Giants and rehabbing from a second Tommy John surgery, RHP Brian Wilson is expected to sign with either the House of David barnstorming team or ZZ Top.
DODGERS: The Dodgers are holding off on any moves until they decide whether to buy the National League or the American League or both.
CSI: Box Score
Each week, I provide a fragment from an old box score and challenge you to determine what game it is from and why it's significant. I give this one a difficulty rating of 9. Answer below:
Baseball Card of the Week
The only thing worse than having your baseball card show you with no major league cap or identifiable uniform but with a big bold "TRADED" banner (1974 Topps No. 269T) is having your card say "TRADED: To Cleveland Indians."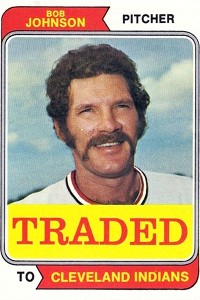 Yeah, Well, That's Like, That's Just Your Opinion, Man
And Don't Get Me Started On The Prices He Charged For Beer. Former Yankees owner Jacob Ruppert was elected to the Hall of Fame this week. I find it inexplicable and reprehensible that an owner who helped maintain baseball's color barrier is being given the game's highest honor. Yes, I know other owners from that era already are in the Hall of Fame, but they shouldn't be there, either. Even if we can't get rid of those SOBs, we should at least refrain from adding to their numbers. For crying out loud, Ruppert gave Babe Ruth a 33 percent pay cut after he hit .301 with 34 home runs and 114 RBIs and also threw a complete-game victory! And people are upset about steroid-era players being eligible? Save your outrage for the real villains getting into the Hall.
And can we have a moratorium on pre-1900 players getting in? As colleague Dave Schoenfield writes, there are almost as many players from the 1800s in Cooperstown as from the 1970s and '80s. That's just ridiculous. It's time to close the door on pre-1900 ballplayers. If a player wasn't deemed good enough for the Hall for more than 100 years, well, he just doesn't belong there.
There Must Be Some Very Interesting Conversations In The Hofstra Bullpen. A shoutout to Hofstra University lefty reliever Joseph Burg, who was a Rhodes Scholar finalist. The senior is majoring in math and physics and wants to pursue a career in nanotechnology with a focus on clean energy or medical applications. In his Rhodes application, Burg wrote, "In baseball, a great pitcher throws 60-70 percent strikes, while an exceptional batter gets a hit about 30 percent of the time. Failure is part of the game. In physics, one pitches many ideas and not all work out. Physics and baseball describe similar experiences with different language and I'm starting to gain fluency in both." Rhodes scholars receive a scholarship to Oxford, as former President Bill Clinton did. Which sounds slightly more exciting than riding the buses while earning $700 a month in the NY-Penn League.
Besides, Who Would Pick Willie Wilson As The Powerball Number Over George Brett? Last week, I wrote that you should choose your Powerball numbers based on which baseball greats wore them. Then when a guy from outside Kansas City won, there was wild speculation he picked his winning combination based on the numbers worn by former Royals greats: George Brett (5), Mark Gubicza (23), Bo Jackson (16), Dennis Leonard (22), Dan Quisenberry (29) and Willie Wilson (6). I was kicking myself that I didn't grow up a Royals fan until the winner said the rumor wasn't true, that the lottery computer randomly picked the winning numbers. It was just a coincidence, and not all that amazing a coincidence. There are 19 players/managers in the Royals Hall of Fame, so it would be hard NOT to have several of their numbers show up in the Powerball every week. Speaking of which, doesn't it seem odd that a team that hasn't been to the postseason in 27 years -- longer than any other team -- could find room for 19 players/managers in its Hall of Fame? /p>
CSI: Box Score Answer
There were a couple of clues. The first is that there are no winning or losing pitchers listed. The second is that Cleveland's starters pitched nine innings while the Texas pitchers threw only 8 2/3 innings. So what happened? Well, the names Bosman, Jenkins, Wilcox and Peterson for Texas and Cleveland might have given you an indication this game was from the 1970s. And that the game was played in Cleveland should have been enough for you to guess this was the infamous 10-cent beer game on June 4, 1974, that ended in a forfeit after drunk fans rioted.
The game drew 25,134 fans, which doesn't sound like many, but it was double Cleveland's normal attendance back then. According to Burt Solomon's "The Baseball Timeline," those fans drank more than 65,000 beers. Their behavior grew worse as the game went on; and with the score tied in the bottom of the ninth, they threw bottles, fireworks and folding chairs onto the field. Then some fans ran onto the field and surrounded right fielder Jeff Burroughs. The Rangers went onto the field with bats to protect Burroughs and the Cleveland players grabbed bats as well to help them. There were thousands of fans on the field at one point. "It was Custer's Last Stand," Burroughs said. "We thought we were goners."
Say what you will about $9 beers. At least fans don't riot like that anymore.