A dozen realistic headlines I hope to see in 2013:
JANUARY: "WELCOME HOME -- MORRIS, BIGGIO ELECTED TO HALL OF FAME"
Actually, I would like to see many names in this headline, including Barry Bonds and Roger Clemens, but with writers stubbornly refusing to vote for players they suspect took steroids, that simply isn't going to happen. In fact, Jack Morris and Craig Biggio may be the only players with any chance. And I hope at least one of them gets in, otherwise it will be one very dull induction ceremony, because there would be no living inductees, just former owner Jacob Ruppert, umpire Hank O'Day and 1870s infielder Deacon White.
If you don't think the Hall's voting system is broken, consider this: Even if the BBWAA elects Morris and Biggio, there will be more executives, managers and umpires in the six induction classes since 2008 than players born after Jackie Robinson broke the color barrier.
I can't wait to see which executives and umpires we're inducting 60 years from now while writers still stubbornly refuse to vote for PED suspects.
FEBRUARY: "SPRING NON-BREAK: JETER RETURNS TO FIELD"
When we last saw Derek Jeter, he was lying in pain on the Yankee Stadium infield with a broken ankle. Best wishes for his complete recovery this spring. And to Brandon McCarthy for his return from the line drive off his head that required brain surgery. And to Mariano Rivera, Brian McCann and every other player coming back from injury. Yes, even Alex Rodriguez.
MARCH: "WE'RE KING OF THE WORLD! U.S. WINS WBC"
The third World Baseball Classic will be played this spring, with Joe Torre managing the U.S. team. Here's hoping he can get American players -- and fans -- as excited about the WBC as most every other competing country has been since the tournament started in 2006. Hmmm. Maybe the WBC just needs a better bracket for U.S. office pools.
APRIL: "BRING IT ON! GIANTS BEAT L.A. IN SEASON OPENER"
Although largely dormant in recent decades, baseball's best, most even rivalry re-boots this season. The Giants are coming off their second world championship in three years, while the Dodgers have spent like Congress to turn themselves into top contenders. The rivalry could heat up so much that to properly hype the feud, ESPN will need to place a studio midway between San Francisco and Los Angeles.
But let's make sure we keep the fighting on the field, fans. There is no need to ever get violent over the color of someone else's replica jersey.
MAY: "FLY, FLY AWAY! HOME RUNS INCREASE AFTER MARINERS MOVE IN FENCES"
Now that Seattle has moved in the outfield fences from a mean-spirited, soul-crushing 390 feet, there should be no more sleep-inducing 3-1 losses for the Mariners. Just think how much more exciting those three-hour 8-4 losses will be!
JUNE: "OUT OF GAS! AGING YANKEES FALL INTO LAST"
Just as ignoring a dwindling gas gauge will eventually catch up with you, so too will relying season after season on an aging roster. And with perhaps their oldest roster yet, plus injuries to Jeter and A-Rod, elbow surgery for CC Sabathia and a rejuvenated AL East, this season looks like it will be the year.
Or at least I hope so.
JULY: "MIAMI TRADE DEFICIT WORSENS: MARLINS DEAL STANTON AT DEADLINE"
Hey, they've traded away every other star on their roster. Why must Giancarlo Stanton stay in Miami with Loria and David Samson as his bosses? Let him go help a team that is trying to win instead of one fleecing the taxpayers.
AUGUST: "OPERATION SHUTUP: NATS WILL LET STRASBURG PITCH ALL SEASON"
And in addition to that, hopefully all those critics who ripped the Nationals for limiting Stephen Strasburg's innings after Tommy John surgery will acknowledge that the people who treat the pitcher's arm on a daily basis just might know a little more about his health than columnists, bloggers, radio hosts and tweeters.
SEPTEMBER: "BLACK AND GOLDEN! PIRATES CLINCH NL CENTRAL"
I just hope the Pirates remembered to include September on their pocket schedules this year.
Other teams I hope/expect to see in the postseason: Anaheim, Oakland, Tampa Bay, Toronto and Chicago in the American League, plus San Francisco, Los Angeles, Cincinnati and Washington in the National League. As for Seattle fans, you'll just have to wait for baseball to expand the playoffs again.
OCTOBER: "YO, CANADA! JAYS WIN WORLD SERIES"
As long as all the players Toronto acquired this winter aren't stuck waiting at the border crossing, the Blue Jays should be able to reach the postseason for the first time in 20 years -- back when they won their second consecutive world championship and were drawing 4 million fans each season to SkyDome. And if the Jays win the World Series, it will be baseball's way of making up for foisting Donald Fehr on the NHL.
NOVEMBER: "BIG AWARD SHIELDS! K.C. PITCHER WINS CY YOUNG"
Hey, Royals fans need something to look forward to.
DECEMBER: "SECOND CHANCE: MARINERS SIGN LINCECUM, JONES, CHOO"
During the great Bill Bavasi era, the Mariners foolishly traded away Adam Jones and Shin-Soo Choo for no players who helped and also passed on drafting local kid Tim Lincecum. Oh well, perhaps they can sign them as free agents for $250 million. I mean, a fan in Seattle is allowed to dream, right?
CSI: Box Score
Each week I provide a fragment from an old box score and challenge you to determine what game it is from and why it's significant. I give this week's a difficulty rating of 4. Answer below:
Baseball Card of the Week
Statheads love citing Jack Morris' high ERA and low WAR as evidence he doesn't belong in Cooperstown. But perhaps they would change their tune if they included his record with Smokey the Bear's 1987 Fire Prevention Team when he didn't allow a single forest fire the whole season! Others on that 1987 team set included Kirby Puckett, Jose Canseco, Joe Carter, Harold Baines, Oil Can Boyd, Charlie Hough, Jim Gantner and, of course, fireman Tom Henke.
Speaking of fire prevention, one of my favorite memories of covering Morris with the Twins was seeing him wear a T-shirt that had a large American flag across the chest with this message written below: TRY BURNING THIS ONE.
Jack could be one feisty guy.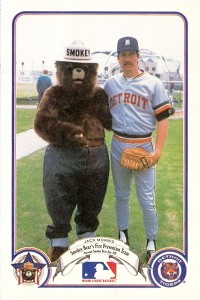 Yeah, Well, That's Like, That's Just Your Opinion, Man
He Could Have Been Really Mean And Said, "See You When The Mariners Go To The World Series" I enjoyed Judd Apatow's "This Is 40," though it is a bit longer than necessary. Albert Brooks, as usual, steals the show. My favorite line is when he chastises John Lithgow's character for going so many years between visits to the daughter he abandoned as a child by telling him, "See you again when the Cubs win the World Series!" Speaking of movies, my favorites from 2012 (another bad year) are "Lincoln," "Any Day Now," "Life of Pi," "Headhunters," "The Sessions," "Silver Linings Playbook," "This Is 40" and "Argo" (which would have been much better had they not added the unnecessary car chase ending). Here's hoping 2013 provides better movies -- and given that there are no more "Twilight" sequels scheduled, it already seems more promising.
Jeff Cirillo And Todd Walker Didn't Make My Ballot Some people drink to excess on New Year's Eve. I fill out my Hall of Fame ballot. And afterward, I feel the need the drink to excess. Especially with the 10-man limit preventing me from voting for everyone I think deserves to be in. But I've gone over that before. Here's who I voted for (alphabetically): Jeff Bagwell, Craig Biggio, Barry Bonds, Roger Clemens, Edgar Martinez, Jack Morris, Dale Murphy, Mike Piazza, Tim Raines and Alan Trammell. Curt Schilling just missed my vote (sorry Curt), while Mark McGwire and Larry Walker fell off from previous ballots due to lack of room this time. Several other players, including Sammy Sosa, would have been on the ballot had there been room. This was the first time I voted for Murphy (who was in his last year of eligibility). In addition to Jayson Stark's case for Murphy, I was swayed by the argument that we rarely use the character issue in a positive manner, usually just as a reason not to vote for a guy. In that case, Murphy's character made up for his career's too swift decline.
Go, Go Godzilla
Best wishes to Hideki Matsui, who announced his retirement last week. In addition to his production -- he hit 507 home runs between Japan and our major leagues -- Matsui was always friendly and approachable despite the language barrier. I wish him the best with his new career, whatever it may be.
CSI: Box Score Answer
There were a couple of clues. The absence of hits for Chicago is an obvious sign someone threw a no-hitter in this game. But who? Well, the names in the Detroit lineup -- Gibson, Lemon, Brookens -- should have told you this game was played in the early- or mid-1980s. And the Tigers threw only one no-hitter in that era: Jack Morris' no-no on the first weekend of the 1984 season, when the Tigers were en route to a 35-5 start. Morris pitched seven innings and allowed one run to win the opener, then threw his no-hitter just four days later. Yes, he pitched a no-hitter on three days' rest in the first week of the season.
Good luck with the vote next week, Jack.