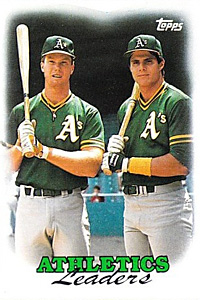 As I was searching for a box to wrap a Christmas present last month, I came across a complete set of 1988 Topps baseball cards in an unsealed box way back on a shelf in a storage room. I bought them 25 years ago, but apparently I'd never opened them. Looking through the set, I quickly came across the above card.
Is there a better way to symbolize how baseball began changing in 1988 than this photo of Mark McGwire and Jose Canseco as "Athletics Leaders"? The Bash Brothers were at the peak of their popularity that season. McGwire was coming off his 49-home run rookie year (imagine, a player hitting almost 50 home runs in a single season!), while Canseco was becoming the first 40-40 player in history.
My college softball team copied the Bash Brothers' signature salute by bashing our forearms together after big moments in our games. (In fact, several of us still greet each other this way, though we may need to stop due to osteoporosis.) Back then, the Bash Brothers' feats were something to celebrate, not suspect.
That changed in the fall of 1988.
Steroids already were a deep part of football and track and field (Ben Johnson got nailed at that summer's Olympics), but I don't recall hearing about them in baseball until 1988. Steroids became linked with baseball during that fall's American League Championship Series between Oakland and Boston when The Washington Post's Thomas Boswell said Canseco was a conspicuous example of a player using steroids. At Fenway, Red Sox fans loudly chanted "Ster-roids! Ster-roids!" when Jose was on the field.
Canseco denied using steroids (which weren't included as part of the federal government's Controlled Substances Act until later), and the incident soon blew over. But baseball was changing -- on and off the field -- and would never really be the same.
That 1988 Topps set provides an interesting time capsule for what the game looked like a quarter-century ago.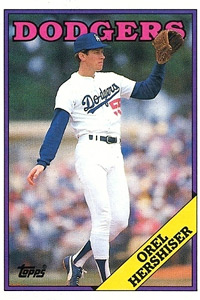 The 1988 season was my first in the Baseball Writers' Association of America. Flush with my newly acquired bona fides, I wrote a piece that spring about baseball's unbreakable records. Among those unbreakable records, I declared, was Don Drysdale's streak of 58 2/3 consecutive scoreless innings. Just to reinforce my predictive powers, in September I wrote that Cincinnati's Tom Browning had wrapped up the Cy Young Award with his Sept. 16 no-hitter.
When I wrote that, Orel Hershiser was 31 innings into his 59-inning scoreless inning streak, which earned him the Cy Young.
I'm not sure, but that year I think I also expressed doubt that Cal Ripken Jr. would break Lou Gehrig's playing streak.
By the way, Baltimore fired Cal Ripken Sr. as manager after the Orioles lost their first six games in 1988. It seemed a little unfair at the time, and more so when they lost their next 15 games as well and were 16 games out of first place by April 28.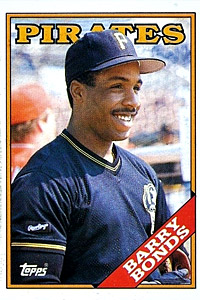 This card captures a pretty rare image in that it shows Barry Bonds actually smiling. It's interesting that he doesn't exactly look like a skinny kid in this card, though it lists him at 6-foot-3, 185 pounds, or what we would call a slim shortstop these days. Unfortunately, there is no mention of his cap size.
Bonds had reason to smile. Among his teammates on the 1988 Pirates were Bobby Bonilla, Andy Van Slyke, Doug Drabek and John Smiley, plus Jim Leyland as their manager. And yet Pittsburgh never reached the World Series with those guys. Or had a winning season after it let all but Van Slyke go.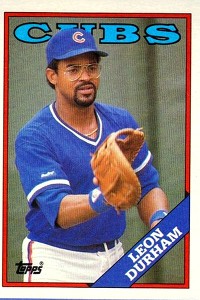 This is Leon (Bull) Durham; but in 1988, the much more important "Bull Durham" was the movie released that June. Nominated for an Oscar (best original screenplay), "Bull Durham" humorously portrayed life in the minors and helped spur a renaissance in minor league baseball as it turned into a billion-dollar business carried out in lavish stadiums.
As for the majors, 1988 marked the end of a stadium era. Skydome was under construction; it would open the next year as the first of 25 new stadiums to come, built at a cost of billions and billions -- much of it funded by the taxpayers to further enrich the billionaire owners.
By the way, "Bull Durham" is also a reminder of a time when pitch counts weren't nearly as big a deal, especially with young prospects. How else to explain why the Bulls left Nuke LaLoosh in to strike out a "new league record" 18 batters and also walk a ''new league record" 18 batters in one game? Or perhaps that was just because the baseball consultant on the movie was Grady Little.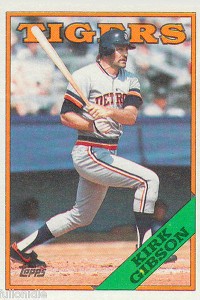 This card shows Kirk Gibson in a Tigers uniform. But, of course, he signed with the Dodgers in 1988 after an arbiter granted him free agency in ruling the owners had colluded against the players. Gibson went on to hit one of the most famous home runs in history when the Dodgers won the World Series that fall.
The big memorabilia craze was just beginning to rise in 1988, which might explain why I would buy a complete set of baseball cards but not open them. Eventually, it grew to the point where Todd McFarlane would pay $3 million for McGwire's 70th home run ball in 1998. But not only did Gibson's ball, hit 10 years earlier, not reap a fortune at an auction, no one even knows what happened to it.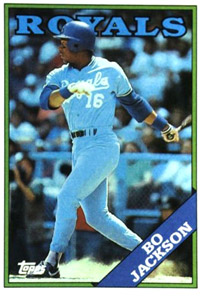 Bo Jackson hit 25 home runs and stole 27 bases in 1988. He also rushed for 580 yards and caught nine passes for 79 more yards. He was the most amazing athlete I've ever seen on the baseball field. And six years later at age 31, his athletic career was over due to a hip injury caused by a tackle in football. Given the brain trauma we now see in the NFL, he might have been lucky that was the extent of his injuries.
Look, I'm against performance-enhancing drugs and wish they had never entered the game. But when people complain about the evils of steroids in baseball, I always shake my head and wonder: If we're really so damn concerned about the health of athletes, why do we let them play football?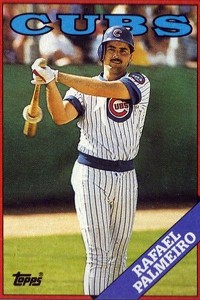 When the 1988 season began, there still were no lights at Wrigley Field. (And forget about wireless access.) I somehow snagged tickets for the first night game there that August, and traveled to Chicago with my friends Sarge and Boog for the game.
While in town, we caught a performance of Chicago's famous improv group, Second City. One of the improv sketches that night involved two Cubs fans. The first actor/fan said he really liked that Rafael Palmeiro kid, who had recently made the All-Star team in his first full big league season with the Cubs. The other actor/fan replied: "Yeah, but the Cubs will just trade him." When the first fan asked why the Cubs would do such a thing, the second fan replied, "Because he's young and he's good."
We laughed knowingly, and we weren't surprised when Palmeiro was traded later that year (along with Jamie Moyer). Given that the Cubs shrewdly traded him away, we shouldn't have been shocked that Palmeiro went on to reach 3,000 hits and 500 home runs, either. But I suppose we would have been justifiably surprised if we'd been told he would appear before Congress one day. Or that he would defiantly tell the committee that he never used steroids, only to test positive for them almost immediately after leaving the hearing.
Sigh. If anyone did ask us to assume anything about the Cubs for the ensuing 25 years, we would have correctly said they would not reach the World Series. Some things in baseball haven't changed since 1988. Or 1945, for that matter.
CSI: Box Score
Each week, I provide a fragment from an old box score and challenge you to determine what game it is from and why it's significant. I give this one a difficulty rating of 4. Answer below:
Baseball Card of the Week
With that 1988 Topps set provoking so many memories, I'll be featuring a lot of them in this corner of Off Base throughout the season. For example, here's Bill Buckner (1988 Topps No. 147). Is that really his hair or is he just wearing a helmet to protect himself from Red Sox fans?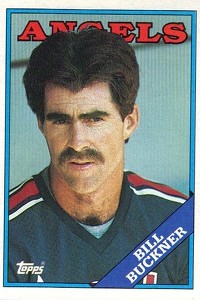 Yeah, Well, That's Like, That's Just Your Opinion, Man
I Don't Even Want To Know What The Beer Prices Are. You think going to a regular-season game can be expensive? Check out this year's spring training prices. The Giants are selling lawn seating for their St. Patrick's Day game for $32 each. That's right -- $32 just to sit on the grass beyond the outfield. For a spring training game! Sheesh, if the price of spring training continues to rise like this, pretty soon the players won't even be able to afford their seats in the dugout.
Can You Hear Me Now? I Said Jason Motte! Not Lance Lynn. Baseball and T-Mobile just agreed on a deal to use cell phones in dugouts. I'm not against new technology, but I'm not sure what this is going to add. A call to the bullpen can be made just as easily with a landline; in fact, given the cell phone reception we usually get in crowded stadiums, a landline is probably more reliable. But I will say that if T-Mobile can guarantee a connection so clear and reliable that even Tony La Russa could have used it in a sold-out ballpark -- along with enough minutes to allow him to make his endless bullpen changes -- then sign me up for the plan.
A Book That Will Make Your Wait Until Spring Training Much, Much Easier. Far and away the best novel I've read in the past year is Jess Walter's "Beautiful Ruins." Filled with rich characters who are figuratively and literally from all over the map, the novel begins when a young American movie actress appears at the Hotel Adequate View near Italy's Cinque Terre in 1962 during the filming of "Cleopatra," then brings us all the way to the present day. This is a story about unrequited love, war, Hollywood, writing, hotels, reality TV, music, Italy, theater and … well, about pretty much everything worth writing about except baseball. Buy it now and prepare to shut yourself off from the outside world as you fall in love with the story and at least four of the many wonderful characters. I cannot praise this book enough. Simply a beautiful read.
CSI: Box Score Answer
There were two key clues in this fragment and you should have spotted them both. The first is the line where Canseco's home run is listed as his 41st of the season. The second is the line where his two stolen bases are listed as his 39th and 40th. Which means this was the game in which Jose became the first 40-40 man in baseball history. I still recall Mickey Mantle's response to the achievement: "If I had known it was such a big deal, I would have done it when I was playing."