They say that confession is good for the soul; and as Oprah and Lance Armstrong demonstrated last week, it can also be good for the ratings. Although as Manti Te'o might have learned, an embarrassing revelation isn't necessarily good for your NFL draft position.
With that in mind, I hereby confess to the following:
I've never claimed my fictitious Internet girlfriend was dead, nor have I ever been catfished. I was, however, Trout-fished. Let me explain.
When I was just starting out as a young reporter in Seattle, my editor assigned me to write a story about New York Yankees pitcher Steve Trout, whose once-promising career was floundering due to extreme wildness. I drove to the Kingdome, entered the stadium and made my way to the visitors dugout, where I found Yankees catcher Rick Cerone sitting on the bench. I asked Cerone if he knew where Trout was, and he replied that he would check in the clubhouse. Cerone returned a few minutes later and said, "Yeah, he's by his locker." We went into the clubhouse and Cerone pointed me to a player sitting with his jersey off.
I approached him, introduced myself and asked, "Do you have a few minutes, Mr. Trout?" The pitcher said sure, and began politely answering all my questions, talking about his recent struggles with control and repeating the ugly numbers from some of his recent games. We finished, I thanked him for his time, wished him well and made my way to the press box to write my story.
I was several paragraphs into it when Claire Smith (then of the Hartford Courant, later of the Philadelpha Inquirer, the New York Times and now ESPN) edged up to me and said, "You know, that wasn't Steve Trout you were talking to. It was Dave Righetti."
I am eternally grateful to Claire for saving me from a potentially career-ruining blunder by pointing out the prank Cerone and Righetti had pulled. And I learned a valuable lesson that still serves me well. For example: I made damn sure Mike Trout really exists before I voted for him for MVP last year.
I never bet on the Cincinnati Reds, but I did bet on the San Francisco Giants. Every year while I was growing up, I bet my oldest friend, Danimal, that the Giants would win the World Series. If they did, he would pay me $5. If the Giants did not, I owed him $5. Essentially, I was taking the Giants against the rest of the major leagues with no compensating odds. If you think that was stupid, consider that I also bet Danimal every year that the Minnesota Vikings would win the Super Bowl.
(The worst part is, I stopped betting on the Giants with Danimal sometime before 2010. At least I don't bet on the Vikings anymore, either.)
Near the end of a week-long Minnesota Twins Fantasy camp a couple years ago, my arm ached so much I could barely throw. When I mentioned this during a lunch break, a teammate handed me a bottle of prescription pills and said, "Here, these will help." Without asking what the pills were, I quickly grabbed two, swallowed them and returned to play. For all I know, the pills could have been a performance-enhancing drug. But at the time, I would not have really cared if they were. That's how much I wanted my arm to stop hurting so I could play.
I would testify to a grand jury, however, that the pills were just extra-strength ibuprofen, because I didn't hit any home runs after taking them and my cap size remained the same.
When my college softball team won our school's intramural championship three years after I last attended a class with a roster that ranged in age from 20 to 40 years old (including a father-son pair), I admit we were not technically all students at the university. This use of ringers was mitigated somewhat by the fact that many of our opponents appeared to be even older than we were.
But if the school wants to strip me of my championship T-shirt, I will not return it. Mostly because I think my wife threw it out years ago.
Steve Buckley and I organized a media baseball game before the 1989 World Series with other writers, including Tim Kurkjian, Peter Schmuck and Tom Verducci. We did not hire umpires; it was up to the catcher to call balls and strikes fairly and honestly. Late in the game, I was catching when Dan Shaughnessy was batting in a crucial situation. Bob Klapisch threw a fastball low and away that I called strike three. Shaughnessy swore and complained bitterly that the pitch was a foot outside. I maintained that the pitch caught the corner and told him to quit his bitching and grab some bench.
Nearly a quarter-century later, I can finally admit the truth. You were right, Dan. That pitch did not catch the corner. It was at least six inches outside. I Eric-Gregged you.
Although writers are supposed to take only one free box lunch provided before postseason games, I occasionally take two because I know I'm going to be hungry again before I finish up my story many hours later.
Although given the usual quality of the box lunches (particularly in Detroit), I really don't need to apologize. Eating more than one is punishment enough.
After attending my first game as a credentialed reporter while working for my college newspaper, I walked out of the Boston Red Sox clubhouse and into a small group of fans waiting by the team bus. Assuming I was a player, two young fans rushed up and asked me for my autograph. Not wanting to disappoint them, I signed their programs.
Sorry guys, but those autographs of former outfielder Reid Nichols are not authentic. Do not try to sell them on eBay.
(Oddly, no fans mistake me for a player anymore, though I occasionally get asked where the nearest men's room is.)
I often buy cheap bleacher tickets to games and then sneak into better, more expensive seats. I realize this is the equivalent of admitting that you occasionally drive 58 miles an hour in a 55-mph zone, because everyone does this when the opportunity presents itself. But here's the thing: Why do we feel so indignant when the fans who paid for those actual seats show up and politely ask us to move? No wonder the Middle East remains such a mess when this is how we behave over a simple property issue.
Hmmm. I expected my confessions would make me feel better, but I still have an awful feeling of guilt in my stomach. Or perhaps that's indigestion from that last box lunch in Detroit.
CSI: Box Score
Each week, I provide a fragment from an old box score and challenge you to determine what game it is from and why it's significant. I give this one a difficulty rating of 4. Answer below:
Baseball Card of the Week
I think this card (1962 Topps, No. 50) is the way we should always remember Stan Musial: As a very happy guy with a St. Louis Cardinals cap on his head, a bat in his hands and a huge grin on his face.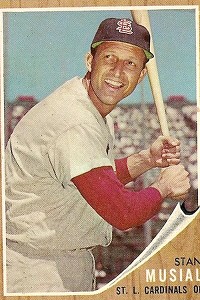 Yeah, Well, That's Like, That's Just Your Opinion, Man
They're Likely Hearing Some Unfamiliar Language Around The Pearly Gates. Earl Weaver, who passed away over the weekend, is justifiably in the Hall of Fame for his managerial record. The Earl of Baltimore also was a Hall of Fame talker who had some classic quotes about the game, including: "Baseball is pitching, three-run homers and fundamentals," and, "You can't sit on a lead and run a few plays into the line and just kill the clock. You've got to throw the ball over the plate and give the guy his chance. That's why baseball is the greatest game of them all," and, "This ain't a football game. We do this every day," and, "Coaches are an integral part of any manager's team. Especially if they're good pinochle players." I would say, "Rest in Peace, Earl," but why should he change now? Just don't kick too much dirt up there in the clouds.
It's Never Too Early To Start Planning Your Summer Vacation. With Martin Luther King Jr. Day this week, let me pause to give a shout-out to the Negro Leagues Baseball Museum, one of the most educational and interesting museums you could possibly visit. There are many outstanding exhibits -- the statues of various Negro League stars on a small diamond are inspiring -- but as I wrote when I visited the museum in Kansas City, Mo., during my tour of the Lewis and Clark Trail in 2004, my favorite item is a simple 1925 clipping from the Wichita newspaper that tells about an upcoming game between Ku Klux Klan No. 6 and a team of black players. In other words, not only was the Klan socially acceptable enough to host baseball games and have the local newspaper publicize them, but also there were at least six chapters in the area. Providing such stirring history lessons is what makes the Negro Leagues Baseball Museum such a treasure. "It's a great thing," Chone Figgins told me last summer. "I try to take some of the players whenever we go to Kansas City. There are all these players they've heard about, and then they see their statues. Just reading about the stuff they went through, that's the stuff they find amazing: That they were able to go through that and still play so well."
Then Again, Neil Diamond's "Sweet Caroline" Might Be More Fitting At A Ballpark Than Neil Diamond's "America." James Taylor singing "America the Beautiful" at President Obama's inauguration on Monday prompts me to again suggest that baseball should spice up our now seemingly mandatory displays of patriotism by rotating some other songs in with "God Bless America" at ballparks around the majors. There are so many other patriotic anthems, many of them much more rousing or pleasing to hear, and playing them would make these moments more special. In addition to "America the Beautiful," there is "This Land Is Your Land," "America (My Country Tis of Thee)" or even "The Stars and Stripes Forever." I even listened to Arlo Guthrie sing a rousing version of "City of New Orleans" recently, and the chorus of "Good morning, America, how are ya!" brought the audience to its feet each time. C'mon folks, mix it up.
CSI: Box Score Answer
There was only one clue necessary in this fragment: the name Musial listed with the St. Louis pitchers. Yes, Stan Musial pitched a game for the Cardinals. That was on Sept. 28, 1952, when the Cardinals moved starter Harvey Haddix to the outfield after a game-opening walk and brought in Musial to face Frank Baumholtz, who finished second in the batting race to Stan that season. Baumholtz reached base on an error and the Cardinals sent Musial back to his position and Haddix back to the mound. (Thanks to Bill Chuck and the Bill Chuck Files for details on that game.)
Musial actually began his career as a pitcher before the Cardinals decided his future lay with a bat. But he was a pretty good pitcher -- he was 18-5 with a 2.62 ERA for the Cardinals' Class D team during his final season as a pitcher.
Rest in Peace, Stan. You'll always be The Man.