Yankees general manager Brian Cashman broke his ankle skydiving. Rangers shortstop Elvis Andrus missed a game because of lingering pain from a tattoo. Mike Trout showed up to camp weighing 241 pounds, while Mariners prospect Nick Franklin announced he was on a 6,500-calorie-a-day diet.
Compared to those eye-popping headlines, my annual Off Base spring notes seem downright believable …
PIRATES: In a follow-up to the Yankees winning the exclusive right to refer to themselves as baseball's Evil Empire, the Pirates have filed claim for the exclusive right to refer to themselves as baseball's Les Miserables. However, the Royals, Mariners, Astros and Padres are expected to hotly contest Pittsburgh's claim.
YANKEES: The Miami New Times reported this week that MLB investigators are looking into rumors that the Yankees' entire roster has been visiting a South Florida pro-aging clinic. "Their shortstop will be 39. Their right fielder is 39. Their No. 2 starter will be 41, and their closer is 43," an MLB source told the paper. "Clearly they're taking something to get so old." … 3B Kevin Youkilis says that while he will always be a Red Sox and is proud to be a Yankee, he doesn't really remember much about being a White Sox "other than that the traffic on the Dan Ryan really sucked."
ANGELS: OF Mike Trout dazzled fans Tuesday by hitting a home run, stealing two bases, making a diving catch and winning a pie-eating contest. … The Angels granted Trout a mere $20,000 raise after his historic 2012 season. His agent, Craig Landis, responded by asking for a "fair" contract in which Anaheim pays the outfielder by the calorie.
RANGERS: After giving the matter further consideration, SS Elvis Andrus has decided against getting matching tattoos on his rotator cuffs. And for that matter, his genitals. … Former OF Josh Hamilton declared that despite the presence of Six Flags Over Texas next to the Rangers ballpark, "Arlington, Texas, it is not a true amusement park town. Not like Anaheim, which has Disneyland."
METS: In an odd coincidence, while Yankees GM Brian Cashman was breaking his right ankle in a skydiving accident on Monday, Mets GM Sandy Alderson fractured his left ankle in a fall from atop the team's mountain of debt.
DODGERS: 77-year-old Sandy Koufax, who has returned to the Dodgers as a spring training coach, threw a light round of batting practice Tuesday and immediately received a five-year, $125 million contract.
RED SOX: After an epic September 2011 collapse followed by 2012's last-place finish, Red Sox Nation was eliminated from the World Baseball Classic by Bosnia-Herzegovina. … RHP John Lackey threw to live batters for the first time in a year this week. Of concern to the Red Sox is that Lackey had a 4.78 ERA and .396 BABIP against dead batters last year.
GIANTS: RHP Tim Lincecum gained 15 pounds of pure muscle over the winter but still is 20 pounds lighter than last year because he cut his hair. … The Red Cross has set up a blood center at Scottsdale Stadium to better facilitate fans selling their plasma to buy Giants spring training tickets.
MARINERS: SS prospect Nick Franklin reported to camp 35 pounds heavier and claimed he is on a 6,500-calorie-per-day diet that includes heavy doses of pasta, pastries, cheeseburgers and milk shakes. In other words, he basically has the same diet former Seattle SS Yuniesky Betancourt did. … RHP Felix Hernandez sobbed again over his seven-year, $175 million contract extension, this time as he reflected on how many games he could lose 1-0 between now and 2019.
MARLINS: The Marlins shed 234 pounds of excess fat last week when owner Jeffrey Loria left camp to return home. … In yet another cost-cutting move, team president David Samson said the team will furlough OF Giancarlo Stanton two days a week. Asked how long the furlough might last, Samson replied, "Until we trade him."
CARDINALS: While the next pope is expected to be chosen perhaps as soon as this week, the Cardinals are not expected to cast any votes for former 1B Albert Pujols at the Vatican or St. Louis. … The Rally Squirrel says he lost weight but still added lean muscle on a heart-healthy diet of nuts and grains over the winter.
ASTROS: Houston was forced to forfeit a Grapefruit League game against the Tigers in Lakeland when stadium security barred the Astros from the field because it had never heard of any of the players.
NATIONALS: If Republicans and Democrats cannot compromise on an end to sequestration or the March 27 government funding deadline, President Obama warned that Washington will be forced to shut down some national parks, select military bases, weekend mail delivery and, of course, RHP Stephen Strasburg. House Speaker John Boehner dismissed the warnings, saying Washington could win the pennant even without Strasburg.
WHITE SOX: After a rigorous offseason diet of pizza, cheeseburgers, pumpkin pie and ice cream, LHP Chris Sale reported to camp 36 grams heavier than last year.
BRAVES: Despite shooting a hole-in-one in February, RHP Craig Kimbrel still is well behind Greg Maddux, John Smoltz and Tom Glavine for the lowest spring handicap in Atlanta pitching staff history.
TIGERS: After his 2012 MVP season, 3B Miguel Cabrera is insisting that public-address announcers introduce him by saying, "Please bow for the next batter, His Royal Highness, King Miguel, wearer of the Triple Crown.'' He also wants a throne installed by his locker, a red carpet leading from the on-deck circle to home plate, a personal jester and peeled grapes for his postgame spread.
CSI: Box Score
Each week, I provide a fragment from an old box score and challenge you to determine what game it is from and why it's significant. The challenge for you is to figure out why. I give this one a difficulty rating of 7. Answer below:
Baseball Card of the Week
We continue our trip into the time capsule that is the 1988 Topps set …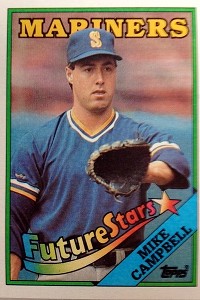 Pitcher Mike Campbell was touted as a Future Star in this card (1988 Topps, No. 246). Back then, that was like being named on Keith Law's Top 100 Prospects list, because few media outlets apart from Baseball America spent much time writing about prospects. Now, of course, you would have drafted him for your fantasy league when he was in middle school. But the news moved more slowly in those days, when we were more concerned with the current hot player than the next hot player.
Anyway, Campbell was from Bellevue, Wash., and in 1988, I was working at his hometown paper, the Bellevue Journal-American. (Alas, it no longer exists.) That spring, I edited our baseball preview section and included a story by Tim Kurkjian of the Baltimore Sun on the game's top 10 rookie prospects. Kurkjian did not include Campbell in his top 10, but, certain that Campbell was going to be a star -- and more important a hometown star -- I removed one of Kurkjian's 10 prospects and replaced him with Campbell. (Please don't tell Tim. I feel bad enough.)
Unfortunately, Campbell never blossomed in the majors. He was 6-10 with a 5.89 ERA for the Mariners in 1988 and pitched in only 24 more major league games, finishing with a career mark of 12-19 and a 5.86 ERA.
That was not the end of Campbell's major league career, however. Shortly after Safeco Field opened, Campbell began selling shiskaberries -- chocolate-covered strawberries on a stick -- at one of the stadium's concession stands. The shiskaberries were a better offering than what he served up from the mound.
(I do not remember which player I removed from Kurkjian's list of top 1988 rookie prospects to make room for Campbell. Given the state of my player-evaluation skills, though, I suspect it probably was Craig Biggio, Randy Johnson, Curt Schilling or Gary Sheffield.)
Box Score Line of the Week
Cole Hamels certainly got his work in when he gave up 12 hits in the Phillies' game against the Dominican Republic's World Baseball Classic team on Tuesday (2 2/3 IP, 12 H, 8 R, 8 ER, 3 BB, 1 K). But this week's award goes to Hamels' teammate Jonathan Pettibone, who gave up nine hits in relief that day. His line:
2 2/3 IP, 9 H, 4 R, 4 ER, 0 BB, 0 K
In all, the Dominican Republic had 28 hits against Philadelphia.
Yeah, Well, That's Like, That's Just Your Opinion, Man
Beware The Old Hidden-Balls-And-Chainsaws Trick With This Guy. Who says Jeffrey Loria isn't out to please Miami fans? Marlins prospect Derek Dietrich is an amateur juggler.
Now If Only Their Season Would Be Just As Entertaining. Every spring, teams put out new commercials. Some of the best in recent years are these Diamondbacks ads, parodying similar Geico and State Farm spots.
CSI: Box Score Answer
Remembering that the World Baseball Classic has started this week would have helped decipher this fragment. The clue was the name Remmerswaal. That would be Win Remmerswaal, who, in addition to having the best possible name for a pitcher aside from "ERA1.12," was the first player born and raised in Europe to play in the majors after 1900.
Raised in the Netherlands, Remmerswaal played Dutch baseball (honkbal) before the Red Sox signed him at age 20. He made his MLB debut in 1979 and pitched in 22 games before he ended his career with a record of 3-1 and a 5.50 ERA.
As this good SABR article describes, Remmerswaal is remembered as being very, ahem, eccentric. Thomas Boswell wrote that when Don Zimmer called to the bullpen for Remmerswaal to warm up for his big league debut, the Red Sox manager was told, "He's in the bleachers buying peanuts." Peter Gammons wrote that Remmerswaal missed the team bus to Yankee Stadium one day and instead went to Shea Stadium, where the New York Jets were playing.
Remmerswaal's story ended badly, however. Alcohol took its toll, and he reportedly is now a dementia patient in an assisted living facility in the Netherlands.
There have been four major leaguers born and raised in the Netherlands since Remmerswaal: Rikkert Faneyte, Robert Eenhoorn, Rick VandenHurk and the late Greg Halman. Hopefully, the World Baseball Classic will lead to more.