The last time the Yankees had a losing season was also the last time the Pirates had a winning season: 1992. In other words, it's been a very painful two decades for baseball fans, and not just in Pittsburgh. But 2013 finally brings hope.
The Pirates might not end their losing ways this year, especially if baseball continues to stubbornly insist on counting games played after Aug. 1. But the Yankees appear poised to spread joy throughout the civilized world by stumbling off the No. 4 subway platform at East 161st Street and River Avenue and landing painfully close to the bottom of the AL East. (Brian Cashman will need a better parachute for this fall.)
Third baseman Alex Rodriguez might be out for the year. First baseman Mark Teixeira might miss the season, too. Shortstop Derek Jeter will probably start on the disabled list (and will also turn 39 in June). Center fielder Curtis Granderson will miss at least the first month. CC Sabathia is recovering from minor elbow issues. Andy Pettitte is 41. Hiroki Kuroda is 38. Mariano Rivera is 43 and coming off a torn ACL. Ichiro is 39. Nick Swisher is in Cleveland. Rafael Soriano is in D.C.
Come Monday afternoon, the Yankee Stadium Bleacher Creatures may have to cancel their ritual roll call because even they won't recognize any of the players in New York's Opening Day lineup.
Meanwhile, the Red Sox -- the Yankees' Opening Day opponent -- are coming off an awful last-place season and aren't looking all that much better. Enthusiasm is so low in Boston that the long Fenway Park sellout streak is expected to end next month. This is forcing the Red Sox to do something even more contrary to their nature than wearing pinstripes: They're lowering prices at the concession stands!
This is the most amazing turnaround in Boston since Dave Roberts swiped second base in the 2004 American League Championship Series. A 12-ounce beer drops from $7.50-$8.50 to $5, while Fenway Franks will be buy one, get one free. (Though I wonder about the wisdom of inducing fans to eat twice as many Fenway Franks as before.)
The last time the Yankees and Red Sox ended a season in last and next-to-last was in 1966, when Boston finished in ninth place and New York finished in 10th. Dare we hope for such serendipity again? Cross your foam puffy fingers, because those two teams sharing an expensive and bedbugged room in the AL East basement would be the most welcome thing in baseball since garlic fries.
The East Coast media has focused so much on the Yankees and Red Sox for the past 15 years that the rest of the baseball world has been left behind in a Sabathia-sized shadow. This season can change that all around. If New York and Boston both sink from relevance, the national media may discover that -- gasp! -- the game is actually played in other cities.
Imagine a world in which the focus is on the great players and great stories throughout the rest of baseball rather than A-Rod's popcorn habits.
Behind Stephen Strasburg, Gio Gonzalez, Ryan Zimmerman and Bryce Harper, for example, the Nationals could unite even Republicans and Democrats by bringing a World Series to Washington. After adding R.A. Dickey, Jose Reyes, Josh Johnson and many others to a good base, the Blue Jays are poised to make every game Baseball Night in Canada -- and the U.S. San Francisco is coming off two world championships in three years, and Los Angeles has the game's highest payroll. The great Giants-Dodgers rivalry could shake and rattle California so much that fans will be bringing emergency packs of bottled water and flashlights to games.
With Triple Crown winner Miguel Cabrera, strikeout king Justin Verlander and power-hitting Prince Fielder leading the way, Detroit is home to baseball's Game of Thrones. With Albert Pujols, Josh Hamilton, Mike Trout and Jered Weaver on the Angels' roster, those Maps of the Stars' Homes will include directions to Anaheim, Calif., for once. Joey Votto, Brandon Phillips, Johnny Cueto and Aroldis Chapman make Cincinnati home to the Big Red iMachine. With the Upton brothers and Jason Heyward, Atlanta's outfield could be as exciting as its rotation was in the '90s (though probably with a slightly higher handicap). Trout and Harper headline a great new generation of young stars.
Evan Longoria, David Price and the always fascinating Joe Maddon will prove (again) that a team can compete despite a low payroll and an ugly, outmoded domed stadium, and Tampa Bay fans might even outnumber New York and Boston fans at games in the Trop. Yoenis Cespedes and a great young pitching staff will keep the Athletics so competitive that Brad Pitt will need to set aside time for a sequel. And hey, with 22 games against the Astros and Cubs, even the Mariners could have a winning record (though I'll believe that and the end to Pittsburgh's 20-year losing streak when I see it).
This is going to be a great season, filled with marvelous stories that entertain and enthrall us. Unless, of course, we are instead bombarded with stories about what's wrong with the Yankees and Red Sox.
CSI: Box Score
Each week, I provide a fragment from an old box score and challenge you to determine what game it is from and why it's significant. The challenge for you is to figure out why. I give this one a difficulty rating of 6. Answer below:
Baseball Card of the Week
We continue our trip into the time capsule that is the 1988 Topps set …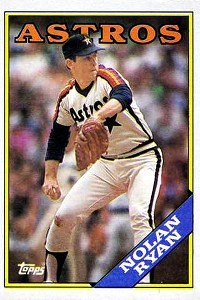 This card (1998 Topps, No. 250) captures Nolan Ryan in top form, midway through delivering his Ryan Express. In 1988, he was 41 years old on Opening Day and coming off a season in which he'd lost twice as many games as he won (8-16), but led the league in ERA (2.76) and strikeouts (270). In those less-stats-oriented days, he was still regarded by many as basically a .500 pitcher who had never won a Cy Young. But he still had six seasons, 63 wins, 1,167 strikeouts and two no-hitters left in his right arm that would transform him into a beloved, living legend.
Ryan is 66 now, and president and minority owner of the Texas Rangers, one of three teams that have retired his number. Nolan helped turn Texas into a powerhouse, but he and general manager Jon Daniels are in a struggle over control of the Rangers. If Ryan leaves the Rangers, he could go back to Houston, where he could probably crack the rotation for the rebuilding Astros. After all, they may have no more players earning $1 million this season than they did a quarter-century ago (three).
Box Score Line of the Week
On Saturday, Felix Hernandez moved closer to being ready to earn his new $175 million contract with six scoreless innings while striking out nine (6 IP, 2 H, 0 R, 0 ER, 0 BB, 9 K). But this week's award goes to someone whose contract status is a little less certain.
Mark Prior was an All-Star in 2003 when he nearly pitched the Cubs into the World Series. Injuries virtually ended his career -- he hasn't pitched in the majors since 2006 -- but he's back in the Reds' spring training camp with his old manager Dusty Baker, and trying to make the staff. He helped his case with a scoreless inning last Thursday. His line:
1 IP, 0 H, 0 R, 0 ER, 0 BB, 1 K, 1 HBP
"I'm here because of [Dusty] and the opportunity he was able to provide," Prior told Cincinnati reporters after the game. "Hopefully, I can thank him by going out and performing and living up to -- not that they probably have a lot of expectations, but maybe surprise some people and doing something."
I never put much stock in the talk that Baker was responsible for Prior's arm trouble in Chicago -- hey, injuries happen in baseball -- and it doesn't sound like Prior does, either. Here's hoping they both have success this year.
Yeah, Well, That's Like, That's Just Your Opinion, Man.
Bring Big League Baseball Back, If Only For The Smoked Meat Sandwiches. While MLB works to grow the game globally through the World Baseball Classic, Warren Cromartie is hard at work to expand it internationally … to Canada. Cromartie held a news conference last week to announce a feasibility study as part of his goal to bring major league ball back to Montreal.
"I have been almost like a scout in Montreal the last couple years," Cromartie said. "I've been checking people out and getting the pulse of the city, like I'm looking for that elusive five-tool player. And I'm happy to say that Montreal is a five-tool city. One, we have the history, with Jackie Robinson, who pretty much put Montreal on the baseball map. [He played there for the Dodgers' AAA team in 1946.] Two, we have the passionate fan base. Close to 4 million people live in Montreal. We're one of the largest cities in North America without a team. Three, we have the Canadiens and the Alouettes. No. 4, we have the corporate entities needed. And No. 5, they got me."
Cromartie said that last bit with a laugh, but he's right. To pull this off, Montreal needs a passionate person bursting with enthusiasm who will work hard to make an impossible dream come true. Cromartie played in Montreal and has roots there; he married a woman from Quebec. Montreal supported major league ball until it was hit with the triple whammy of the 1994 strike, the Canadian dollar's plunging value and Jeffrey Loria's ownership. We're nearly two decades removed from the strike, the Canadian dollar and the U.S. dollar are at par, and Loria is now haunting Miami. Montreal deserves to have the game back. Cross your fingers and wish Cromartie the best success.
Now If Only Someone Will Sign Jamie Moyer. Yes, $33 million is a lot of money for anybody, but I think Kyle Lohse will wind up winning more games for the Brewers over the next three years than Zack Greinke will for the Dodgers, and he'll do it for far less money. Lohse was 30-11 with a 3.11 ERA and 254 strikeouts in 399 1/3 innings over the past two seasons, while Greinke was 31-11 with a 3.63 ERA and 401 strikeouts in 384 innings. Greinke is five years younger; but still, why did it take so long for Lohse to sign? Because signing him meant surrendering a team's first-round draft pick this June. That's potentially a big deal; but given how many first-rounders flop, especially those as low as Milwaukee's pick, it's a risk well worth taking.
CSI: Box Score Answer
All those (1)s should have indicated to you that this fragment is from Opening Day, but which one? Well, the only other clue you needed was the name Camilo Pascual, the underrated pitcher who struck out an astounding 15 batters in the Washington Senators' 1960 opener. That's still the record for most strikeouts in an opener. Imagine the fuss if Strasburg did that.
This game was noteworthy for a couple other reasons as well. President Eisenhower threw out the ceremonial first pitch, the seventh and last time he did so as president. Ted Williams hit a home run in the first at-bat of what was his final season as a player. And as you can see, the Senators drew 28,327 for the opener in what was their last year in Washington. Owner Calvin Griffith moved the team to Minnesota after the season, and a new Senators franchise opened in D.C. the next year when baseball expanded from 16 teams. That Senators club fared no better, though, and eventually moved to Texas, where it became the Rangers.