What stands out about last week's Zack Greinke-Carlos Quentin brawl -- aka the Vented Spleen at Chavez Ravine -- is that the fight happened at all.
Bench-clearing brawls used to be as commonplace in baseball as bobblehead nights. Simply giving an opponent the stink-eye during a home run trot could clear a dugout faster than if David Wells had cut the cheese.
But fights have become rarer in recent years, which is a positive sign that all those skirmishes finally might have knocked some sense into the players' heads.
Look, I enjoy a good bench-clearing brawl as much as the next fan. Nolan Ryan told me once that when people ask him about his career, they love to bring up his 1993 throwdown with Robin Ventura. The great Yankees-Red Sox brawl in the 2003 American League Championship Series is the stuff of legend. And the fight between Mexico and Canada in this year's World Baseball Classic was as nasty as a Kardashian marriage -- and far more watchable.
But other than a YouTube video or "SportsCenter" highlight, nothing good results from a baseball fight. As every parent and teacher warns, it's only fun until someone gets hurt. Injury adds insult to everything.
And that's why we need new guidelines for baseball fights. Call them the Jason Marquis of Queensbury Rules.
No Harm, No Foul. This is how most baseball confrontations go down:
• A pitcher throws at a hitter but misses, or hits a fleshy part of the body (not so easy to do in these days of better-conditioned ballplayers, though we still have occasional targets such as Pablo Sandoval and Prince Fielder).
• A batter takes a couple of menacing steps toward the mound, all the while hoping that the catcher, the umpire or the batboy will step in before the pitcher tenderizes and then Ventura-izes him.
• Benches clear, but everyone stands around like teenagers at a high school dance nervously waiting for someone to make the next move.
In the above cases, no one gets hurt, so no punishment is necessary beyond an ejection for the offending players. Resume the game. Move along. These are not the droids you're looking for.
Stay Calm Or Else. It's understandable to become angry when a pitcher intentionally drills you. It's not so understandable when you go DEFCON 1 just because a 3-2 pitch slipped in a one-run game, especially when you regularly lead the league in getting hit by pitches. (Not that I have anyone in mind, Carlos.) Overreact in an innocent situation by charging the mound and prepare to grab some bench with a three-game suspension.
An Eye For An Eye. Don Mattingly is right. Quentin's eight-game suspension seems inadequate when Greinke will be on the disabled list for eight weeks (or longer). Therefore, from now on, when someone gets hurt, the punishments should be proportionately painful.
If a pitcher intentionally hits and injures the batter with a pitch, or if a batter charges the mound and harms the pitcher, or if anyone instigates a brawl that results in an injury, he should receive an automatic suspension. The minimum suspension should be one week for position players and relievers and two weeks for starting pitchers (so that they miss at least two starts).
If the other player goes on the disabled list, that's when the suspension grows teeth. If a player causes a significant injury to an opponent, he should be suspended until the victim returns healthy to the field of play. The suspension can be three weeks or three months or even longer. (So be very careful not to hit Erik Bedard.)
Sound too harsh? Fine. Then you have a second option. You can forfeit your salary to him until he gets off the disabled list. Still too harsh? Tough. Don't complain. Just don't get in a fight.
Granted, sometimes it can be difficult to know for certain if a pitcher beaned a batter on purpose, but that's why there is an appeals process. Let the lawyers fight it out, not the players.
These new guidelines would not turn baseball into a nanny state, though perhaps they would end the Manny state, in which batters angrily charge the mound, just as Manny Ramirez did during the Red Sox-Yankees 2003 ALCS fight. A pitcher could still throw inside. Benches could still clear. Players could still get upset.
But everyone would have to bear this in mind: Shall there be blood, there shall be consequences.
CSI: Box Score
Each week, I provide a fragment from an old box score and challenge you to determine what game it is from and why it's significant. I give this one a difficulty rating of 6. Answer below:
Baseball Card of the Week
Continuing our trip through the time machine that is the 1988 Topps baseball card set …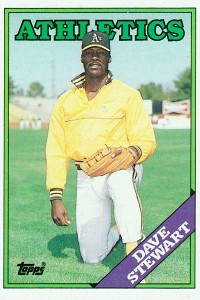 Dave Stewart deserves a far better picture than he received in this card (1988 Topps, No. 476). Kneeling in a yellow warm-up jacket? Really? He doesn't even get a shot of him pitching in full uniform? This is as good as he gets after winning 20 games in 1987? Oh, well. Stew would show them by winning another 21 games in 1988 (including his first eight starts), 21 more in 1989 and 22 in 1990. In so doing, he became the 12th member of the Black Aces, the exclusive club of African-Americans who won 20 games in a season (counting Ferguson Jenkins, who is Canadian).
Stewart and Dwight Gooden were the only active members of the Black Aces in 1988; and a quarter-century later, there still are only two active major leaguers in the club -- CC Sabathia and David Price (Dontrelle Willis recently signed with the independent league Long Island Ducks). Just another thing to think about during this week of Jackie Robinson tributes.
Box Score Line of the Week
Seattle's Michael Saunders was the Mariners' leadoff batter last Wednesday, but he never got to the plate (0 AB, 0 R, 0 H, 0 RBI) because he injured his shoulder (and went on the DL) in the top of the first, crashing into the wall to make a catch on the game's first pitch. Chicago Cubs reliever Michael Bowden threw three wild pitches in less than an inning (2/3 IP, 1 H, 0 R, 0 ER, 1 BB, 0 K, 3 WP) on Sunday. Houston's Erik Bedard retired one batter and allowed six runs in his start on Monday night (1/3 IP, 2 H, 6 R, 6 ER, 4 BB, 1 K, 1 WP). And the Cardinals' Adam Wainwright had almost as many hits (three) as he allowed (four) on Saturday (9 IP, 4 H, 0 R, 0 ER, 0 BB, 12 K and 3 AB, 1 R, 3 H, 2 RBIs).
But this week's award goes to Cincinnati reliever Jonathan Broxton, who turned a 6-4 lead into a 10-6 deficit in the eighth inning on Sunday. His line:
2/3 IP, 3 H, 6 R, 6 ER, 3 BB, 0 K.
I agree with colleague Dave Schoenfield. What is the point of making Aroldis Chapman your closer instead of a starter if you don't use him when the game is on the line in the eighth inning? Why do managers refuse to bring in their closers until the ninth inning? Why do they think their best relievers are incapable of retiring -- gasp! -- four batters? True, Reds manager Dusty Baker did bring in Chapman in the eighth inning Sunday, but not until after Broxton had already blown the lead.
Managers everywhere: If you must stubbornly insist on saving your closer for a save situation, at least bear in mind it can be a save situation in the eighth inning, too.
Yeah, Well, That's Like, That's Just Your Opinion, Man.
Spring Training Is Also Wayyyyy More Fun Than Training Camp. Jimmy Rollins told the New York Daily News last week that, in addition to single-parent families, one of the reasons for the decrease of African-Americans in baseball is poor marketing to black youth. "You have to market the black players," he told Andy Martino. "You have to market those aspects of the game -- the glam, things of that nature." Jasha Balcom, the former Cubs minor leaguer who was the Jackie Robinson stunt double in "42," has similar views, saying that kids just aren't aware of the African-American stars in baseball unless they already follow the game. I agree. MLB should come up with a marketing campaign to help with that.
In addition, though, the league should also implement another marketing plan to draw more people from every ethnicity into the sport. Namely, baseball is safer than football. Football might offer more in the way of college scholarships, but it also offers greatly increased risk of brain damage and other debilitating injuries. What good does it do to have a scholarship at age 19 if you're experiencing significant memory loss in your 50s? Who cares if running for a touchdown on the weekend gains you fame when you might not be able to walk without pain later in your life? Baseball offers longer careers and less long-term damage to the body or brain. It also offers guaranteed contracts that keep paying even if you can't play anymore.
And here's another marketing strategy: Entice lower-income players by offering matching scholarships to top prospects and higher pay to minor leaguers.
So Old, They Opened Before Jamie Moyer Was A Rookie. If you saw "42" over the weekend (or will see it in the future) and are wondering what ballpark they used for the games, many of the scenes were filmed at Birmingham's Rickwood Field, the 102-year-old ballpark where everyone from Babe Ruth to Willie Mays played. This is at least the second time Rickwood has served as a stunt double. Part of "Cobb" (with Tommy Lee Jones) was filmed there as well. The Chattanooga Lookouts' former ballpark, 83-year-old Engel Stadium, and Luther Williams Field in Macon, Ga., were used in "42" as well.
CSI: Box Score Answer
Monday was Jackie Robinson Day, the annual commemoration of the day Robinson broke baseball's color barrier. Robinson deserves the attention, but so does another pioneer. And perhaps you spotted his name in this week's fragment: "Doby, ph."
Just three months after Robinson broke in with the National League's Brooklyn Dodgers in 1947, Larry Doby became the first African-America in the American League when he stepped to the plate as a pinch hitter for Cleveland in this July 5, 1947, game.
Much has been written about what Robinson endured. But it couldn't have been much easier three months later for Doby.