News Item: The Yankees and Manchester City (which is owned by Sheikh Mansour bin Zayed al Nahyan) paid a reported $100 million expansion fee to buy a new Major League Soccer team that is expected to begin play in New York in 2015. It is uncertain where a stadium for New York City Football Club will be built.
October 2013: New York City Football Club unveils its uniforms and becomes the first soccer team that will play while wearing pinstriped long pants, stirrup socks and billed caps. The club's goalkeepers also will wear Endy Chavez-sized baseball gloves on one hand.
December 2013: As part of another New York youth movement, the team signs David Beckham, Diego Maradona, Pele and Mia Hamm to five-year deals worth a combined $672 million.
January 2014: After NYC FC names Joe Torre as its first coach, the Daily News runs this back page headline: "Clueless Joe." The headline may prove to be prophetic, as Torre is quoted about his desire to find players with "good hands" so he can field a "strong starting nine." He also says the team needs some good left-handers.
February 2014: The team's new 24-hour channel runs into early trouble when it is unable to fit the network's entire name NYCFCYES on its microphones and can't locate any past players to feature on NYCFC-ography.
April 2014: In order to regain the city's soccer focus, the New York Red Bulls unveil their new mascot, "Mr. Red Bull." The cousin of Mr. Met, Mr. Red Bull has a large soccer ball with horns for a head. The hyper-caffeinated mascot proves to be unpopular due to his penchant for chasing and occasionally goring fans in the stadium concourses.
June 2014: Hal and Hank Steinbrenner fire Torre, saying, "It's because NYC Football Club did not reach the World Series in Rio de Janeiro." They hire him back after being informed that the tournament is actually called the World Cup and is open only to national teams. "Well, OK then," Hank says. "As long as Red Sox Nation didn't get in, either."
September 2014: Ground is broken across the street from Yankee Stadium on NYC Football Club Stadium, aka The $3 Billion Royal Palace That Sheikh Mansour Built And Ruth Had Nothing To Do With And Is So Lavish Not Even A-Rod Could Afford To Live Here.
November 2014: Following his retirement from baseball, Derek Jeter signs with NYC FC to be its goalkeeper. Sabermetricians immediately criticize the move, saying Jeter is vastly overrated as a keeper and that advanced metrics prove he doesn't have the range to cover an entire soccer goal. They suggest signing David Wells instead and simply letting him sit in front of the net, which would block the entire goal.
January 2015: Fans are shocked by another wife-swap among New York teammates, as Maradona and Beckham trade wives and families (plus dogs). But like Fritz Peterson and Mike Kekich, the deal goes somewhat awry. "I thought Becks was married to Sporty Spice, not Posh Spice," a disgruntled Maradona says. Meanwhile, Mia Hamm's husband, Nomar Garciaparra, says he's glad he wasn't involved in the deal.
February 2015: Fearing the roster is too old as its first season is about begin, NYC FC signs Cristiano Ronaldo, Lionel Messi, Wayne Rooney and, oddly, Bryce Harper to multiyear deals.
March 2015: NYC FC plays its first game and beats the New England Revolution 11-0. Broadcaster John Sterling goes hoarse in the 96th minute after shouting "NYC FC GOOOALLLLLLLLLLL!!!!!!!!! THHHHHUHHHHH NYC FC GOOOALLLLLL!!!!'' so many times.
April 2015: After yet another lopsided victory, NYC FC hooligans assault opposing fans, set fire to the opponent's team bus, and pelt opposing players on the field with rocks, batteries and hot dogs. They are hailed for behaving better than Yankees fans at a Red Sox game.
October 2015: Still nursing his sore hip, Alex Rodriguez is caught trying to hit up Australian soccer moms during a game.
December 2015: After New York City FC wins the MLS title, Hank and Hal Steinbrenner ask why they didn't receive a "world championship" trophy.
CSI: Box Score
Each week, I provide a fragment from an old box score and challenge you to determine what game it is from and why it's significant. I give this one a difficulty rating of 8. Answer below:
Baseball Card of the Week
I'm covering the French Open this week, and while it's nice being in Paris, I had to miss the Padres-Mariners interleague series, the latest set-to in their notoriously fierce rivalry. So with that in mind, I give you this rookie card of Bruce Bochy (1980 Topps, No. 289). Why? Because although Bochy grew up in the United States, he was born in Landes de Boussac, France, where his father was stationed in the military. But I don't think that accent Bochy speaks with is French.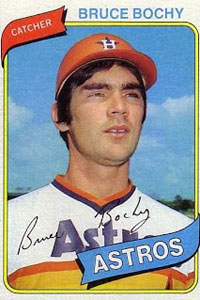 What's most impressive about this card is that the Astros found a cap large enough to fit Bochy. I think the only people who wear larger baseball caps than Bochy are Mr. Met and Charlie Brown.
Baseball caps are as universal an American fashion as blue jeans. And when you're overseas for an extended period, it's refreshing to see people wearing various major league caps. I frequently see Yankees caps no matter where I travel; but while squeezed into the packed Paris metro Tuesday morning, I saw another commuter wearing a Cardinals cap. That brought an immediate smile to my face. But not as big as the one prompted the other night by seeing someone standing in a long line at a creperie wearing a Tampa Bay cap.
In other words, Paris might have as many Rays fans as Tampa-St. Pete does.
Box Score Line of the Week
Detroit's Anibal Sanchez just missed having the season's first no-hitter (9 IP, 1 H, 0 R, 0 ER, 3 BB, 12 K) Friday night when Joe Mauer broke it up with one out in the ninth. Then Chicago's Jeff Samardzija pitched a two-hitter (9 IP, 2 H, 0 R, 0 ER, 2 BB, 8 K) Monday. Meanwhile, several closers had meltdowns, including Cleveland's Chris Perez against the Red Sox on Sunday (2/3 IP, 2 H, 4 R, 4 ER, 3 BB, 0 BB).
But this week's award goes to a minor leaguer with the Class A Stockton Ports. Their game against Lake Elsinore went deep into extra innings last Tuesday night, forcing the Ports to use Wade Kirkland, normally their backup shortstop, as an emergency pitcher in the 16th inning. Kirkland pitched two innings and allowed only one run, then ended the game by hitting a game-winning home run in the bottom of the 17th.
Impressive, yes. But not impressive enough to win this week's award, which goes to Kirkland's teammate, Dusty Robinson, who not only went hitless in eight at-bats, but also struck out seven times.
His line:
8 AB, 0 R, 0 H, 0 RBI, 7 Ks
The seven strikeouts tied the minor league record, though surely some major leaguer will surpass it and set a new pro record for any level at some point, maybe even this year. Any bets on Adam Dunn?
CSI: Box Score Answer
This is another case where the clues were not the names in the fragment but the name that wasn't. The names in the New York lineup -- Dugan, Combs, Meusel -- might have indicated to you that this game is from the 1920s. And Pipp's name should have provided another, more important clue. That's because this is the last game the Yankees played (May 31, 1925) before Lou Gehrig began his 2,130-game playing streak. It would be the last Yankees box score without Gehrig's name for 14 years.