The Mariners have not reached the postseason in a dozen years. They have finished in last place in each of the past three seasons and in seven of the past nine. They have never made it to the World Series.
And they will not receive one of the 12 competitive balance picks in this week's amateur draft.
The Tigers have been to the American League Championship Series the past two seasons and played in last year's World Series. They are in first place in the AL Central and feature the only Triple Crown winner in the past 45 years. They have the fourth-highest payroll in baseball.
And they, of course, will receive a competitive balance pick.
Does this sound fair? Shouldn't the point of a competitive balance pick be to help the struggling teams, not aid the teams that are winning already? Why are teams that so recently played in the World Series receiving additional help to reach another?
This is the first draft in which the competitive balance picks -- six after the first round, another six after the second round -- are being used. They were added to help teams in smaller markets with lower revenues. (A limited number of teams are put in a lottery for the picks.) For this particular draft, Seattle was considered too large a market with too much revenue to be eligible for the first-round competitive balance picks. Detroit, however, was far enough down the revenue/market ladder to be eligible for the second-round lottery and won a pick despite its obvious lack of a need for help.
That isn't competitive balance. It's like giving Usain Bolt a head start or Apple another tax loophole.
Obviously, the competitive balance criteria need revision. But why stop there? The entire draft guidelines need an overhaul. Here's how:
1. Do not overly lavish the losers. It's one thing to give the game's worst team help via the No. 1 pick once. But that same team shouldn't be able to show up at baseball's doorstep the next year expecting another generous handout.
For a long while, the No. 1 pick alternated between the teams with the worst record in the National League and the American League. That was changed to just the worst overall record, which allowed the Nationals to draft Stephen Strasburg one year and Bryce Harper the next. That's too high a reward for being a terrible team. To avoid this, the rule should go back to the way it was, with the No. 1 pick alternating between leagues.
Of course, the Astros might be able to get around that by changing leagues every year.
2. The Cubs always get an extra first-round pick. And hey, I'm not singling out the Cubs as a charity case. The same rule would apply to any team that has gone more than 100 years since winning a World Series or more than 60 years without playing in one.
3. The Yankees don't get a draft pick. Why give the Yankees a draft pick? They don't use them. Oh sure, there are notable exceptions, but we all know how the Yankees get their talent for the most part: They buy it from someone else.
4. The Mariners don't get a first-round pick. Granted, this is a team that needs to improve, but giving it a first-round pick won't help. Seattle will just waste it on a player who never pans out (Ryan Anderson, Jeff Clement) or trade him to another team (Adam Jones). The last position player Seattle drafted and developed who made the All-Star team in a Mariners uniform was Alex Rodriguez, 20 years ago. And we know how well that worked out for the Mariners in the end.
5. Nor do the Royals. Yes, Kansas City does draft quality players -- Johnny Damon, Zack Greinke, etc. The problem is that as soon as Royals players become really good, the team usually trades them away. Not only is this a source of constant frustration for its fans, it's also inefficient. If the players are going to wind up with a different team anyway, they might as well be drafted by that team in the first place.
6. The Athletics get extra picks. But only if we get to watch Brad Pitt and Jonah Hill sitting in a room discussing and arguing over their decisions about them.
And finally …
7. The Pirates can pick anyone in the first round. And by that, I mean anyone. Miguel Cabrera, Joe Mauer, Mike Trout, Clayton Kershaw. At least until they finally have a winning season. Their fans have endured enough.
CSI: Box Score
Each week, I provide a fragment from an old box score and challenge you to determine what game it is from and why it's significant. I give this one a difficulty rating of 8. Answer below: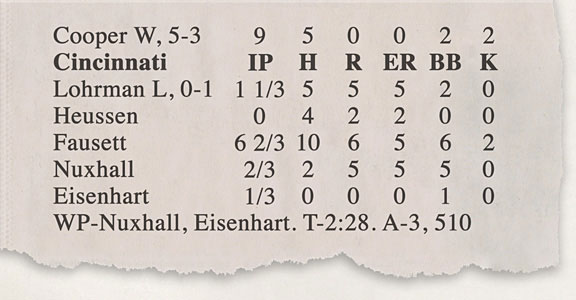 Baseball Card of the Week
Paul Molitor, shown in this card (1978 Topps, No. 707), found his way home 1,782 times in his career (and that doesn't count his 1993 World Series-winning run on Joe Carter's homer). He's always been one of my favorite players, and now I also have him to thank for helping me find my way home each night from my current assignment covering the French Open.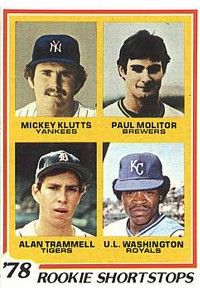 Molitor told me he's never been to Paris, but he nonetheless makes it easy to follow the route back to my hotel. I simply turn left out of Roland Garros, walk past Piscine Molitor to Rue Molitor and follow Rue Molitor to the Michel-Ange Molitor metro stop.
("Life of Pi'' fans take note: Piscine Molitor is the large swimming pool that Pi is named after. The pool opened in 1929 and closed in 1989 but is undergoing major renovation to open again next year.)
Box Score Line of the Week
Jacoby Ellsbury stole five bases but scored only one run Thursday (4 AB, 1 R, 3 H, 0 RBI, 5 SB), while Milwaukee shortstop Jean Segura had a six-hit game in the Brewers' 14-inning loss on May 28 (7 AB, 2 R, 6 H, 1 RBI).
But this week's award goes to Los Angeles Dodgers pitcher Matt Magill, who put up this wild line Sunday when he made an emergency start in the place of Hyun-Jin Ryu:
6 IP, 5 H, 7 R, 6 ER, 9 BB, 5 K, 4 HR
Magill was the first pitcher in three years to walk nine batters and, according to Elias, the only pitcher ever to allow four home runs as well.
Yeah, Well, That's Like, That's Just Your Opinion, Man
Sounds As If It's Time For A Contract Extension. So the Yankees are disappointed in A-Rod's performance? That's not surprising. But they should be more disappointed in themselves for re-signing him to such an enormous contract after the 2007 season when they were essentially bidding against nobody else. That contract isn't A-Rod's fault. It's ownership's.
If Dave Had Been Calling Her French Open Win, He Would Have Said, "Break Out The Rye Bread, Grandma. It's Grand Salami Time!" One of the bigger upsets at the French Open happened Thursday when American Bethanie Mattek-Sands beat 2011 champion Li Na, who recently was named one of the 100 most influential people in the world by Time magazine. Why do I mention this? Because when Mattek-Sands walks onto the court for her matches, she listens to "My Oh My," Macklemore's tribute to late Mariners broadcaster Dave Niehaus. "I'm not even a Mariners fan -- I don't follow that much baseball -- but when he's talking through that, it chokes me up a little bit," Mattek-Sands said of the lyrics in which Macklemore recounts growing up listening to Niehaus, the Mariners and Game 5 of the 1995 division series. "Ken Griffey Jr., that moment -- when you hear him and the crowd, it's a cool sports moment, and I think that's one of the reasons I like walking out to it."
If Only Baseball Was International, Like Rhythmic Gymnastics. The Mariners called up Alex Liddi last week, giving the major leagues two players raised in Europe, along with many from South America, Asia, Australia and, of course, North America. Maybe that helped persuade the International Olympic Committee last week to keep baseball in consideration for reinstatement for the 2020 Olympics. The IOC narrowed its list to three sports. While baseball (and softball, in a joint entry) made the cut, it will go up against squash and wrestling (which the IOC dropped a couple of months ago) when a final vote is taken Sept. 8 to add one of those three sports. Based on the outrage over the decision to drop wrestling, along with that sport's long history in the Games (it was in the ancient Olympics), its relative low cost (baseball/softball requires the construction of two separate stadiums) and the lack of baseball major leaguers available to play in the Olympics (at least at the moment), the odds favor wrestling. Both deserve to be in. Squash should not even be considered.
CSI: Box Score Answer
The only big clue was the name Nuxhall among the Cincinnati pitchers. The minor clue was the absence of any other recognizable names. That should have been enough of a hint to figure out that this was Joe Nuxhall's major league debut.
Four days after Allied troops landed on the beaches of Normandy, Nuxhall made his major league debut on June 10, 1944, at age 15, making him the youngest player in major league history. How desperate were teams for players during the war? Nuxhall had just finished junior high and was so young that he didn't have a driver's license, so he took a bus to the Reds' games. He pitched only this one game before returning to the minors (and high school). He reached the majors again eight years later and went 135-117 with a 3.90 ERA before retiring at age 38 in 1966 and beginning a 40-year career as a radio broadcaster for the Reds.